What Happened With Vicki & Brooks?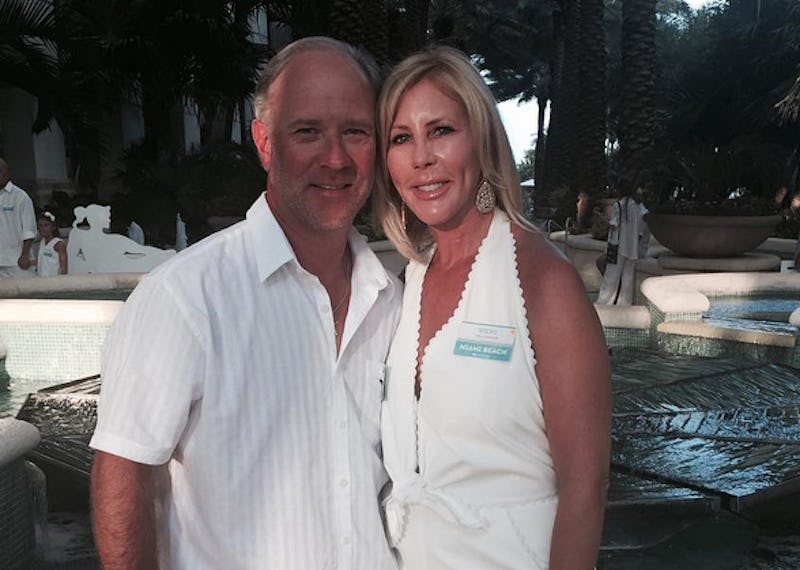 There isn't a Housewife alive mourning the breakup of Vicki Gunvalson and Brooks Ayers, a couple whose joint drama seemed to cause both of them needless heartache and pain over the past four years. But respect where it's due: The O.G. Housewife loved him, stayed with him (their one split two years ago notwithstanding), and supported him when he was diagnosed with stage-three cancer. After the couple announced via a Facebook statement that, despite praying, going to counseling, and giving their union a great deal of thought and consideration, they had decided to call it quits, the next obvious question on your mind might be: What, exactly, was the straw that broke the camel's back? This is where the magic of social media steps in and provides clues — and all fingers point to the show.
The plan, at least according to Gunvalson and Ayers' joint statement, is that neither will give interviews and reveal the ultimate reason they broke up. And it's very possible there wasn't a single reason why they decided no más. Instead, the sum total of their years together, many of which were spent bickering and creating rifts between Gunvalson and the other Housewives, might have become too much for both of them. But it's far too tempting to use Twitter and Instagram to air your dirty laundry these days — and "insiders" are only too willing to give interviews on your behalf. As a result, more about the couple's split is known than I'm guessing they'd actually like.
While Gunvalson's Instagram is filled with positive affirmations like this one:
I can't say the same for Ayers. Taking a page from Zayn Malik's How To Effectively Use Twitter Guidebook, the businessman said everything without saying a word by re-tweeting a post that pretty much explains why he and Gunvalson called it a day:
Gunvalson may be holding up her end of the bargain to remain silent about their private world, but a source reportedly told Radar Online that Ayers blames the show and Gunvalson for ruining his life. According to the "insider," he has already high-tailed it back to Mississippi:
Brooks felt that Vicki really became a totally different person that she was when they started. He said that everything about her has changed, and not in a good way. She was not famous and now she is. Brooks was always attracted to Vicki's ability to make money, but when she made her fortune it had a huge impact on the person that she became.
Gunvalson's rep has denied this claim and told Radar Online: "None of this is true. Brooks adores Vicki and only wants the best for her. He called the four years [they were] together the best years of his life." Maybe the truth lies somewhere in the middle?
Ayers continues to drop clues about how pissed off he is that, thanks to the show, his cancer diagnosis is still being questioned — something that is totally bonkers and unacceptable:
I never believed Gunvalson and Ayers had that magic you need to take your relationship to the next level, but I can't say I blame him for wanting out. Given his health issues, he shouldn't be expected to deal with the added stress of appearing on a drama-fueled reality TV show. Gunvalson is under no obligation to quit the show for him, but the fact that she hasn't (this is, assuming, he has asked her to) also speaks volumes about their doomed relationship. They'll both be happier and more at peace when they learn to live without one another.
Image: Vickigunvalson/Instagram