These Body-Positive Ads are Awesome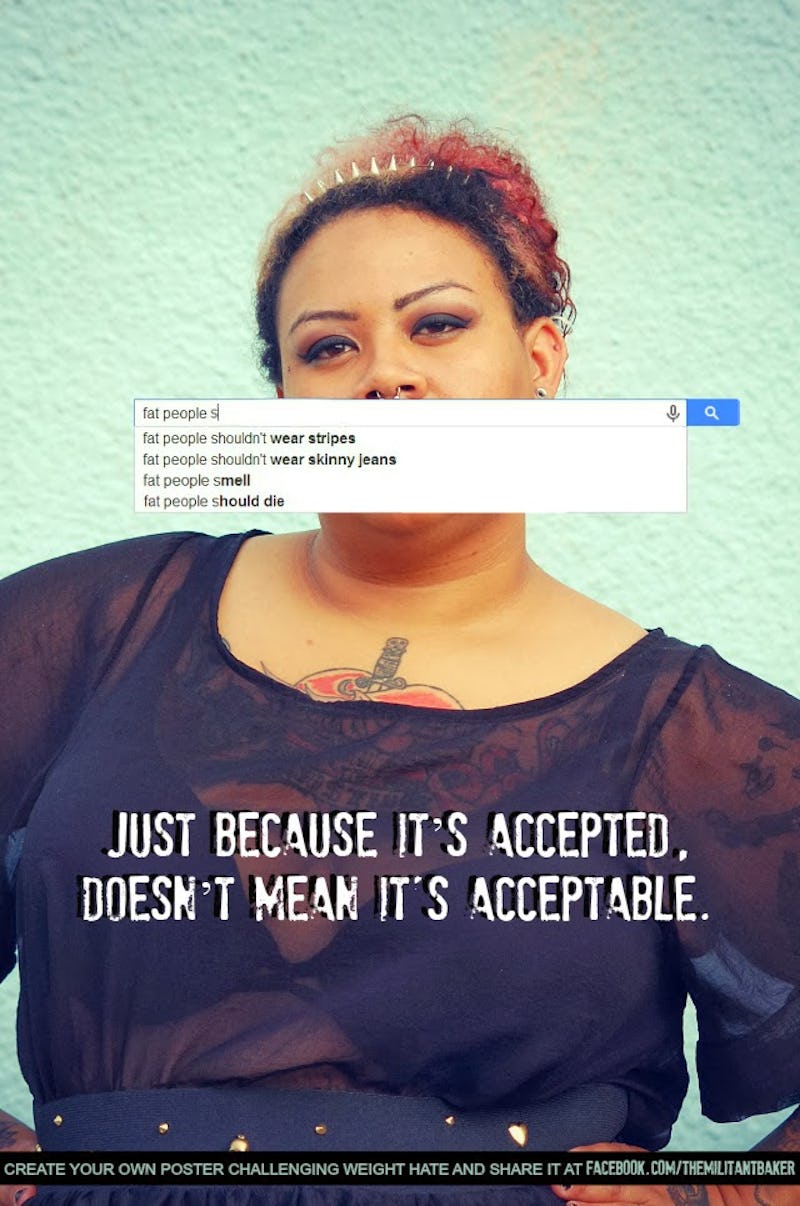 It's no secret to anyone that the Google autocomplete function can make you lose your faith in humanity. And, as it turns out, it might even be more awful than usual when it comes to body image. However, one self-identified "fat" woman was inspired by the recent United Nations campaign aimed at raising awareness of global misogyny, and she decided to use the awful Google search suggestions to fight back against all the vitriol aimed at bodies of all shapes and sizes.
On her blog, The Militant Baker, she writes "Fat politics are near and dear to my heart, not only because I'm quite the fatty myself, but also because all body inequality has a lasting effect on every single person involved." With this in mind, she created a poster campaign called "Bodies Aren't Ugly. Bullying Is" to tear down the idea that any person's body is wrong, whether fat or skinny.
She goes on to say:
As long as we continue to demonize and degrade one body type, we will never reach true body acceptance as a society. And until we reach true body acceptance as a society, we will continue to see low self-esteem, depression, eating disorders, sabotaged relationships, employment inequality, sky high suicide rates, and all sorts of other social infirmities. No more please. No more.
Every body is a perfect body. There ain't no wrong or "more right" way to be, and that's a fact.
And to prove it, she's made posters highlighting stereotypes and harmful attitudes against both fat and skinny people, because let's face it, people suck at accepting just about any body type. She also encourages people to make their own posters and submit them to her Facebook, and it seems many have answered the call.
The whole campaign is awesome for many reasons, one being that it doesn't just celebrate one body type, but all body types. Because as this wise poster observes:
You can find even more awesome posters on The Militant Baker Facebook page or the "Bodies Aren't Ugly. Bulling Is" Tumblr. You can also hear more wise words from The Militant Baker on her blog where she also does epic things like taking a list of things fat people shouldn't do and deliberately doing them anyway. Because lists like that are stupid.