9 Tricks To Make Your Outfit More Interesting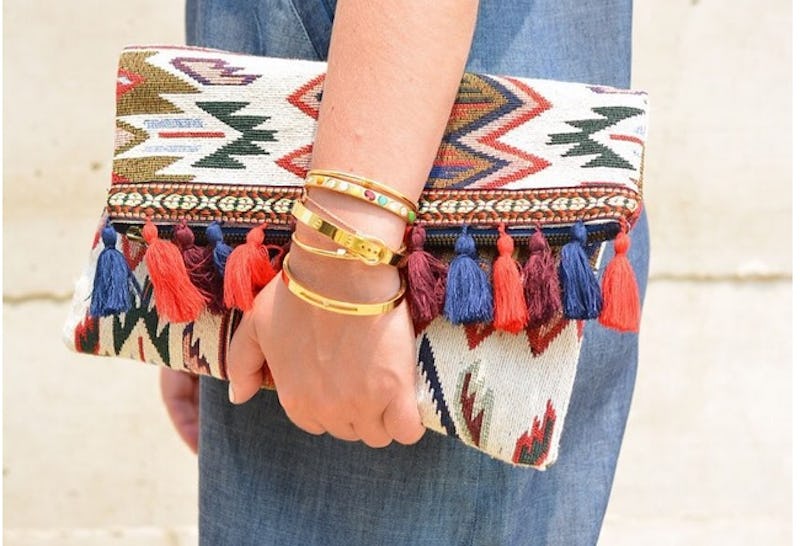 Sometimes you find yourself standing in front of the mirror, liking but not liking your look, wishing there was a way to make your outfit more interesting. It's a nagging dissatisfaction, where you know your outfit is almost on-point but seems to be missing one little tweak. It's just a single detail away from street style status and you flipping your hair as you cross the block. But figuring out what that detail could be is a whole other thing entirely. Either your inspiration is tapped out, your closet no longer has any appealing options to offer you, or you just can't bring any styling tricks to mind. You see hats, and purses, and potential layers, but none of them speak to you. They're just clothes on a shelf and you're one minute away from going out in your sweatpants.
Sometimes cracking the sartorial code is hard work, but if you have a list of tricks in your back pocket to instantly make any outfit more interesting, then you can save yourself a lot of mind racking and eye narrowing. Below are nine ways to incorporate clever ad-ons and styling tricks to make any outfit instantly more interesting.
1. Mess With Your Proportions
We all know the ancient rules about accentuating your natural waist and learning how to appear taller and all that. But if you toss those out, you can have the possibility of making some really fun outfits. Pair long sweaters with maxi skirts to drag that line down to your knees, or match high waist pants or skirts with boxy, geometric crop tops to raise it up to your ribs. If you don't want something as drastic as that, you can try pairing a long cardigan with skinny jeans (bonus points if you button it up), knee high boots or thigh high socks with mini dresses, long duster vests with cropped cigarette pants, or long wide leg pants with cropped, baggy tops. If you choose out of the box proportions, your outfit will instantly look more eye-catching because it's different.
Ribbed A-Line Maxi Skirt, $60, Check It Out
Free People Striped Thigh High Socks, $24, Check It Out
Free People Patterned Mini Dress, $128, Check It Out
2. Opt For A Patterned Clutch
Mixing prints always adds a playful touch to your look, but subtleness goes a long way when you're building an outfit. If you just want a pop of impact, try adding a patterned clutch into your look. It's not as bold as mixing prints in clothes, but it adds just enough juxtaposition and messiness to make your outfit that much more interesting. Remember, contrasts are always compelling, whether in colors, prints, or styles.
Vince Camuto Sparkly Polka Dot Clutch, $158, Check It Out
3. Break Out Of The Hat Rut
It's no secret that a hat could amp the sartorial factor a notch or two, but instead of going with the classic wide brim hat or beanie, go with something a little less expected like a head scarf, turban, pompom baseball cap, visor, or beret. Since theses options aren't seen as often as the trusty panama hat, they'll add a touch of novelty and elevate your outfit to new fashion-forward levels.
BCBGeneration Patterned Turban, $11.99, Check It Out
Charlotte Simone Sass Pom Pom Baseball Hat, $145, Check It Out
Eugenia Kim Pom Pom Beret, $165, Check It Out
4. Invest In One Pair Of Interesting Shades
We all have our classic sunnies — whether they're wayfarers or aviators — but you should also have one pair in your arsenal that packs a lot of personality to really change an outfit around. For example, try mirrored sunglasses; ones with bold, thick frames; ones that are two-toned; or a pair with have a strong shape like a cat eye. It's a small accessory but it makes a loud statement, and it could have the potential to be that extra add-on your outfit needs to tie it all together.
Illesteva Purple Mirrored Sunglasses, $177, Check It Out
Prada Black Cat Eye Double Bridged Sunglasses, $385, Check It Out
5. Begin Looking For Statement Belts
You'll be floored to know how big of a difference a belt can make. Rather than reaching for your trusty leather one, begin looking for a statement piece with interesting details. It might feel gaudy alone, but it'll look amazing once paired with your outfit so don't be deterred from a louder style! For example, western belts with big silver buckles, turquoise accents, and white leather fringe are having a moment right now. The description could make you want to wrinkle your nose, but imagine that with a long, bohemian dress! Game changer. Same thing goes with gold metal-plated belts, leather tassel belts, and studded ones. If you see one with bold details, nab it. You won't regret it.
Free People Lace Boho Dress, $168, Check It Out
Tory Burch Gold Belt, $195, Check It Out
Michael by Michael Kors Suede Tassel Belt, $78, Check It Out
6. Add A Touch Of Masculinity
Whether it's adding combat boots with a dress, a boxy blazer with a mini, boyish brogues with a midi skirt, a baseball cap with a flirty frock, or mannish sandals with a long, an oxford shirt with tight jeans, delicate dress, adding a touch of masculinity makes for a fun contrast and changes the vibe of your look. You no longer just have a pretty dress on- you have a pretty dress and a cool disparity. It's instantly next-level.
Steve Madden Leather Combat Boot, $119, Check It Out
Tart Textured Blazer, $150, Check It Out
Birkenstock Two Band Sandals, $99.95, Check It Out
7. Have An Arsenal Of Bold Lipsticks
Your blush tones and berries are pretty and flattering, but sometimes a bold, in your face shade can be the thing to make an "OK" outfit into something truly showstopping. Stock up on bold reds, sultry vampire-esque purple-blacks, electric orange-reds, and flirty lilac purples. The more daring the shade, the more impactful the outfit.
Smashbox Be Legendary Cream Lipstick in Fireball Matte, $21, Check It Out
Mac Lipstick in Cyber, $17, Check It Out
Too Faced Liquid Lipstick in Melted Violet, $21, Check It Out
8. Add In Texture
Want to make your outfit instantly feel more luxe? Add in different textures and watch it completely transform. Add a fur vest to your boho dress, or a fur collar to your jumpsuit. Match your striped top with a suede skirt, or add suede gladiator sandals to your scooter dress. Go with leather shorts instead of jeans, or add a lace top underneath your overalls. If you add texture to your look, you add more elements to play with and to set it apart from the more basic looks.
Fox Fur Collar, $295, Check It Out
Suede Button-Front Skirt, $300, Check It Out
Chinese Laundry Suede Gladiator Sandals, $59, Check It Out
9. Choose A Quirkier Accessory
Instead of going with a cross-body bag, try going with a leather backpack instead. Instead of a baseball hat, try a riding hat with a pompom. Instead of regular booties, try cut-out bootie sandals. If you look for accessories with interesting variations, it'll be hard not to look ahead of the curve.
Michael by Michael Kors Leather Backpack, $398, Check It Out
Helene Berman Pom Pom and Wool Cap, $140, Check It Out
Block Heel Platform Bootie Sandal, $76.65, Check It Out
Images: Courtesy Instagram Users