9 Tips On How To Wear Chunky Sandals This Summer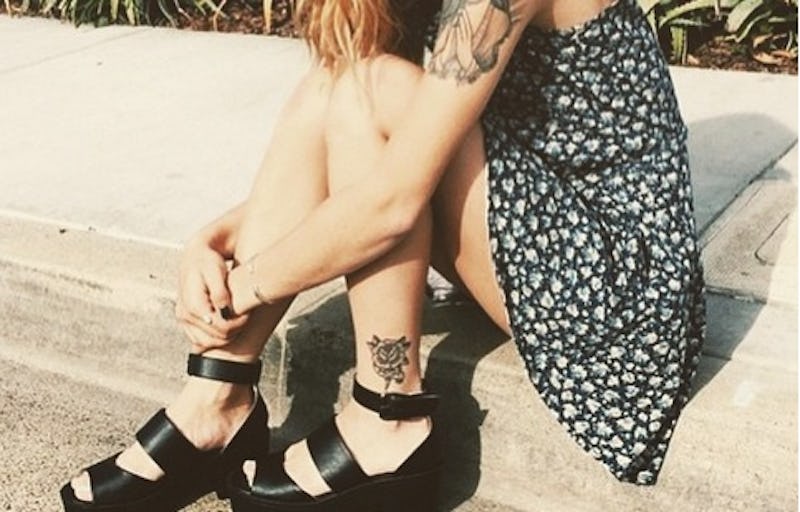 Last year it was all about the Birkenstock and this year the chunky sandal trend is reigning supreme as the summer It Shoe. Wear it with a short tent dress as you walk through the farmer's market, or with a pair of jean shorts as you grab a slice of pizza with friends. Style it with a fancier dress for a rooftop bar or with culottes as you go somewhere that's reservation-only and requires the reddest of lipsticks. Whatever the look, the chunky sandal will do you right.
The ugly-pretty trend from last year seems to not only be holding strong, but also evolving. Before it was all about playing with the contrasts: The purpose was to take something that was dubbed as a style pariah (see: orthopedic shoes) and pair it with a gorgeous dress or an intricate mini. The contrast was interesting and showed a playfulness towards fashion.
But now? The clunky, borderline-ugly sandal has slowly changed to a sleeker, more minimal-inspired shape where it still boasts its heavy and clunky characteristics but in a more intentional way. And people are starting to notice. You can barely step into a Forever 21 or a TopShop without seeing a pair for sale, and more and more women are curious to try the trend. But where do you start with such a bold shoe?
Below are nine tips for how to style clunky sandals, and how to make them work with your unique look!
1. Wear It With Your Summer Dresses
Once it starts creeping up and over the 90 degree mark, all concerns of fashion go out the window. You just want to wear as little clothes as possible without getting arrested. So while most of us default to lightweight dresses and roomy tops, a good way to add some oomph to an outfit without adding more layers is to focus on the shoes. A clunky sandal will add a lot of interest to a bare-minimum outfit.
2. Reach For It When You Go Minimal
The one gripe I hear about jumping on the minimalism look is, "But doesn't it just look boring?" Women who dabble in the style focus on pieces like simple shirts, tailored pants, and clean-lined jackets. There isn't much business going on on the surface, but if you take a moment to notice the details you'll see the quiet elegance under it all. But for those who need a little something more to feel happy with their look, adding a chunky sandal would do the trick. The heavy shoe immediately brings some weight to the outfit, making an easy shirt + pants combo more interesting with the addition of a bold shoe.
3. Pair It With Vintage
Coming from Chicago, I understand the appeal of mixing the old with the new. We're all about taking vintage and mixing it with high and low fashion to come up with a playful and completely eccentric outfit. And one great way to make a vintage dress or skirt feel more modern? Pair it with an on-trend shoe. The thick, very-now sole will help anchor the look and give it a breath of 2015.
4. Wear It With Your Basics
I'm not going to call this a rut, but you know how it is when you have a busy week ahead of you. You wake up and pull the usual go-to look over your head and run out the door. It's efficient and you know it'll look good with minimal thinking. But you know what's an easy move that'll completely change the game of that uniform? Adding an interesting shoe.
It's the same thought process J. Crew had last winter when it paired sweatpants with heels: You can still be lazy, but no one needs to guess you are. Pair a clunky sandal with your basics-oriented look and immediately look like you tried a little longer than you actually did this morning.
5. Give A Girly Dress A Sporty Edge
Contrasts always make for a fun look, so take your flirtiest, girliest dresses and pair them with heavy, thick strapped sandals for a stark contrast. The clunky shoe will give the dress a sportier edge, which will let you wear some of those fancier pieces during the weekday. Who doesn't like stretching out the options in their closet?
6. Wear Them With Mom Jeans
Mom jeans can be a skosh tricky to pull off, but the trick is to surround them with modern, youthful pieces. Flirty crop tops, tailored jackets, and on-point clutches or cross body bags help, but the shoes are what will make the difference. Imagine this same look with a pair of keds or flip flops. It'd be cute, but not quite as sleek. Chunky sandals are really modern and help elevate the look to Fashion It Girl proportions.
7. Pair Them With Eveningwear
Want to stretch your closet and wear things that are only ear-marked for special occasions? Or are you tired of doing the usual stiletto-glam look when going to fancy restaurants or chi-chi apartment parties? The clunky shoe is the answer to your prayers. The casual sandal will help dress down a fancier frock for a Wednesday, or it'll give a silk dress an unexpected touch with its weight and sportiness. Either way, you've got a pretty inventive outfit that'll catch eyes.
8. Let Them Help Balance Minis
Wearing short, short minis is fun, but it can be a little trying to balance out the tiny proportions. If you wear heels you get an "I'm going to da clubs" effect, and if you pair them with flip flops you look rather bare. This is where the clunky sandal comes in! Because of its weight and thickness, it helps anchor the mini look down, giving you an illusion of a more covered-up feel. That way you can show miles and miles of leg, but still be balanced out.
9. They're Godsends To Jumpsuits
All that pattern, all that cloth — many women are terrified of drowning in jumpsuits and chalk them up as something they'll never be able to pull off. But don't do that! With a bit of clever styling you can pull anything off. A great tip to balance out a busy pattern or a long sweep of material is to help drag the eye downward, balancing the look. Clunky sandals do just that, anchoring your focus downward and calming the business throughout. So conquer those fears — try it out!
Images: 66alabama, misseverydayelegance, benitastylediary, tribecalledsoul, styleandtonic, claudia1thomas, carriec, ngawendy99, tyler.thestyler/Instagram