The Stars Of 'Empire' Battle 'Lip Sync' Style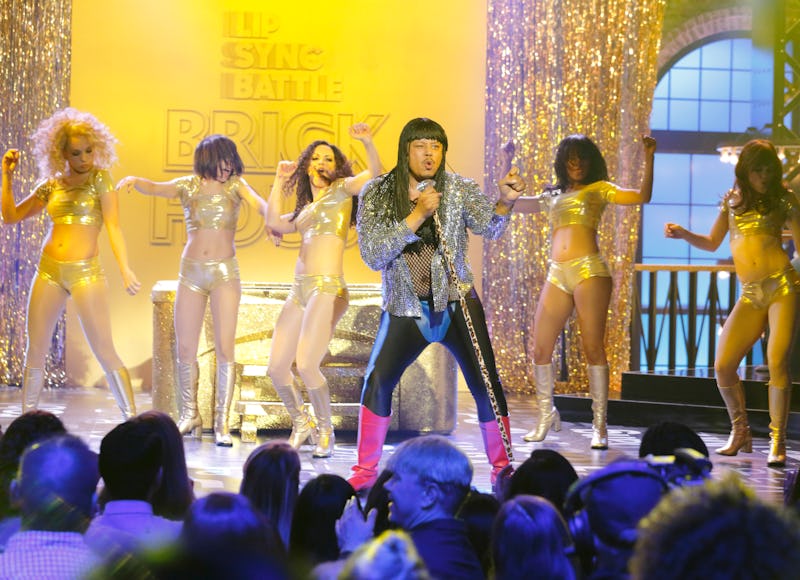 In the battle of Lucious vs. Cookie, he now has the upper hand thanks to some epic lip syncing. On Spike TV's Season 1 finale of Lip Sync Battle , the stars of Empire Taraji P. Henson and Terrence Howard battled for the chance to win singing glory. And, despite Henson putting up an epic fight featuring a classic Madonna song and a special appearance by Mary J. Blige in the very first round of the night, Terrence Howard won Lip Sync Battle and the wrestler-style belt that comes with it. It always pays to dress up like Rick James.
The night began with Lip Sync Battle host LL Cool J reliving some of the greatest moments of the season, and there have been quite a few. From Anne Hathaway's epic "Wrecking Ball" performance to Stephen Merchant wearing ass-less chaps and performing Christina Aguilera's "Dirrty" (Which happens to be color commentator Chrissy Teigen's favorite moment), Lip Sync Battle is viral video gold and definitely one of the most entertaining reality shows of the year. But, despite the nostalgia of the season and a behind-the-scenes look at Chrissy Teigen doing some lip syncing herself to Britney Spears' "Oops I Did It Again" to her husband John Legend — we were all here to see Cookie and Lucious Lyon battle it out. And battle they did.
The battle began with Taraji P. Henson performing Mary J. Blige's "Just Fine," which Henson called the "female anthem." The performance was going wonderfully and Henson was already dressed the part thanks to her blond hair and the black jumpsuit Blige wears in the music video. But, this was the season finale and things had to be memorable right from the start of the episode. Halfway through Henson's performance, Mary J. Blige surprised the audience, LL Cool J, Teigen and Howard by lip syncing the rest of the song with Henson.
But, Howard refused to go quietly. He told the girls that his song would reflect what he wanted to do to them after their performance and promptly began lip syncing Boyz II Men's "I'll Make Love To You." He was so into the performance that he began trembling and fell to the floor when it ended.
The co-stars then gave the audience a special treat by performing their Academy Award-winning song "It's Hard Out Here For A Pimp" from Hustle & Flow, and while the song was shortened and lip syncing it was silly, it still reminded viewers why these two are so good together onscreen. They really do have incredible chemistry.
But, Howard ruined Henson's lip sync belt ambitions by donning the classic Rick James look and performing "Brick House," despite Henson singing Madonna's "Material Girl" and completely killing the number from start to finish. If anyone can do classic Madonna justice, it's the woman who plays Cookie. But, portraying Rick James is a popular gag, just ask Dave Chappelle. Rick James had a big, unique personality, to say the least, and people still love seeing that. After that, Howard easily won the final Lip Sync Battle of the season, but it's OK. Taraji P. Henson has an Emmy nomination to come home to and stars in one of the biggest shows of the year. Those are pretty fantastic consolation prizes.
Images: Spike TV