8 Office Supplies That Make Great Makeup Storage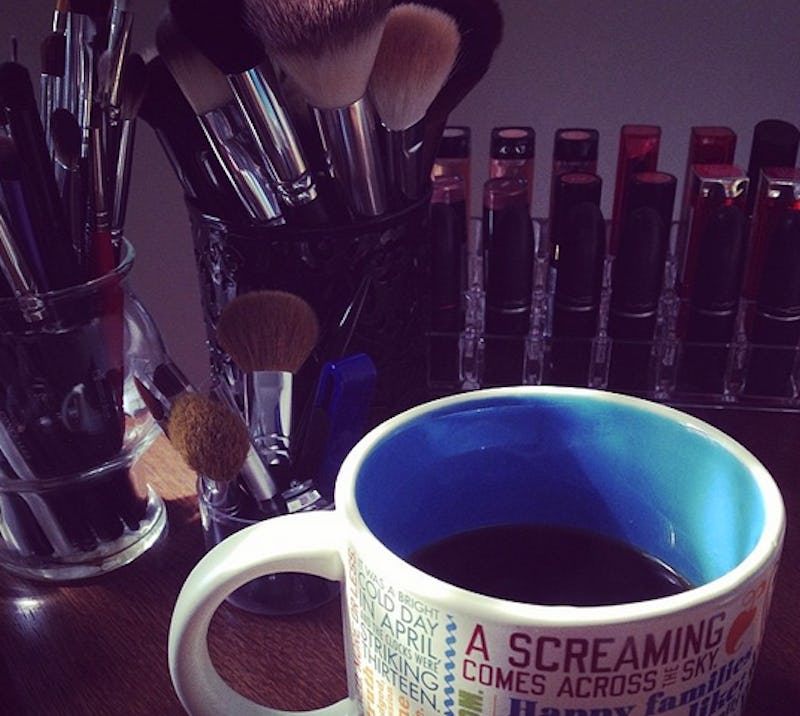 If you're over having all of your makeup jumbled in a bag or laying carelessly all over your bathroom counter, office supplies are a great way to organize makeup. Especially now that school is back in session, there are tons of cute options if you prefer, say, a pink pencil cup to a traditional, black-mesh one. But whatever your style, and whether you prefer to keep your makeup in a drawer, on your desk or vanity, or even on the wall, there's an office-organizer that's just begging to be repurposed to hold your eyeshadow instead of some boring ol' printer paper.
Because, let's be honest, anything meant to hold pens and pencils is going to be able to perfectly house eyeliners and lipliners; and anything meant to hold file folders and memos is going to be able to perfectly house palettes. I'm half-convinced that office supplies actually hijacked makeup storage, and we're just taking it back. Besides, paper clips don't always need to be at arm's reach... but lipgloss sure does. Priorities. So if you're into swapping out writing tools for blush brushes and rubber bands for compacts, here are eight office organizers to use to store makeup instead.
Desktop Organizer
A desktop organizer like this one is perfect for storing palettes of various sizes. Or brushes, or eyeliners, or lip pencils, or mascaras. The options are pretty much endless.
Room Essentials Kraft Desktop Organizer, $8, target.com
Locker Organizer
But if you don't want to take up too much space on your desktop or vanity, pin a locker organizer to your wall so your products can sit neatly out of the way.
Locker Storage with Mirror, $5, target.com
Pencil Holder
Another open-ended option, pencil cups are good for any sort of longer products. So brushes, lip or eye pencils, and mascaras can easily (and cutely) live on your desk.
Charleston Pencil Cup, $5, containerstore.com
Letter Drawer
OK, these are all really open-ended options. For these letter-size paper drawers, how about laying out all of your lipsticks and glosses in neat little rows? Or you could designate one drawer for face products and the other for eye and lip products.
Bigso Kate Stockholm Paper Drawers, $25, containerstore.com
Drawer Organizer
Instead of pencils and paperclips, use desk-drawer organizers for eyeshadows and mascaras. These pieces can be moved around to accommodate any space.
Metal Drawer Organizers, $15, containerstore.com
Paper Clip Tower
These little swiveling cups would be much better off holding blush, bronzer, and highlighting compacts.
Rolodex 3 Tier Wire Mesh Swivel Tower Paper Clip Holder, $6, target.com
Stackable Trays
Separate your eyes, lips, and face products into their own trays that can be stacked to keep clutter at a minimum.
Small Poppin Accessory Tray, $9 each, containerstore.com
Bookends
Keep your makeup palettes standing between bookends so you can more easily select which one you want without digging through a pile.
Drew Derose Ceramic Bookend Set, $30, target.com
Now if only all of these organizers came pre-filled...
Images: @belleamiki/Instagram; Courtesy of Brands