Designer Made Silverware For People With Dementia
by Lara Rutherford-Morrison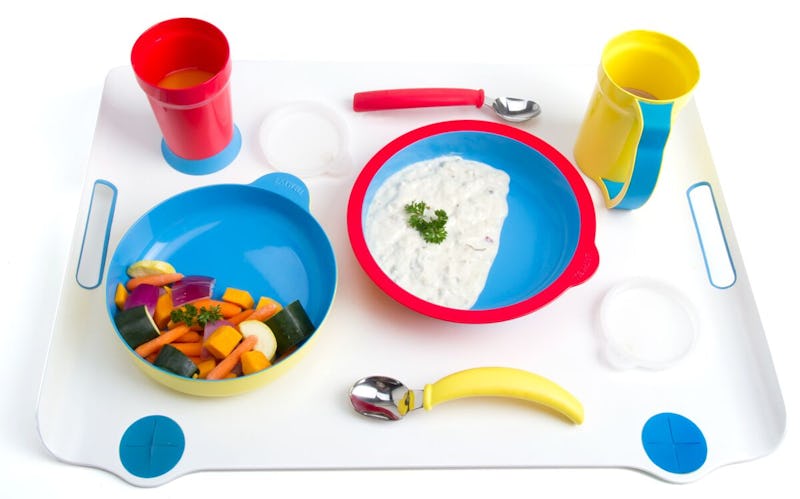 Although many people associate dementia primarily with memory loss, those who have lost loved ones to the condition know that dementia can transform everyday tasks into major hurdles. Inspired by her own grandmother's struggle with Alzheimer's disease, designer Sha Yao created Eatwell, a tableware set designed for people with dementia and other impairments. Ingeniously designed to make eating easier for people with cognitive and motor difficulties, Eatwell has the potential to make life less stressful both for those coping with a variety of physical and cognitive disorders and for their caretakers. Yao explained to Fast Company,
Raising awareness and addressing the needs of people with impairments will allow them to maintain their dignity, retain as much independence as possible, and reduce the burden on their caretakers. That's what made designing the Eatwell tableware set so rewarding.
At first glance, the brightly colored Eatwell set looks fairly simple, consisting of two types of bowls, two types of cups, spoons, and a tray. However, each piece has been specially designed for stability and ease of use. For example, Yao chose her bright red, blue, and yellow color scheme based on a study by Boston University, which found that people with dementia consume 24 percent more food and 84 percent more liquid when using brightly colored tableware than they do otherwise. She also designed the bowls with blue interiors because very few foods are blue, thus helping users to clearly differentiate between their food and their tableware.
The bowls have slanted bottoms, so that food will gather in one end, and their sides sit at right angles, in order to make scooping easier and prevent food from spilling over the edges.
The cups, featuring wide bases and made with anti-slip materials, have been designed with extra stability in mind. They also come with lids and spaces for straws.
The spoons come in right and left-handed versions. Their handles are curved to make accessing the bowl easy, and their stainless steel heads are shaped to match the curvature of the bowl.
The set also comes with a tray that features slots at the front for inserting the ends of a bib or tablecloth.
Find out more about how the tableware was designed and created in Eatwell's funding video, below. For pre-ordering information, check out the Eatwell website.
Images courtesy of Eatwell (7).