Why Steve & Julia Should Showmance On 'BB17'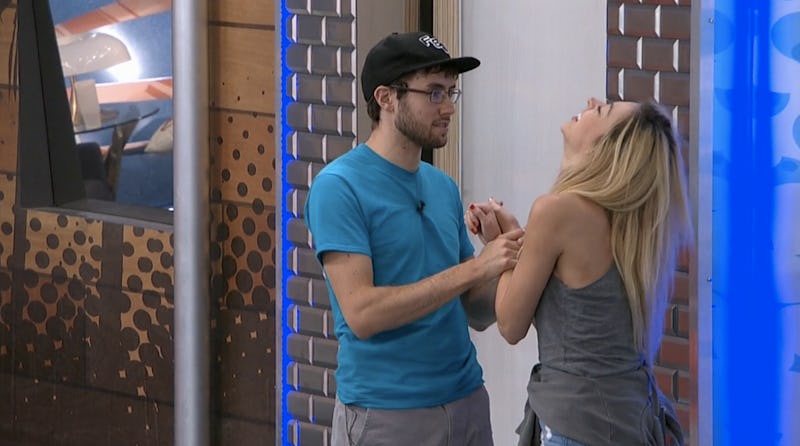 In a season that's been full of potential showmances, Big Brother 17 fans seem to be constantly on the look-out for relationships. After power couple Shelli and Clay were split up and evicted back-to-back, and the awkwardness of Liz and Austin's nomance-turned-fauxmance-turned-maybe-showmance, fans are eager for a refreshing new duo to root for. When Julia first entered the house, there was some hope that John and Julia would start a showmance, but it seems that Steve has worked his way in there instead. Yep, some fans are rooting for a showmance between Julia and Steve. Socially awkward, quiet, sometimes forgettable Steve.
Steve was more of a background personality in the house in the first few weeks. Back then, most of the houseguests found him creepy or shady because he didn't pick up on social cues and would do things like enter a room in the middle of a private conversation and just sit there. Things started to turn around for Steve once Vanessa and Shelli began working with him. Suddenly, Steve was happier and no longer as awkward as he had been in the past. By the time Julia entered the house, Steve was practically Casanova, having mastered a dozen cheesy pick-up lines.
While Julia was clearly not into Steve at first and worried about leading him on, maybe things are changing! There are at least five good reasons why Stevlia would make for a good showmance.
1. Julia Can Teach Steve About Pop Culture
2. Steve Would Always Have Someone To Appreciate His Pick-Up Lines
3. Julia Brings Out Steve's Boldness
4. Julia Has So Much Fun With Steve
5. Steve Might Work With Julia When Dealing With James' Pranks
It's been adorable to see Steve and Julia's friendship grow. I'm not sure if he's still hoping they can actually get together in the Jury House, but I know there are plenty of viewers who'd love to see this showmance made official. I'm rooting for you, Steve!
For more on this season of Big Brother, check out Bustle's podcast The Diary Room below.
Image: CBS