Here's How Many Couples Meet Online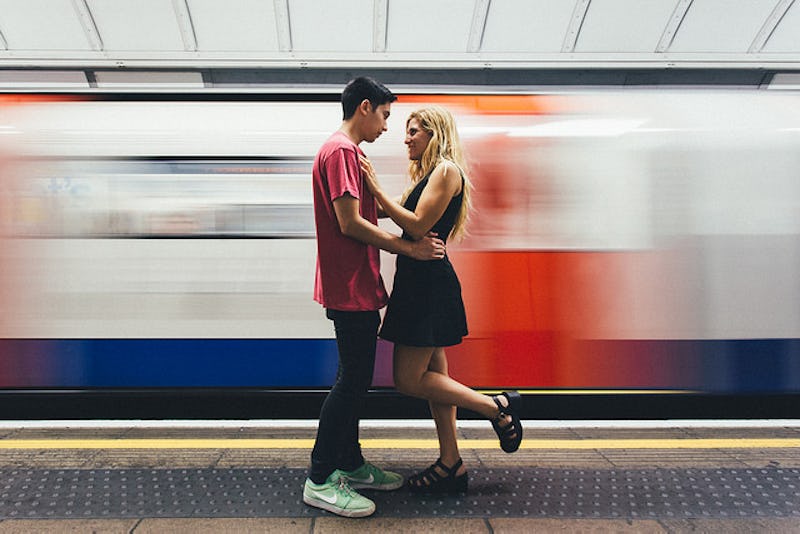 It's no secret that we are currently dating in the age of Tinder. While some may find it to be a fun, easy, and convenient way to meet new people, others believe that dating through the URL has somehow led us into a "dating apocalypse." Whether you do it or not is totally up to you. But just know, a lot of people are doing it. To top it all off, a newly released report by popular dating site, eHarmony, found that online dating is the second most popular way to meet new partners.
According to eHarmony Australia's 2015 Relationship Study, finding your partner online is quickly catching up to more "traditional" ways of meeting partners. In fact, 22 percent of those surveyed say they met their current partners online, second only to meeting people through mutual friends at 24 percent.
"A digital profile is a great way to find out more about a match, but it's also a great way for singles to put their best self forward," eHarmony's Dating and Relationship expert, Melanie Schilling said in a Huffington Post Australia report. "While technology has certainly done amazing things to the dating world, it's important for singles to remember not to hide behind technology, to treat others with respect and to present themselves honestly and proudly online."
Here are five ways people are currently dating in the digital world, according to the eHarmony Australian study.
1. Performing Background Checks Is A Must
The study found that 69 percent of people admit to doing the Google background check on their date. According to Schilling, "Performing background checks is a positive example of how Aussies are using technology and social media to help screen for potential date breakers."
2. Texting Is The Most Common Way To Communicate While Dating
About 54 percent of people say they text in order to organize a time or place for a date, while 53 percent said they use texts to tell their date they had a great time. Millennials and women used texts the most, and 53 percent of women use texts to decline dates.
3. There Are Still Better Things Left To be Done IRL
The study found that 52 percent of people prefer dates to be arranged "in person," and a good 80 percent of them also said break-ups should be done face-to-face.
4. Technology Makes People More Confident
It's really no surprise here, but four in five people say it's easier to be more fun and witty online because you have time to craft the perfect response.
5. Ghosting Is A Big Problem
One of the biggest issues people have with online dating is the not-so-cool art of ghosting. In fact, 35 percent of people said they've experienced the rejection of that lame disappearing act. But that's not all. Other popular ways of online rejection include having your messages go ignored (29 percent), being unfriended on social media (27 percent), and having a former lover post pictures of themselves with their new beau (10 percent).
Want more of Bustle's Sex and Relationships coverage? Check out our new podcast, I Want It That Way, which delves into the difficult and downright dirty parts of a relationship, and find more on our Soundcloud page.
Images: Leo Hidalgo/Flickr; Giphy(6)