JJ Lane's Tattoo Is Super Complicated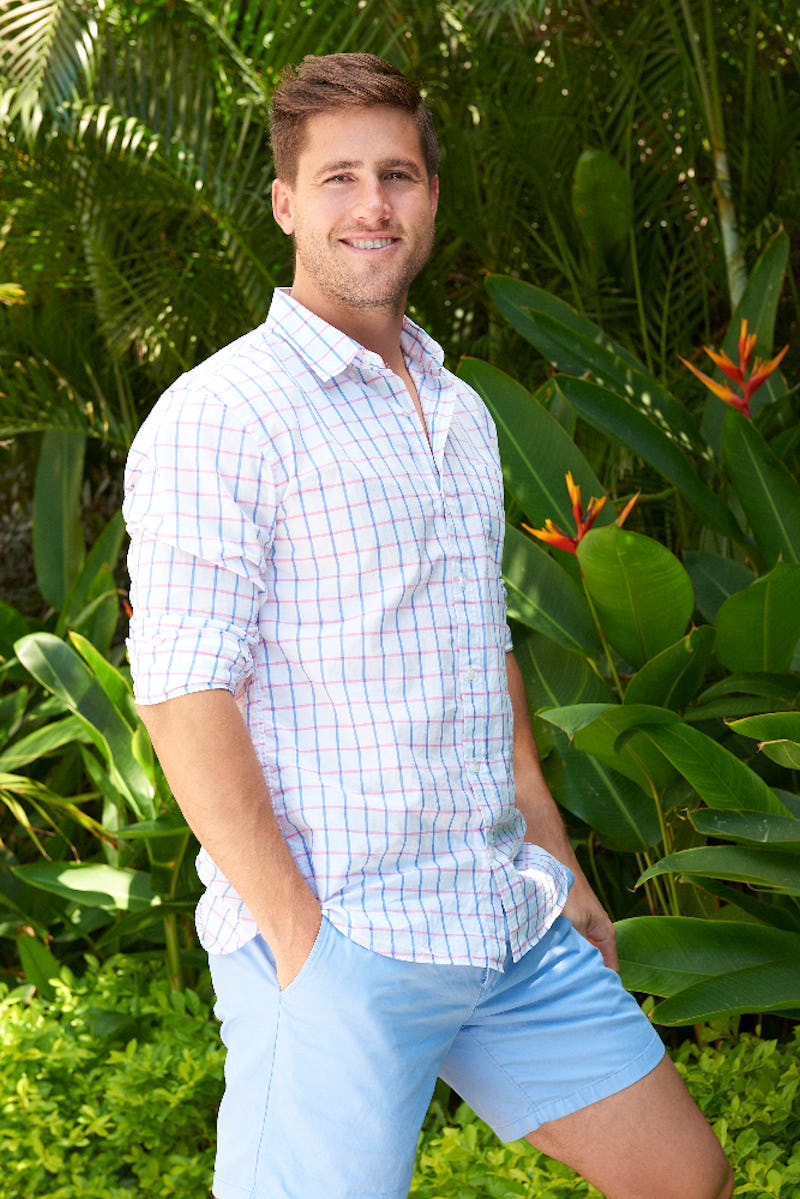 If there's one thing the boys of Bachelor in Paradise have in common, it's great muscles and a lot of body art covering said muscles. However, some of these guys have gotten inked with designs more noticeable than others. Specifically I want to know more about Bachelor in Paradise star JJ Lane's tattoo. It definitely falls in the "stand-out tat" category. (And, contrary to Chris Harrison's belief, it's also not the worst BiP tattoo out there. Joshua has a hula girl on his calf, guys. We must never forget that.)
But, before we dissect JJ's tattoo in all its glory, let's recap who he is... because without him being involved in the main drama of the season, it can be easy to forget. The 32-year-old is a single dad from Denver. He also works as an investment banker, which is refreshing for this cast of personal trainers and hairstylists. JJ was eliminated from The Bachelorette during Kaitlyn Bristowe's season this summer and quickly transitioned to the second season of the spinoff series. While he hasn't had many dates yet, he is definitely a presence on the show. Now, let's get into it about his ink. Is it just a shoulder tattoo? Is it going to become a sleeve at some point? I have so many questions. Let's take a look and try to break down what's going on here. This colorful tattoo has a lot of elements to unpack.
So, there's definitely a badass knight, whose sword is the beak of a... purple bleeding thunder cloud with lightning that looks like it was produced by either Thor's hammer or Pikachu? OK. The commenters suggest that the sword is piercing a demon to go along with the Bible verse, whose text reads as thus:
We are hard pressed on every side, but not crushed; perplexed, but not in despair; persecuted, but not abandoned; struck down, but not destroyed.
That's nice! Definitely not as overtly religious as I was expecting, though that shouldn't make a difference. It just seems like a quote you'd find on someone's Instagram. I'm feeling inspired. Under that is his daughter's name, Gemma. That's incredibly sweet. I'm liking this tattoo the more I break it down. But, I still don't know what's going on with the other side. Rocks? Shields? Scales?
However, from this angle...
...the tattoo looks like an owl, so here is what I choose to believe inspired JJ Lane's tattoo:
Harry Potter's Hedwig
Maybe he's real bummed out that he never got a Hogwarts letter. Fictional logistics aside, I know I still am.
Mister Owl
That Tootsie Roll Pop bird has to have some fans, right?
The Owls Of Ga'Hoole
I mean, this armored guardian is the most likely candidate, right?
Whatever inspired JJ's tattoo, it's definitely memorable!
Images: Bob D'Amico/ABC; Giphy (3)