Check Out The 'Bachelor In Paradise' Guys' Tattoos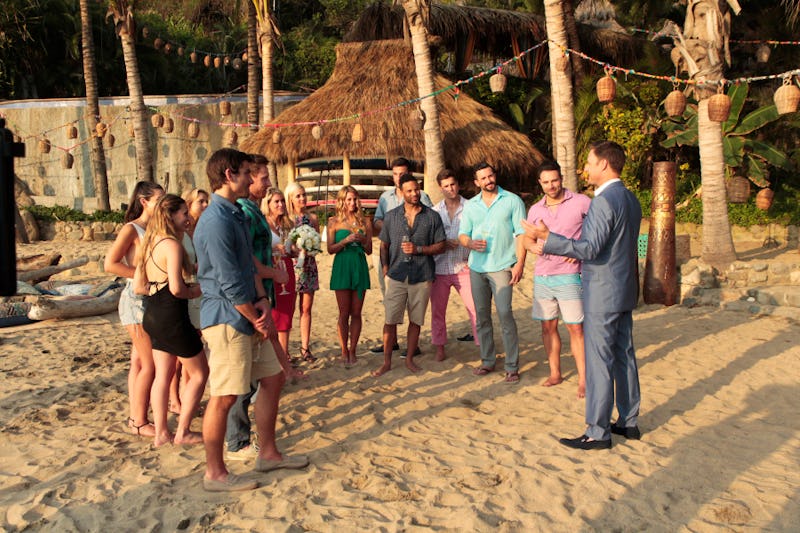 On last week's Bachelor in Paradise talk show After Paradise, host Chris Harrison spent a lot of time talking about how he's not a fan of the tattoos the Bachelor in Paradise guys have — and they do have a lot. Or, it could just be that they're going shirtless a lot so you can see their ink better. After all, they are in Mexico in the summertime. But, it works out well for me, because I always love to see what kind of ink people are sporting. This goes for Bachelor In Paradise, too, where everyone is wearing a bathing suit, and I get to see all of the tattoos of these fine contestants.
Most of the guys are personal trainers, so it's not a surprise that they want to show off their canvas and add a little art to it. When you're in great shape, you just have to flaunt it, you know? The tattoos on the guys on Bachelor In Paradise range from colorful, expansive works to intricate all-black sleeves with incredible detailing. Let's take a look and see who on BiP is impressively inked up, and who agrees with Chris Harrison that the tattoos are less-than-stellar.
Joshua Albers
This welder, hailing from Idaho, has had his share of ink. He has nine tattoos in total, sporting two stars on his arm, some kind of cat on his chest (I can't tell since I'm not up close), a hula girl on his calf (yes, for real), and many, more. Looks like he's spending plenty of his welding dollars on his tattoos.
JJ Lane III
JJ's colorful upper-arm sleeve is pretty much always visible, because this guy never wears a shirt. No matter — it's still a pretty cool piece.
Jonathan Holloway
This handsome man from Kaitlyn's season of The Bachelorette has even more tattoos than Joshua does. I spy some sparrows and some totally gorgeous sleeves, to start. I like the style, too — black ink with a touch of color. As if Jonathan couldn't get any cuter.
Mikey Tenerelli
Mikey's sculpted bod (he owns a CrossFit gym in Illinois) is a lovely place to show off some ink, and Mikey definitely indulged in a little artistic therapy. He has at least two tribal design tats, all perfectly displayed on his chiseled physique.
What artistry we're seeing on these guys. Of course, it's not surprise — they certainly all have the perfect canvases for it. I'll be watching Bachelor In Paradise every week for a look at these certifiably hot contestants.
Images: ABC/Rick Rowell