11 Books To Get You Excited About Fall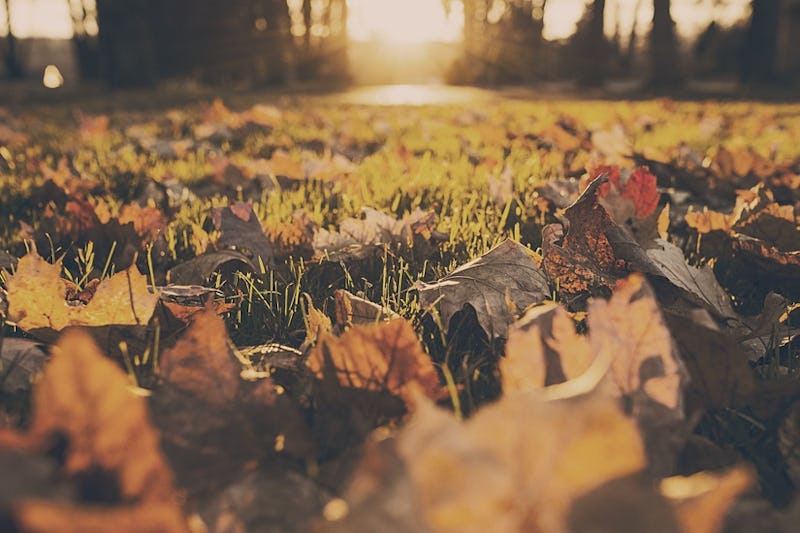 If you listen hard enough, you can hear the first leaves falling from the trees. Pumpkin Spice Lattes are just around the corner, I'm sure of it. Before you know it, everything will be pumpkin-scented, hayrides will be back in season, and you can finally break out the sweaters and flannels once again. Which, if you're anything like me, means you can start wearing the other 95 percent of your wardrobe.
I know, it comes at a price. Summer is ending already, but just thinking about fall and everything that comes with it is enough to make that OK. Summer reading season is one of the best, but reading in the fall is just as magical. All those atmospheric novels feel so much more real in the fall. Plus, there's just nothing better than laying around on a cool weekend afternoon with a cup of coffee and a good book.
Read in a park while the leaves change, spend rainy days inside with your books, or just read on a regular day, but with a pumpkin candle or a pumpkin spice latte by your side; fall is the season for reading. From Stephen King to a revisit to Hogwarts, and from Donna Tartt to Daphne du Maurier, here are 11 books that will get you in the fall spirit.
There's something about Stephen King — but Salem's Lot especially — that just has a fall feeling to it. The Maine setting, the writer returning home, and of course, the house haunted by vampires, all make Salem's Lot essential fall reading, and not just because it's spooky. Even though it is, of course.
No fall-themed reading list would be complete without Donna Tartt's debut novel The Secret History. It's one of the most atmospheric books around, so much so, that you can practically feel the New England wind on your face as you read. Plus, it's set at a college, and fall is back-to-school season, after all. What is it about small New England towns that make them so perfect for fall? I don't know, so I'll have to keep reading!
Rebecca by Daphne du Maurier
"Last night I dreamt I went to Manderley again." Who can resist an opening line like that? The mysterious Manderley, Mr. De Winter, and of course the ominous Mrs. Danvers make up the cast of this chillingly perfect classic. If you haven't read this one yet, or haven't read it since high school. there is no better time to read it again than the fall.
No, of course I'm not just including this because it has "cider" in the name! Well, OK, maybe I am. But The Cider House Rules is so much more than the name of the hands-down best drink of the fall. John Irving writes beautifully about orphans, and family, and what those things mean. It will be a perfectly emotional start to the season. Read it with a cup of cider, just to get in the spirit.
Is there a spookier name than Merricat Blackwood? I don't think so. Merricat lives in a giant estate, with her sister Constance and her Uncle Julian. There used to be more to the Blackwood family. But somehow, a fatal dose of arsenic wound up in their sugar bowl. Constance was acquitted for the murders, but the people in town have never looked at them the same. And, their troubles might just be beginning. The perfectly creepy book to set the tone for the season, We Have Always Lived in the Castle is the perfect short read.
If you're looking for a quick and hilarious ay to get in the fall spirit, Anya's Ghost is the way to go. Anya is a lonely girl, and could use some friends. But the kind she gets is definitely not what she expected. When she falls down a well, she naturally expects the worst. What she gets is the friend she's needed all along, who just so happens to be a ghost.
Neil Gaiman's writing brings you in and keeps you there, and The Ocean at the End of the Lane is the perfect example of that. Read this in the fall, just as the chilly weather sets in, for the perfect fairy-tale turned adult novel that will carry you away. It has some spooky, supernatural elements that make it the perfect fall read, and the reflections on being a kid will bring you back to your own childhood.
Peggy Hillcoat is only 8 years old when her survivalist father James takes her away from her home and into the woods. He tells her that the rest of the world has disappeared, and they are the only two living people on Earth. Peggy believes him, as any eight year old would, and the two spend years living in the forest, watching the leaves change and the seasons come and go. Beautiful and devastating, Our Endless Numbered Days is the perfect book to read with a cup of coffee while the leaves change.
I don't think there is ever a bad time to re-read Harry Potter, but there is no time more perfect than the fall. Everyone is heading back to school, and whether you're one of them, or missing your own time at school, Hogwarts will always be there to welcome you home.
The Wicthes of Eastwick is the story of three divorced women who come into some amazing powers. But those powers, like most, come at a price. What unfolds is a scandal that sweeps their town of Eastwick. Fall is the season to read about witches, ghosts, and all things spooky, and John Updike's Witches of Eastwick is the perfect place to start!
A book about books, and one set in Barcelona — it doesn't get any better than that! If you're sad about summer ending, and want a book to immerse yourself in it completely — and one that will take you on a trip to Italy — start the fall off with The Shadow of the Wind!
Image: Pexels