Joe Jonas And Gigi Hadid Wore Matching Kicks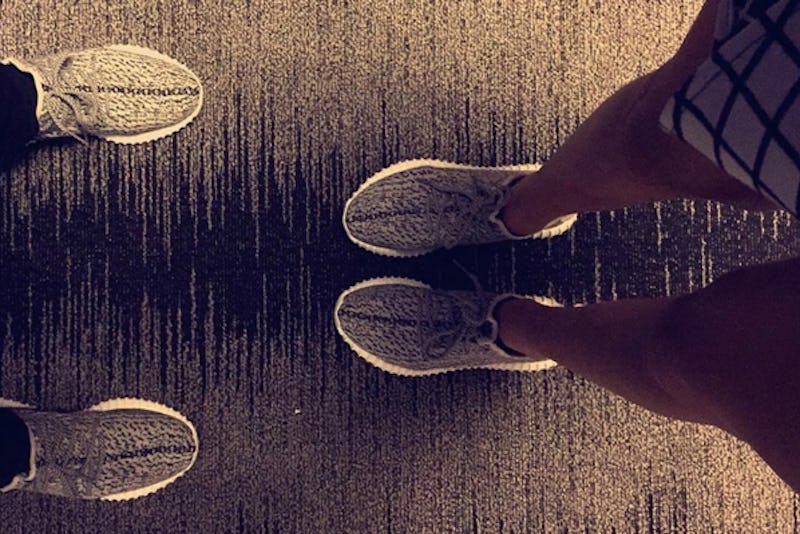 Whatever your thoughts on couples twinning it out are, Joe Jonas and Gigi Hadid wore the same sneakers during date night and looked pretty darn adorable. If you ask me, the reason the whole #twinsies thing is working for them is that they didn't show up wearing the same tracksuit or matching turtlenecks. Instead, they went subtle by wearing the same pair of Yeezus sneakers while Hadid donned a skirt and Jonas sported some black jeans. Honestly, if both you and your partner had such an exclusive, hard-to-get-your-hands-on shoe, and they showed up at your door wearing them at the same time as you, would you really make them change? That'd be downright mean... and would probably lead to a brutal fight.
Headed on their way to the Staples Center in Los Angeles for friend Taylor Swift's sold out 1989 World Tour, they decided to dress casual in a black and white color palette. Hadid's checkered mini and Jonas' all-black look with a leather jacket and laid back tee were all perfection. Most likely thinking they were pretty cute with their matchy-matchy looks, Jonas even Instagrammed the sartorial moment.
If you and your partner want to give the identical look a try, but in a subtle way that won't make the rest of the world cringe, here are a few options you can try:
1. Striped Sweaters
H&M+ Fine Knit Sweater, $29.99, hm.com; Striped Knit Sweater, $13.99, forever21.com
Wear the same sweater pattern in the same color scheme, but make sure there's a subtle difference. For example, if your pattern is stripes, try to go with different widths.
2. Leather Jackets
Zipped Faux Leather Motto Jacket, $34.90, forever21.com; Short Jacket, $59.99, hm.com
You can match up on classic pieces like leather jackets and no one will blame you for owning them. They're called classics for a reason, right?
3. Trending Sandals
Webbed Flatform Sandals, $24.90, forever21.com; D-Ring Faux Leather Sandals, $27.90, forever21.com
You're wearing a chunky sandal, they're wearing a chunky sandal, the whole world's wearing a chunky sandal. If you wear a trending shoe together, then it's not quite as obvious (or cheesy) that you're going samesies.
4. Shirt And Tie
H&M+ Blouse With Tie, $34.00, hm.com; Solid Woven Skinny Tie, $7.90, forever21.com
If you go with a sweet pussybow while they go with a skinny tie, you'll look like a chic and committed couple, especially if you opt for black and white. You'll look just different enough, though, with the juxtaposition of feminine touches in the bow and classically-masculine details with the tie.
See, being matchy matchy doesn't have to be so awkward after all.
Images: JoeJonas/Instagram; Courtesy Brands