Beauty Products That Will Wake You Up Fast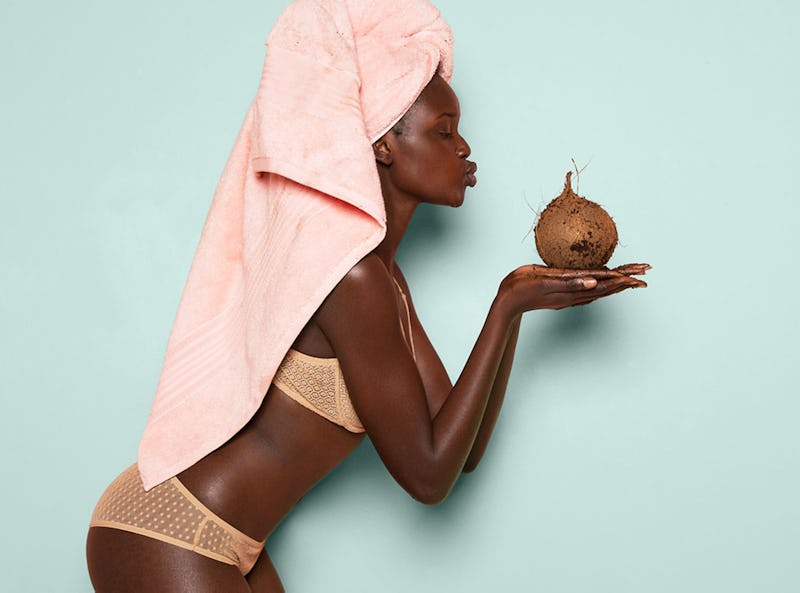 As the mornings become darker and colder, it gets harder and harder to wake up. Sure, coffee always gives a little moral support. But what about energizing beauty products that can help you wake up in the morning? I, for one, am not a morning person. The struggle to be awake and happy about it before 10 a.m. is real. Maybe it's because I physically cannot sleep before 2 a.m. Or maybe it's because I'm just lacking a really good, orange-scented face wash. Either way, I know I'm not the only one.
Oh, you're a night-owl too? Yeah, yeah, I suppose we could just try to go to bed a little earlier. Or. OR. We could just use some new awesome-smelling skincare that will help energize us in the morning. (Citrus scents are perfect for stimulating the senses.) And don't worry, if just changing your face wash won't cut it, there are plenty of options to try. So whether you just need a little something extra, or a whole routine to help get going in the AM, here are eight skin and haircare products that will change your morning shower from something you usually just talk yourself out of because snooze button, to something that can actually jumpstart your entire day.
Face Wash
Bliss Triple Oxygen Instant Energizing Cleansing Foam, $22, A mazon
Oxygen is anti-inflammatory, so it will calm down any puffiness or redness you acquired overnight.
Face Mist
The Body Shop Vitamin C Energizing Face Spritz, $17, Amazon
Set makeup or even use this facial mist on-the-go to refresh, hydrate, and perk up tired and dull skin.
Moisturizer
Origins GinZing Energy-Boosting Moisturizer, $20, Amazon
Instantly hydrate and boost radiance with this panax-ginseng and coffee-bean infused moisturizer. Plus, the citrus scent will give your senses a quick pick-me-up.
Eye Mask
Skyn Iceland Hydro Cool Firming Eye Gels, $30, Amazon
Energize and de-puff eyes with a cooling mask you can leave on while you get ready in the morning.
Soap
Shea Moisture Fruit Fusion Coconut Water Energizing Shea Butter Soap, $7, Amazon
A blend of dragon fruit, lychee berry, and green apple extract invigorate the skin while coconut water nourishes and hydrates.
Body Scrub
Frank Body Coconut Coffee Scrub, $24, A mazon
Don't just drink coffee. Bathe in it. This coffee scrub will awaken your senses while exfoliating, making your skin look brighter. Plus, it's infused with coconut oil, which we all know is a miracle product.
Lotion
Aveeno Positively Nourishing Energizing Body Lotion, $11, Amazon
Just try not to eat this deliciously scented pomegranate and grapefruit lotion.
Shampoo
OGX Intensely Invigorating Eucalyptus Mint Shampoo, $19, Amazon
Eucalyptus, mint, and tea tree oil weightlessly cleanse the scalp while waking up the senses for a totally refreshing start to the day.
I dare you to fall back asleep.
Images: Courtesy Frank Body; Courtesy of Brands