A New Way To Use Those Under-Eye Gel Patches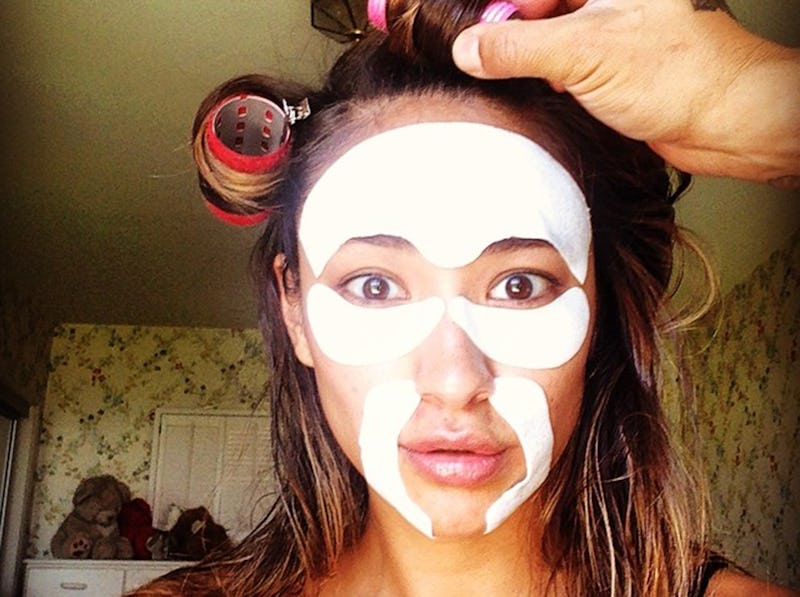 I think makeup should be about playing and expressing yourself. Sure, it can also be used to help hide flaws and present a "better you," but when that's the focus, it can take the fun out of the whole primping process. And if you suffer from under-eye circles that require you to have multiple, full-coverage concealers on-call, you know what I'm talking about. That's where under-eye gel patches come in. A choice application timing of them can be a game-changer in your makeup routine. Instead of using those soothing, cooling patches immediately after you wake up or at the end of a long day, wait until you're ready to start your makeup to apply them.
By applying eye masks right before you start your makeup, it can help makeup application be more effective. Those strategically placed patches are perfect for catching fallout from eyeshadow, so you won't have to worry about having smoky cheekbones in addition to smoky eyes. And what's more, is that you won't have to layer on all the concealer either. By letting the eye patches do their magic right before you do your makeup, some of that unwanted shadow (both the kind you apply to your lids and the kind that is naturally under your eyes) can be reduced, causing you to not need as much concealer as you might normally. Sounds like a win-win-win, right? If so, here are some eye patches you'll definitely want to try.
Skyn Iceland Hydro Cool Firming Eye Gels, $30, Amazon
Demonstrated above by the lovely Shay Mitchell, these gel patches feature Icelandic glacial water and firming ingredients to de-puff the under-eye area, increase circulation, reduce fine lines and wrinkles, and prevent future damage to this delicate facial area.
Karuna Renewal And Eye Mask, $36, Amazon
Made with hyaluronic acid, aloe vera, and Chinese licorice, these eye patches work to hydrate and detoxify the eye area as well as reduce dark circles and puffiness.
Patchology Flash Patch Eye Gels, $50, Amazon
These eye patches have caffeine and hydrolyzed collagen to help improve circulation, hydration, tone, and density for brighter and less-puffy eyes.
Sephora Collection Eye Mask, $5, Sephora
Target your specific concern with these single-pack eye masks that come in a variety of treatments. This specific kind evens and illuminates the skin for a brighter eye area.
Feels good to clean out your concealer collection, doesn't it?
Images: @shaymitchell/Instagram; Courtesy of Brands