The Most Awkward Sex Experiences, Ever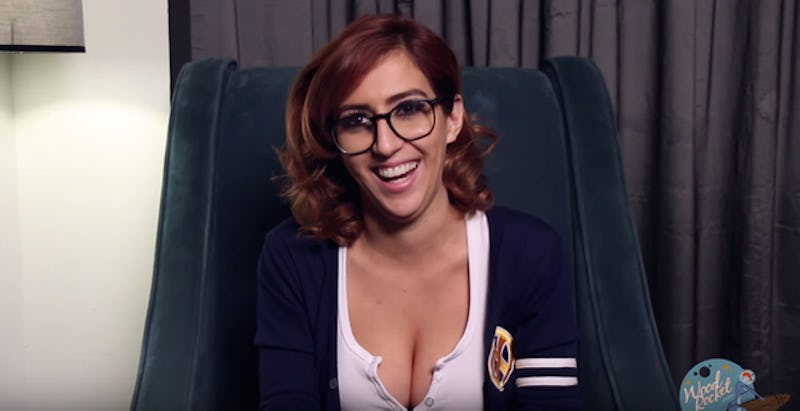 A lot of big budget porn may look sleek and sexy AF, but there's always an unsavory element to even the steamiest shoot. In a new cringe-inducing WoodRocket video, porn stars reveal their grossest on-set experiences, and they make those Hollywood actors who complain about awkward sex scenes seem like total wusses.
Bodies are unpredictable things, particularly when you're putting them through feats of sexual endurance. If anything, hearing sexual pros open up about their awkward orificial moments reminds us that during regular off-camera sex, we shouldn't be so uptight about our mishaps, either. Anal sex is, of course, a major offender when it comes to "accidents" in porn — and it is in real life too. There are a few backdoor tips you should know before trying it for the first time, but, again, even masters of butt action get into some sticky situations now and then. The same goes for period sex and bukkake, but there are probably less circumstances where us plebians are engaged in large scale ejaculation fests (unfortunately).
Regardless of what your real life worst-nightmare sexual scenarios have been, I guarantee these adult stars have seen worse. Here are five of the grossest experiences they have been forced to endure in the name of pleasure:
1. The Lost Makeup Sponge
Fun fact: when actresses are on their periods, they often use a makeup sponge to block the blood so it doesn't interrupt a scene. However, many a lady has been known to forget said sponge until they suddenly become quite pungent...
2. Explosive Excretions
As James Deen puts it so eloquently, "If you're going to f*ck someone in the butt, you shouldn't expect to not find poop." And as one actress finds out, ramming someone in the ass with a dildo might be followed with an unexpected volcanic eruption at any moment.
3. Tampon Torpedoes
Not every actress uses a makeup sponge during her time of month. Some use tampons, and some manage to eject them into mid air when their pelvic muscles are engaged an intense squirting scene.
4. Yeast Infection Yikes
Some girls aren't aware that they can reschedule a shoot if they happen to be not so fresh down there. Ela Darling recounts a story of one unwell newbie reaching an intense climax that caused her to squirt all of her yeast infection discharge over another girl's face. Yikes.
5. Language Barriers
What happens when one actor mixes up the words for "spit" and "vomit"? Rain DeGray's co-star had to find out the hard way...
Want more of Bustle's Sex and Relationships coverage? Check out our new podcast, I Want It That Way, which delves into the difficult and downright dirty parts of a relationship, and find more on our Soundcloud page.
Images: Vince Mancini/YouTube