Glossier Perfecting Skin Tint Expands Its Line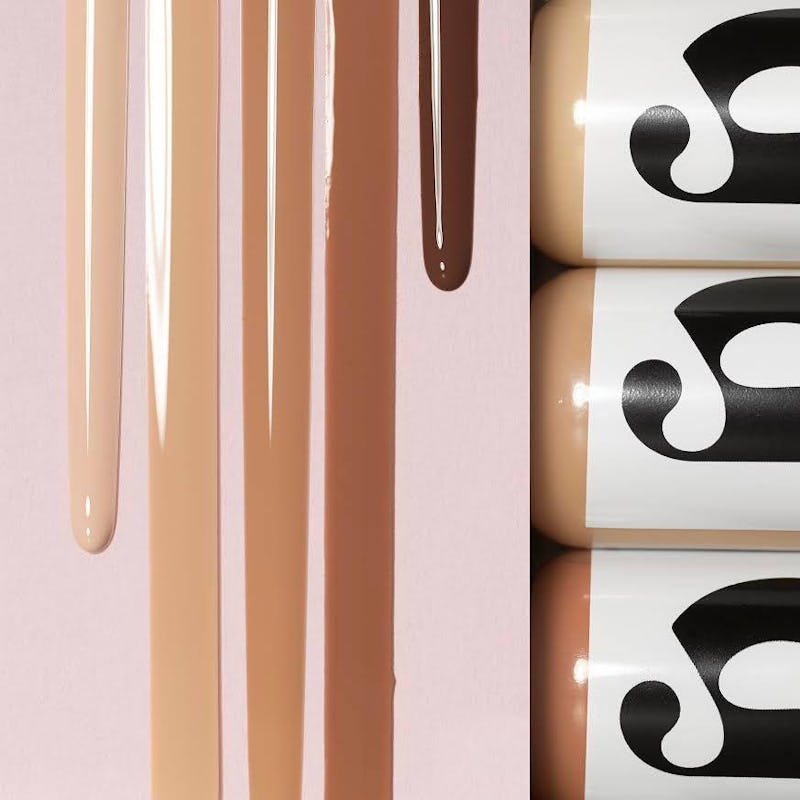 Finding a foundation that perfectly matches your skin can be a chore, especially if you're on either end of the color spectrum—very pale or very dark. Luckily, Glossier expanded its skin tint line to include darker tones, and I think I can speak for everyone when I say that the shades are all a little closer to a perfect match.
Glossier just released two new darker shades to their Perfecting Skin Tint lineup. Colors "Deep" and "Rich" are now the darkest of the foundation options. They're great additions, considering the previously darkest "Dark" shade was really a warm olive tone that wasn't anywhere near close to what a darker complected person would need. The "Deep" shade has a reddish, warm tint while the "Rich" shade is a very deep, cool brown.
Fans have been begging Glossier to expand its color offerings since they released the line last October. One glance through the comments section and you'd find fans asking for darker shades to fit their skin color. While it may have taken them almost a year, Emily Weiss & co. certainly acted as fast as they could to bring customers exactly what they needed.
The formulation of this lightweight, sheer coverage foundation is designed to give you that "no makeup" makeup look. It's breathable and dewy—the exact type of foundation everyone needs in their drawer as an option for those sunny weekend brunches or casual dates.
"In addition to the new shades, Glossier is also launching an online Skin Tint Selector, an easy-to-use tool to help women find the perfect shade," said Glossier in a press release. "By uploading a photo and selecting a small area of the face, the Selector will automatically start the match search."
Ah, technology. You woo me yet again. This is an awesome alternative when we don't have time to hit up the makeup counter for a perfect match, and let's be real, we rarely have time to book (let alone make) that Sephora appointment.
"We hope that with this extension and Selector Tool, women of all complexions will be better able to find the shade that suits them best."
Yes! We've all been there. You are in-between seasons and your tan starts to fade and suddenly finding a perfect match foundation is like finding a unicorn in the wild. When makeup companies make finding that perfect shade easy, and then purchasing the product accessible, they're truly thinking with the customers in mind. Touché, Glossier.
If you're still unsure how to find your perfect shade, here are a couple of tips when times are hard.
1. Test The Right Area
For many of us, we test foundation on the area we plan to apply it. This is a bit of a snafu, since your face is likely getting tons of exfoliation and sunscreen (or, at least, it should). If you match your foundation to your face shade, your face will likely look ghost white in comparison to the rest of your body. According to Cosmopolitan, the best place to test foundation is right on your jawline. If you still aren't sure, go a step further and test the foundation on your neck.
2. Don't Be Afraid To Mix
I get it. Sometimes all the colors of the foundation rainbow still won't have a perfect match for you. During those times (which usually only last the transition period between seasons) don't be afraid to mix your own foundation. You don't have to be a chemist—just find two foundation formulas you like and mix your current shade with one darker or lighter, depending on what you need. Do this on the back of your hand, so you can make sure it's perfect before applying. So, if you're in-between shades and seasons, splurge and get two shades, like medium and dark.
Image: Glossier/Facebook