'Below Deck' Stars Give Exciting Season 3 Spoilers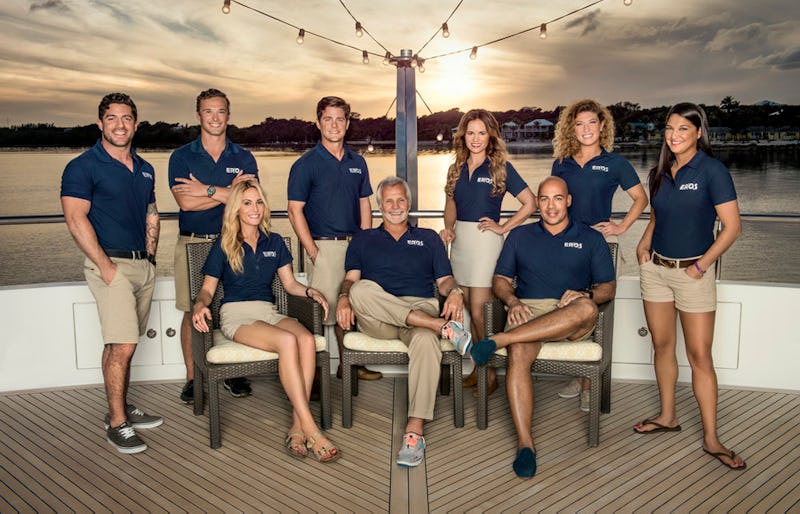 In the words of stars Eddie Lucas and Kate Chastain, Season 3 of Below Deck, which premieres on Bravo on Aug. 25 at 9 p.m., will be "crazy." And in lieu of regular old spoilers for the season (obviously they can't flat-out reveal every twist and turn before it starts), they describe its big events in the form of emojis, which let fans use their detective skills to figure out what exactly is coming. Kate and Eddie's emoji Below Deck Season 3 spoilers may normally be used for texts, but here they evoke potential terror and excitement on the high seas. So far, we know that the new season of Bravo's series boasts a whole bunch of new crew members alongside a few returning faces, like Captain Lee and Amy, but these hints give a little more insight to what that crew will be doing.
Of course, these emojis show that there's more drama ahead for Below Deck, and both Eddie and Kate describe this season as more explosive than the previous two. There's nothing better than a good clue to really excite the audience about what's to come, and these tidbits will definitely get your attention. Some are exactly what you'd expect, some are complete surprises, and all of them prove that when Eddie or Kate promises "crazy" experiences this season, they aren't lying. But the proof is in the emojis.
Eddie's Emojis:
⛵️ 🔥 🏃 🙋 ✂️
Kate's Emojis:
🌴 🚤 🌊 🌀 ☔️ 😜 ⚓️ ☀️ 😯 😱
Now, let's try to decipher these clues and figure what Below Deck has, well, on deck.
1. The Boat & Fire
The boat part is self explanatory... it's Below Deck. It takes place on a boat. But the fire is intriguing. There's a quick glimpse of a kitchen fire in the season trailer, and this emoji makes me wonder if, rather than a fire drill or safety exercise, there's a real emergency on the boat.
2. Eddie Running
Eddie is right in the middle of the drama this season, and his running emoji could mean that he's going to try to race away from his issues or be dealing with work stress on top of his relationship drama.
3. A Girl With Scissors
Someone is going to be carrying a pair of scissors this season, according to Eddie. Could it somehow be related to Rocky, who seems to have some kind of disagreement with Eddie over a potential hookup? Or will Kate just be up to more arts and crafts?
4. Island & Boat
Again, another easy one: the Below Deck crew always spends some time on land. While on leave, they usually go partying at local clubs. And charter guests often ask to be taken to an island for a change of scenery.
5. Wave, Wind, Rain
It seems like Kate is suggesting that there is going to be some dramatic weather this season. While there's been a lot of storms on Below Deck, never anything that combines crashing waves and wind and rain. Captain Lee, I hope you're ready.
6. Anchor & Sun
These are more suggestions of fun and relaxation, so don't worry, whatever storm comes will surely pass.
7. Silly Person
That winking emoji sticking its tongue out makes me think one of the crew members will get a bit of cabin fever by the end of the season. The face could also represent a wicked hangover the night before a big charter. Or, it could be about Rocky and Emile's ridiculously bad idea to break the rules and climb to the top of the boat.
8. Shocked Person
This one could represent the cast or even the audience after all of the Season 3 plot twists.
9. Scared Person
I'm not sure if that's describing either a chastised troublemaker getting surprised with a plane ticket home, or maybe someone practical like Kate or Amy reacting to the antics of the crew after one of the many insane events that will surely go down. Either way, if Kate and Eddie's emoji spoilers are any indication, Season 3 of Below Deck is going to be one hell of a ride.
Images: Virginia Sherwood (2), Screengrab (2)/Bravo; Giphy (4)