How To Make Your Own Pumpkin Spice Latte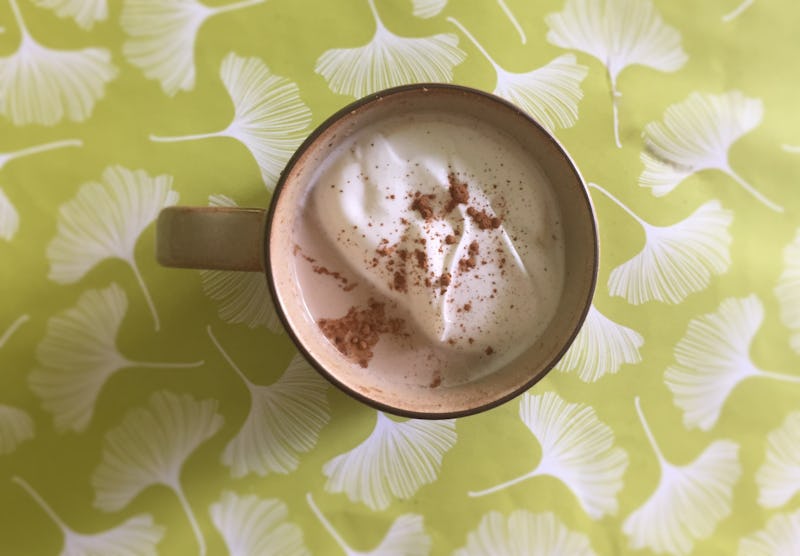 You've suffered through winter, spring, and summer without it, and your tastebuds need that blend of pumpkin, spices, and frothy milk that tells them fall has arrived. The pumpkin spice latte is back at Starbucks, and while nothing can compare to the official beverage that has become synonymous with fall, it's worth learning how to make a pumpkin spice latte yourself. Why, you ask? So you can drink it all year long, obviously.
Fans of the PSL know that there is something a little different about Starbucks' signature fall beverage this year — namely, it's made with real pumpkin. What does that mean for you and your obsession with the drink? I tried a sample of the sweet fall beverage at my local store, and I can say that it tastes very similar, if not identical, to the old beloved version — sweet, spicy, creamy, and delicious. But what about an at-home version of the perennial Starbucks favorite? Is there a way to concoct a version that stands up to the real thing?
You'll be happy to know the answer is a big, whipped cream-topped yes. With just a few simple ingredients, you can recreate that autumn beverage that you wish was around all year long. There are dozens of recipes online, and after trying a few of them, I came up with a single-serving version that tastes the most like the PSL we all know and love. While a lot of the recipes I found online called for "pumpkin spice" or "pumpkin pie spice," I couldn't find any of the elusive mixture at any of the three grocery stores near me, which could be due to the fact it isn't quite fall yet. Instead, I created my own using a combination of cinnamon, nutmeg, ginger, and allspice, but if you're lucky enough to have a jar of pumpkin pie spice lying around, your latte is basically half made already.
Here is how you can make your own version of Starbucks' pumpkin spice latte, so you don't have to wait around for this beverage ever again.
Ingredients
2 tbsp. pumpkin puree
1 tbsp. simple syrup
1 tbsp. vanilla extract
1/4 tsp. cinnamon
1/4 tsp. nutmeg
1/4 tsp. allspice
1/4 tsp. clove
1/4 tsp. ginger
1 cup of milk
2 oz. espresso or strong coffee
Whipped cream
Directions
1. To make the pumpkin spice, combine cinnamon, nutmeg, allspice, and clove. Put aside a pinch for garnishing your beverage, and use the rest for making the latte.
2. In a small sauce pan, combine pumpkin puree, milk, simple syrup, and pumpkin spice. Whisk until all the ingredients are fully incorporated.
3. Pour coffee or espresso into a serving cup, and add the mixture from the stove.
4. Using a hand milk frother, beat your latte until it's foamy.* Top with whipped cream, and sprinkle with pumpkin spice. Serve.
*If you don't have a hand milk frother, you can use a hand mixer to beat the latte in a mixing bowl until it becomes frothy, and then transfer it into a mug.
The Verdict
I will let you judge for yourself, but IMO this at-home pumpkin spice latte is just as good as the one at Starbucks. It's aromatic, and the perfect blend of all the best flavors fall has to offer. Never again will you have to wait for autumn to enjoy Starbucks' most decadent drink. You're welcome.
Images: Sadie Trombetta