Rocky Is Going To Rock The Boat On 'Below Deck'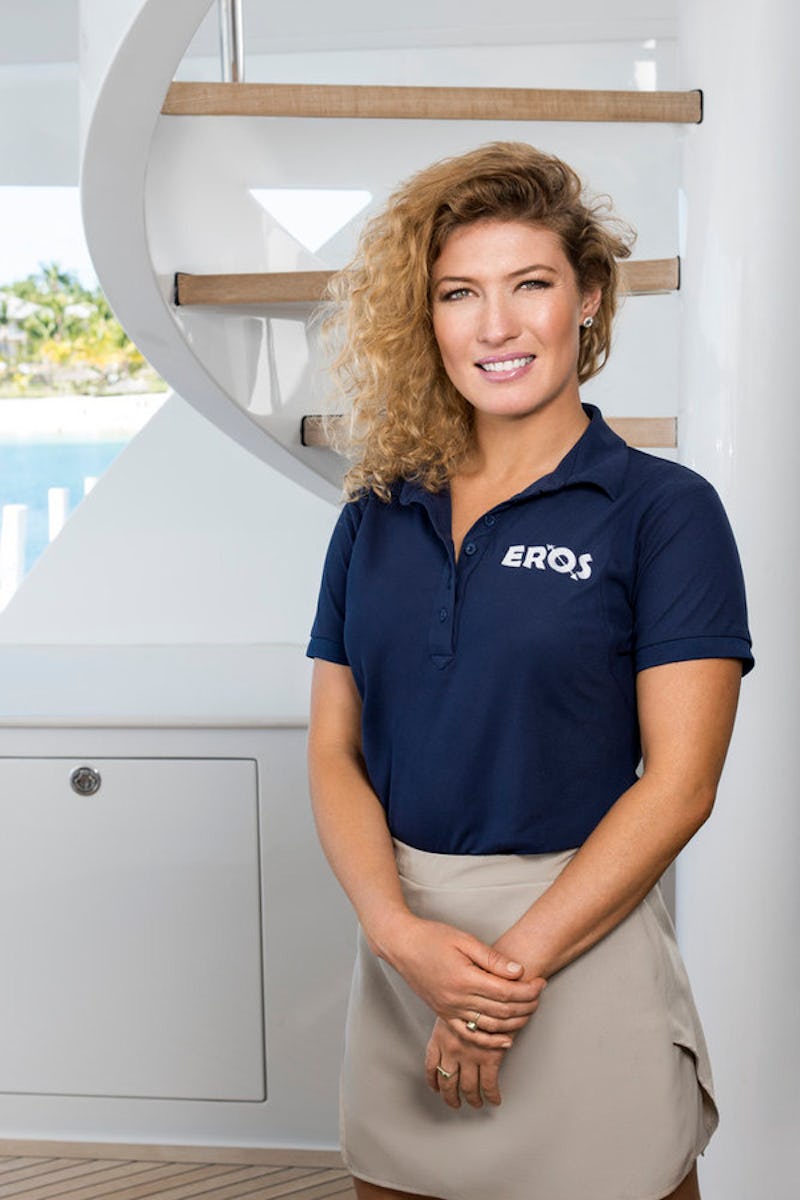 With a nickname like Rocky, you better believe this new Below Deck Season 3 cast member is going to be making some waves when the show returns to Bravo on Aug. 25 at 9 p.m. If you watch any of the teaser clips, you'll quickly figure out that new Below Deck cast member Raquel "Rocky" Dakota, the third stew and sous chef, is going to be the troublemaker of the season. Thanks to those teasers, we already know that some of her shenanigans will include climbing atop the ship's mast, possibly spreading rumors about allegedly hooking up with crewmate Eddie Lucas, and looking like she's about to jump ship in the nude in the Season 3 preview. But who is Rocky really, and is there more to her than the wild behavior we're going to see on screen?
Yes and no. If you've seen Below Deck before, you know that you have to be a little bit nutty to be able to survive living and working on a yacht at sea for months on end. As Kate so wisely says in the season preview, "Cabin fever is real, and it makes you crazy."
However, it looks like Rocky may have been a bit eccentric long before she joined the Below Deck cast. But that's OK, because that's exactly how I like my Below Deck cast members: with loads of personality. You can only be entertained by the ridiculousness of the charter guests for so long.
Here's what makes Rocky such a free spirit and why she's probably going to steal the spotlight all season long.
Her Name Has Some Famous Inspiration
No, Rocky wasn't named after the iconic movie boxer played by Sylvester Stallone. Her nickname comes from her real name Raquel, which actually does come from a famous figure: actress Raquel Welch, as she explains in a clip on Bravo's website. In fact, all of Rocky's sisters get their names from legendary actresses, including Sophia Loren, Brigitte Bardot, and Ava Gardner. Who knows? Maybe Rocky's stint on Below Deck will propel her to the same level of super-stardom as these women.
She Grew Up In An "Aquatic Circus"
Rocky was "raised in a Californian aquatic circus," according to her official Bravo bio. I'm honestly not sure if she's being literal, saying that she has really done underwater acrobatics or if she just means that participating in a bunch of water sports, such as surfing, diving, and scuba diving, made her childhood a ton of chaotic fun. Since I can't find any photo or video evidence that show Rocky doing anything like this, I'm just going to have to assume that she meant the latter.
She's A Total Yogi
That being said, Rocky is pretty amazing at yoga. Just hop on over to her Instagram profile, and you'll see her in some poses that'll make your back hurt just by looking at them. It also looks like she's been known to rock a mermaid outfit, so maybe she is going to join that aquatic circus some day, after all.
Her Mom Was Kind Of A Big Deal
It's easy to see where Rocky gets her love of the water from. Rocky's mom is Jericho Poppler, a legendary surfer who won several big titles during her career, including the U.S. Championship, the International Championship, and the first-ever women's pro tour title in 1976, according to her Long Beach Century Club Hall of Fame bio. Rocky's sister Sophia Tiaré Bartlow currently surfs and paddleboards professionally. She even helps her sister get ready for her heats by "mashing" her body to get her muscles warmed up and ready to go. Now that's love.
Below Deck Isn't Her First Reality Show
With an over-the-top personality like the one Rocky has, did you really think she would have been kept off of a screen for this long? No way, man. Last year, Rocky appeared on the Spike reality competition Frankenfood where she showed off her monstrosity called "Rocky's Surf & Turf," which consisted of a cookie made with calamari, squid ink chocolate sauce, and vanilla ice cream, all topped off with a calamari garnish. Rocky's hybrid meal was unfortunately not killer enough to take home the top prize of $10,000, but she did give a memorable presentation, which has to be worth something.
She's Had Quite The Career
You may be wondering where Rocky learned to cook in the first place. It turns out she hasn't always been a yachtie. Rocky went to culinary school in New York not too long ago and worked as a line cook at a restaurant in The Little Nell hotel in Aspen, Colo. before setting sail for Below Deck, according to her LinkedIn profile. She has also worked as a barista, in sales, as a ski instructor, and a diving coach within the past few years. It doesn't look like Rocky has much experience on yachts, but hopefully her decision to join the cast of Below Deck means she has finally found her true calling.
She's An Eco-Activist
Rocky was raised by two eco-activists, according to her Bravo bio, and she seems to be continuing that tradition, at least on social media. She has posted several photos expressing her support for protecting the environment and animal rights, as well as a disdain for institutions like Sea World, some of which can get a little graphic. No matter what she posts on Instagram, Rocky's passion for the cause clearly shines through. I hope we get to see just as much of her passion this season on Below Deck as we do her wild side.
Image: Virginia Sherwood/Bravo