Fall Fashion Inspiration From 'Gilmore Girls'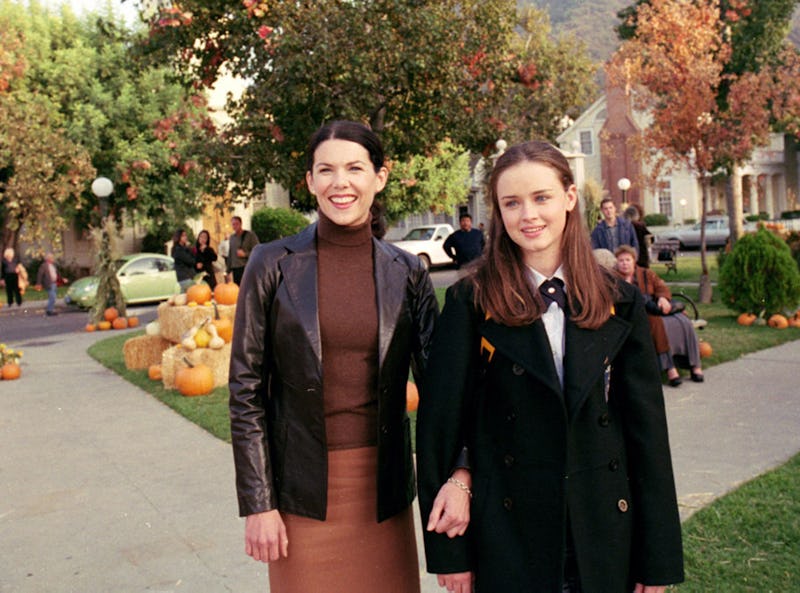 Lorelai and Rory Gilmore both had their share of ups and downs in the fashion department over seven seasons of the beloved, mostly stylish show Gilmore Girls . You could always rely on Emily to be wearing a classy pantsuit, or Richard to be in a suit, or Luke to be wearing his flannel shirt and backwards hat. Rory was pretty dependable in her conservative, slightly preppy tastes as well. Lorelai was definitely always the wild card, though (after all, who can forget about the leopard print cowgirl hat?).
Both girls, however, had a lot of outfits that aged terribly and look fairly dated now. That said, they both wore many more outfits that had classic elements that still work well today. I can't count the number of times that I was binge-watching Gilmore Girls and yelped, "Oooh! What a cute dress/sweater/coat!" After thinking about it way too much, as I often do with anything Gilmore Girls-related, I have determined that their autumnal outfits were always the best. Nothing gets me in the mood for fall more than seeing Rory sipping coffee and carrying a stack of books while wearing her preppy Chilton school uniform, or oohing and ahhing over Lorelai's epic coat collection.
So in case you're feeling sad that summer is almost over, I present to you a very strong case to look forward to fall: a cozy Netflix binge that leads to an online shopping binge. Here are the top seven autumnal outfits worn on Gilmore Girls that are giving us serious sartorial inspiration right now, in chronological order.
1. Lorelai's Leather Pants And Fur-Trimmed Jacket
I'm assuming that's faux fur and pleather, of course (not because Lorelai was known for her animal activism, but because girl was usually broke). Lorelai wore this in Season 1's "Concert Interruptus" when she delivered the most badass mom lecture ever to Rory's Chilton friends after they ditched a concert. I'd say it was effective look for the occasion. Get your own pair of leather pants from H&M for all of the concerts I assume you're going to this fall.
2. Lorelai's Floral Coat
Lorelai always had the best coats. I feel like she had at least two if not three different pink coats over the course of the show and I want every one of them (and I don't even usually like pink). This floral coat from "Dead Uncles and Vegetables" is feminine but not twee; the dark shades make it perfect for fall rather than spring. I want it bad, but instead I'll just consider saving up for this floral Ted Baker coat.
3. Lorelai's Red Lace Dress
Who can forget the red dress that Lorelai wore to Rory's Chilton graduation in the Season 3 finale? It's one of the few outfits she wore that literally made me say "Wow" when I saw it. Normally I'm not into matchy-matchy outfits, but for some reason the matching red cardigan here just works. I wish I had a fall wedding to go so I could recreate this very outfit. This Eliza J dress is similar, as is this Adrianna Papell dress.
4. Lorelai's Leather Jacket (And Sookie's Suede Jacket)
Sookie looks appropriately thrilled to be very on-trend with her suede jacket in "An Affair To Remember"; suede is very popular right now. I'm not sure why Lorelai seems concerned, because her outfit is equally awesome. I'm a sucker for the classic white collar under black outfit in the fall, and I like how the leather jacket toughens it up a bit. Get this amazing suede jacket from Forever 21 if you're more of a Sookie, or this Nasty Gal leather jacket if you're more of a Lorelai.
5. Rory's Tan Leather Jacket (And Plaid Skirt)
Now we get to Rory in "Norman Mailer, I'm Pregnant." Let's see what lessons she absorbed from her mother over the years. I feel like Rory didn't truly come into her own, style-wise, until she went off to college. (Granted, a lot of that probably has to do with the high school uniform.) She definitely dresses in a more preppy style than Lorelai, but that's probably a given considering she's a Yale student. Here, she takes a leaf out of her mom's book and toughens up a classic, preppy plaid skirt with a tan leather jacket.
Where do they go shopping for these cute leather jackets? Inquiring minds need to know.
6. Rory's Preppy Sweater (And Another Plaid Skirt)
In "You've Been Gilmored," Rory shows us she's serious about her love for plaid skirts. Ignore that, though. The real focus here should be on her sweater, which is currently very popular again. This charming varsity sweater style has been everywhere lately (see here, here, and here), and I think Rory finally convinced me to get one of my own this fall. Oh, and her bangs are cute too.
7. Rory's Blue Trench Coat
You can't go wrong with a classic trench coat for fall. Rory takes it a step further and wears one in a more interesting shade than the usual tan in "Go Bulldogs." This navy trench coat makes the rest of her outfit (which I'm not too sure about, honestly — what's with her taste in skirts?) instantly look put-together and chic. We could all learn a lesson or two from the Gilmore Girls. If only we could raid their closets.
Images: WB