Clay & Audrey Choose A 'Big Brother 17' Winner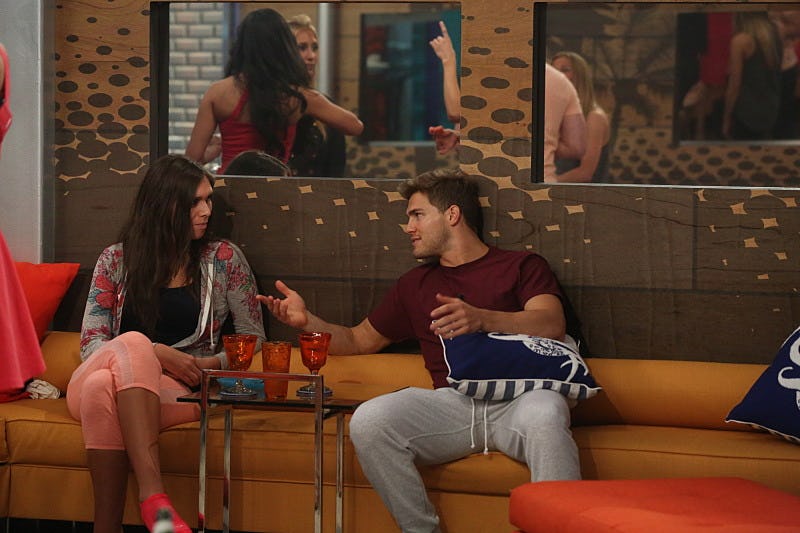 Expect the unexpected is something viewers and houseguests alike are told every season on Big Brother, and this summer was no different. From the moment they entered the Big Brother 17 house, Audrey Middleton and Clay Honeycutt were ready for the "takeover" season, though they took very different paths in the game. Audrey seemed to have the entire game in the palm of her hand during Week 1, but was taken out by her fellow houseguests after a string of arguments and emotional confrontations. Clay quickly became part of a powerful showmance with Shelli, but was evicted the week before sequester started, forcing him to watch his "Georgia peach" from back home. In an interview with Bustle's podcast The Diary Room, Clay and Audrey each gave their predictions for who will win Big Brother 17 , using their own experiences in the house, as well as what's been happening more recently.
Even though there is still plenty of game to be played, Clay and Audrey's choices might be a little bit polarizing. But whether or not you agree with them, you have to admit that they have good reasons for their picks. Check out the full interview with Clay and Audrey below to hear who they think could win, along with their favorite memories of being on the house, who is majorly screwing up the game, and a special addition of The Diary Room's "Showmance, Bromance, Nomance."
Now, let's dive a little deeper into each of the former houseguests' picks.
Audrey — Winner: James or Liz
Who Audrey wants to win compared to who she can actually see winning are two completely different stories. "I don't want to put my bets on this, but I have an awful gut feeling that like a Liz is going to win," she says. "I know, what a disappointment that would be. I want someone like James to win, so that's why I want Jackie to get back in there because it just increases his odds." We definitely agree there, and Audrey has many more reasons to root for James.
"I love that he is playing an 'I don't give an F' game,'" she continues. "He's played what's been best in his interest, he's broken deals that were of no value to him, and he does what he wants. I like that as a viewer and as a competitor, because I would have been the same way."
Clay — Winner: Steve
Clay will admit that James and Vanessa have played great games, but his choice for final winner is the guy you'd least expect. "I think James and Vanessa have played the best game as far as who's most deserving, however, I have a feeling Steve is going to sneak into the finals," he says. "Steve is such a superfan. Him talking to the camera, him talking to himself, he knows what he's doing. He's talking to the feeders, he's giving them his thoughts. I'm sure all the feeders appreciate that." But for Clay, Steve's potential on Big Brother goes beyond his knowledge of the show and connection to the fans watching at home.
"I think Steve, every move he's made so far, every move he continues to make is very strategic. He knows what he's doing. He is playing all the sides, but not too hard where he's exposing himself," Clay says. "Every time he has a conversation with somebody, he asks questions. He makes sure he gets the names of who said what, why'd they say that, when did they say that. He's very strategic in his game play and everything he does has a purpose. He's playing hard."
Clay and Audrey may not have a hand in picking the winner, but if this is how they feel about the current houseguests, it might speak to what the jury members are thinking too. I think we should all be keeping a close eye on James, Liz, and Steve.
You can check out past episodes of The Diary Room below, and be sure to follow Bustle's SoundCloud page and subscribe on iTunes for future episodes.
Images: Cliff Lipson, Monty Brinton, Sonja Flamming/CBS