5 Ways To Organize A Closet-less Wardrobe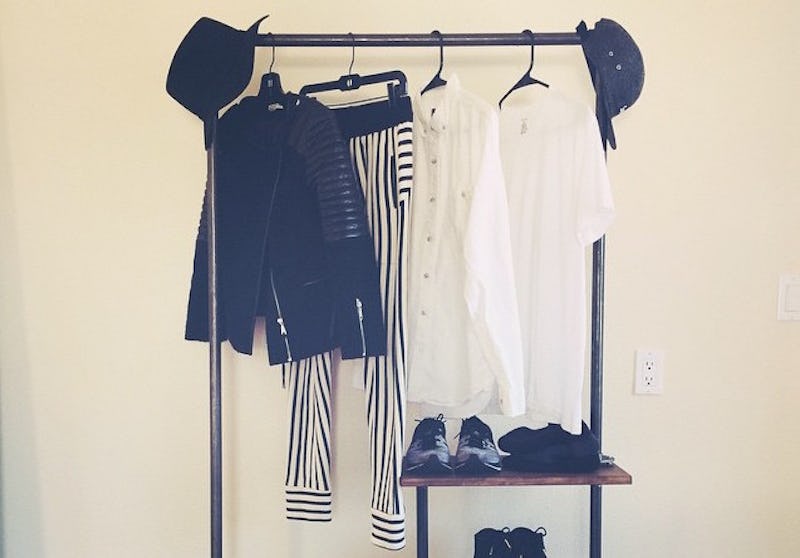 If you told me a few years ago that I'd have to figure out how to organize an apartment without a closet, I'd laugh in your face. I blame television for believing that my post-grad life would look like Carrie Bradshaw's. Move to New York, they said. Follow your dream, they said. You'll write in underground coffee shops and go to chic brunch spots and have a walk-in closet stocked with Manolos and reclaimed vintage denim. Wrong.
Fast forward and here I am, with my first NYC apartment. My only requirements? Bedroom walls that go up to the ceiling and a history clear of rats. Although my room is fully enclosed and so far, rodent-free, I sacrificed a closet in the name of comfortable sleeping. So many clothes, so little space. What's a fashion-loving girl to do?
For college students and urban post-grads alike, tiny rooms are the name of the game. Many apartments either have closets smaller than the trunk of a car or worse, no closet at all. While I used to think a walk-in closet a la Mariah Carey's on MTV Cribs was standard, I've now come to terms with the fact that a tiny closet at all is a luxury.
That all said, there's no need to sacrifice any of your clothes to keep them tidy. Here's a student-loan-friendly way to keep your stuff clean and organized sans closet.
1. Rolling Racks
College student or not, scrounging the dorm essential sections of stores is a game changer. When it comes to keeping clothes neat, freestanding racks are the way to do it. I've always found that dressers make me messy — if I don't need to see it, I don't need to fold it. (Right, mom?) Hanging clothes where I can see them also reminds me of what I own.
Freestanding Wardrobe Closet, $49.99, bedbathandbeyond.com
2. Decorative Storage Boxes
I have always had one black hole of an underwear drawer where I threw in my skivvies — unfolded and unorganized. R.I.P., pairless socks. But I am an adult now. I have cool underwear and more than one bra and they will be organized and not look like a before picture from an episode of Hoarders. These decorative boxes are not only stylish, but also allow me to label them so I don't get confused.
The Macbeth Collection Closet Candie India Collapsible Storage Box - Medium, $8.99, kohls.com
3. Underbed Storage
It's hard to make your shoes look neat. Unless you have access to unlimited shelving and spotlights in your shoes-only closet (shoutout to Shay Mitchell's shoe space), it's easy to toss your kicks in a corner. This handy dandy under-the-bed drawer is perfect for shoe storage, keeping them off the ground but easy to find. It's also a great place to store things that get in the way (re: big sweaters, sweatpants, etc.).
Rolling Underbed Cart, $11.53, amazon.com
4. Jewelry Storage
Jewelry, unlike my obsessive collection of tan-colored bras, is nice to look at. Bright necklaces are what decor dreams are made of, at least in my very tiny apartment. Hang up the aesthetically pleasing ones for efficient storage — they double as room decor!
Three Tier Tree Jewelry Stand, $25, wayfair.com
5. Utility Cart
My name is Christine and I am a product hoarder. I took this move as an opportunity to toss old products that I don't need or are expired. A utility cart is the chicest cheap way to organize products and helps to maintain the method to my madness. (How Pinterest-y am I?!) Organization here was simple: Daily products on top, applicators and appliances in the middle, weekly products on the bottom. And it wouldn't be room decoration without at least a few signature mason jars.
Utility Cart, $29.99, ikea.com
Images: Lulu_Lee/Instagram; Courtesy Brands; Less Than Perfect/Blogspot; Rubbermaid Products/Flickr