What It's Like To Be Directed By Captain America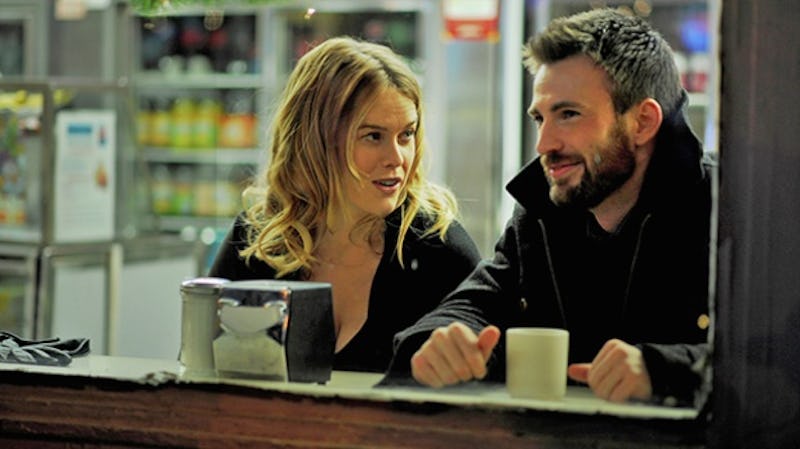 When Alice Eve makes a movie, it typically doesn't involve running around the streets of New York City late at night, surrounded only by a crew of filmmakers and some curious onlookers. Yet Before We Go , the actress' new romantic drama, wasn't a typical movie — to start, it's directed by and stars none other than Captain America, Chris Evans. The actors spent just 19 days on the shoot, in a frenzy of quick cuts and "guerrilla filmmaking" — Eve's words, not mine — in order to turn the film Evans had dreamed into a reality.
"He definitely had the movie that he wanted to make in his head," Eve tells Bustle. "He knows what he wants. He knows where he wants to go... he had a very clear idea of that."
In the film, out Sept. 4, Eve plays Brooke, a woman who, after missing a train to Boston, ends up staying the night in New York alongside a friendly stranger, Nick (Evans). Together, they search for a way to get Eve back home, causing them to travel through the city and form a connection in the process. It's a sweet, low-key romance led by two charming, passion-filled lead performances.
"It was very much his [Evans'] view on love that the movie expresses," Eve says. "It's what he believes love to be and his idea of romance."
Before We Go marks Evans' debut as a director, and one of several films that marks a big year for Eve; in addition to the romance, the actress, best known for her work in blockbusters like Star Trek and Men in Black 3, also has the comedy Dirty Weekend and is filming The Brits Are Coming, a heist film also starring Sofia Vergara. Before We Go is a big change for both of its lead actors, and the newness showed; Eve says that at times, she and Evans disagreed over the plot, even butting heads about the film's ending (Eve says — spoiler alert! — that she didn't agree with Brooke and Nick parting ways and returning to their lives). Yet they managed to find a balance, and Eve says that Evans was an "open" director who was happy to take suggestions from his stars and cared deeply about making a quality final product that reflected his commitment.
"It was really interesting to go along with this man who had a deep passionate feeling for what love was for him and how he wanted to tell that story," she says. "I enjoyed it very much — I enjoyed going on the journey with him."
Image: Radius-TWC