Before Seeing Jennifer Lawrence In 'American Hustle', Preview All of the Amazing Fashion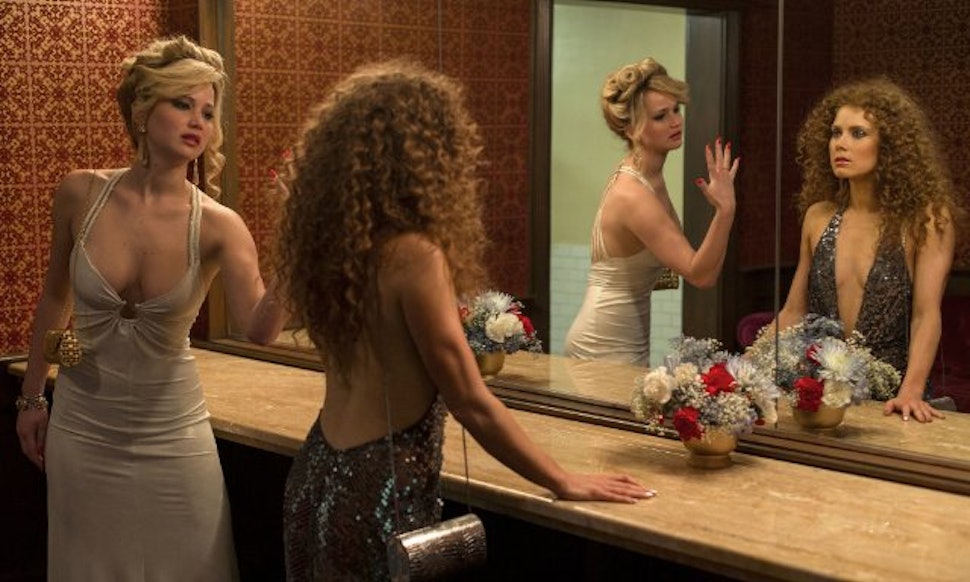 American Hustle is released in theaters today and if you're like me, part of the reason you want to see it is the amazing 70s fashion. The film, which was just nominated for seven Golden Globes, has a ton of awesome looks and while you'll definitely see them in the film, you might be a little distracted by the serious plot and the quick-talking con artist dialogue. To make sure you don't miss out, here's all the fantastic lady looks — yes, there were so many I had to narrow it down to just the ladies — from American Hustle's trailers and clips. Click through to get your share of crocheted swimsuits, giant sunglasses, and fur aplenty.
Image: Columbia Pictures
Leather
Leather? Check. Low cut? Check? Giant sunglasses? Check.
Wrap Dress
Wrap dress + Glass of champagne = Amazing
Crazy Hair
This look can be best achieved by piling all your hair on the top of your head, holding it in place with as many bobby pins as possible, and flat ironing select pieces.
Crazy Eyes
Crazy hair, meet crazy eyes.
Swimsuit
Nothing says swimming in the 70s (or rather, being seduced poolside in the 70s) like a crocheted swimsuit.
Charm Bracelet
Fur
This fur and sequins situation is too great.
Fur Again
This movie's styling was based on two rules:
1. Fur
2. Low-cut everything
Fur, Fur, Fur
And More Fur
They decided to mix it up a little and add a hat to the fur.
White Dress
Jennifer Lawrence calmed her hair a little before wearing a white dress.
Velour
…but then she put on this hilariously bad velour jumpsuit perfect for setting her kitchen on fire.
Bonus!
Just a little bonus for making it to the end: Bradley Cooper wearing rollers.