1 Year Later, Ebola Survivor Gives Birth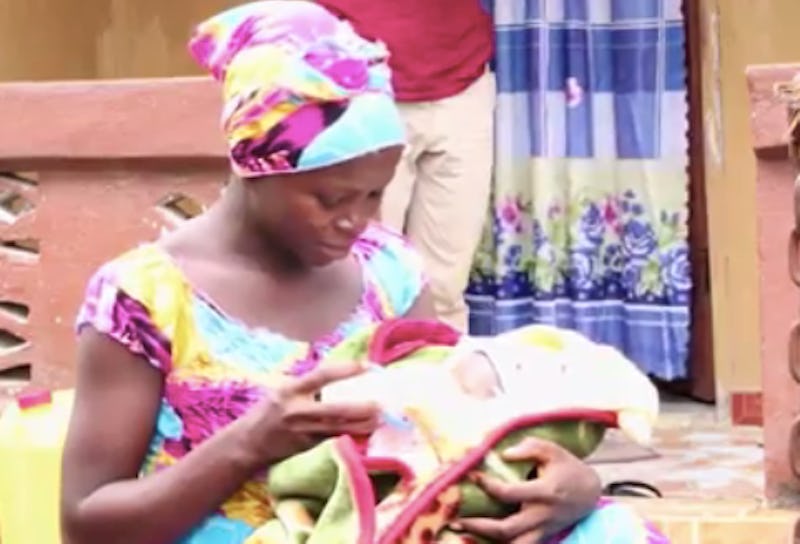 It's been 15 months since the Ebola epidemic first hit West Africa, gripping parts of Guinea, Liberia, and Sierra Leone. Entire families were even wiped out, as the deadly virus infected over 12,000 people and claimed nearly 6,500 lives. One such family was that of Victoria Yillia, which sadly lost 21 of its members last year to the disease, which nearly claimed Victoria, too. But now, one year later, comes some happy news for the 20-year-old. The Ebola survivor has given birth to a baby boy, and by all accounts, both mother and child are healthy. Make no mistake, that alone is huge, considering just how dire things became in West Africa as a result of the epidemic — especially when it comes to maternal-fetal medicine.
Yillia first made headlines last year, when she became the first survivor of the epidemic. Then, this past June, she met with the president of Sierra Leone on National Survivor's Day. But as amazing as Yillia's survival has been, she also carries with her the pain of being the only member of her family to survive the outbreak. As the AP reports, those memories were drudged up yet again when Yillia went to the hospital to give birth this week, and found herself right down the hall from where she nearly died last year.
But with this new baby comes hope for a new future for Yillia and her husband Anthony. "Because I lost all my relatives, God has blessed me and I can start a new family," said Yallia. "With this baby, all I have lost has come back to me."
"He will be the foundation of our family, and a source of comfort to his mother," added Anthony, after the child's christening on Sunday. "We pray that he will become a success in life."
Yillia's story, like so many stories that have emerged from the outbreak, serve as a painful reminder of just how much the epidemic cost individuals and how many families suffered in its wake. According to Manuel Fontaine, UNICEF's Regional Director for West & Central Africa, many children across Guinea, Liberia, and Sierra Leone have lost one or both parents to Ebola. "Thousands of children are living through the deaths of their mother, father, or family members from Ebola," said Fontaine in a statement posted to the UNICEF site in February. "These children urgently need special attention and support, yet many of them feel unwanted and even abandoned. Orphans are usually taken in by a member of the extended family, but in some communities, the fear surrounding Ebola is becoming stronger than family ties."
And Ebola didn't just take with it thousands of lives; it also crippled West Africa's healthcare system, which wasn't prepared for such a devastating blow. And it upended the local social structure and economy, since so many lives were literally put on pause as their health hung in the balance. According to a study on reproductive and maternal health during the crisis, women were hit particularly hard by the epidemic.
For one, many women contracted the disease as a result of being the primary caregiver for others, which is what largely led to entire families becoming infected. But even more devastating was the intense strain that the disease put on the already struggling health system, which led to some of the poorest levels of maternal health care the region has seen. As the study reports, many health facilities closed as a result, and in those that did stay open, the staff was overwhelmed by the demand, leading many pregnant women to be turned away.
It's hard to imagine being nine months pregnant and actually turned away when you reach your doctor's office. But according to a report in the March issue of the journal Nature, for many women in parts of West Africa, it's become a sad reality — especially as doctors grow increasingly wary of spreading infection. Even worse, these stories have started to spread, leading some to entirely avoid seeking medical care while pregnant. In a region in which pregnancy complications and dying in childbirth were already common, even before Ebola, you can just imagine how devastating an impact this can have. "I'm not blaming anyone for not taking them in," said Emma Akerlund, a gynecologist and obstetrician working in Sierra Leone. As she told Nature, "It's a huge problem to try to take care of pregnant women in an Ebola epidemic."
But just as new hope is growing for Yillia and her husband, so too is it growing throughout the rest of West Africa. Word of Yillia's healthy delivery comes just days after more happy news emerged from Sierra Leone. The region's last infected Ebola patient, Adama Sankoh, was released from treatment on Aug. 24, to crowds of cheering and dancing onlookers. The out-and-out dance party down the streets captured the pure happiness many are feeling, mixed with long-overdue sighs of relief. Officially, Sierra Leone won't be declared "Ebola-free" until another 40 days have passed with no reported cases. But when that day finally comes? Expect more dancing in the street.
Images: The Daily Mail