The 11 Best Female Performances On The VMAs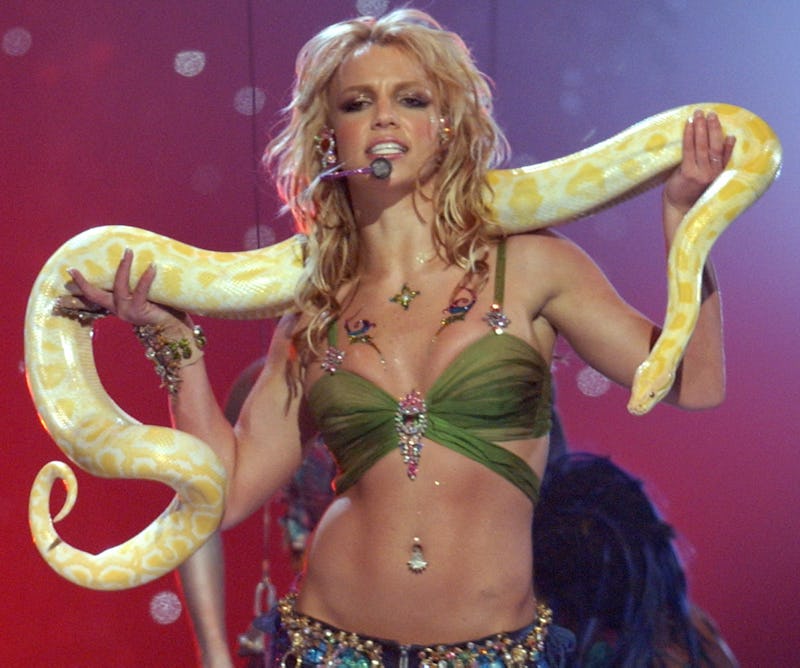 If there's one thing that's for certain, it's that the MTV Video Music Awards are always guaranteed to have some memorable performances throughout the telecast. Every year, the VMAs provide plenty of watercooler fodder thanks to these performances, especially those given by women with names like Britney and Madonna. These are the performances that are not just fun to watch, but will be remembered for a long time as being the best female VMA performances of all time.
Back when the first VMAs were telecast in 1984 and until Sunday night's show 21 years later, there have been countless amazing performances given by artists Only a few can be known as the best performances in the awards show's history, though, and many of those belong to the women. Britney Spears dancing and singing with a snake; Beyonce with pretty much every single performance she's ever done; Madonna's many, many appearances at the show starting with her iconic wedding dress-wearing "Like A Virgin" performance; tributes for Michael Jackson; and so many others. The VMAs are not just a coveted awards show, but a place for performers to really stretch their legs and inspire some shock and awe.
So what are the best female MTV Video Music Awards performances of all time? It's obviously a very debatable topic of conversation, but I know my choices. And of course some performances are listed more than once (because seriously, Beyonce is brilliant).
1. Britney Spears — 2001 VMAs
Britney Spears wore a snake around her neck during her performance of "Slave For You" and it's to this day one of the most epic performances of not just the VMAs, but also of Spears' career.
2. Beyonce — 2011 VMAs
Beyonce announced her pregnancy at the end of this already wonderful and joyful performance of "Love On Top." What made the performance and announcement even more amazing was seeing Jay Z's reaction to the public announcement. It was the start of the phenomenon that was Beyonce's pregnancy.
3. Janet Jackson (Michael Jackson Tribute) — 2009 VMAs
After Michael Jackson's death, there was no one better than his sister Janet to take on the iconic pop star's tribute, and man, did she bring down the house and truly show why the Jackson family is so legendary.
4. Britney Spears — 2000 VMAs
While not as amazing as her performance the year later, Spears made quite the splash outside of her former Disney-bred, bubblegum-princess reputation with her 2000 VMAs song and dance.
5. Madonna — 1984 VMAs
Madonna in her wedding dress singing "Like A Virgin." It doesn't get any better than this.
6. Rihanna — 2008 VMAs
Bad Girl RiRi made quite the awesome debut with this rocking performance of "Disturbia" alongside Jack White. Unfortunately, there's no video of the duet, but believe me, it's great.
7. Rihanna & Eminem — 2010 VMAs
But there is this. Rihanna and Eminem's performance of "Not Afraid" and "Love The Way You Lie" was powerful and moving and altogether badass.
8. Taylor Swift — 2009 VMAs
Kanye West may have embarrassed her later in the night, but Swift began her VMAs that year with an epic performance of "You Belong With Me" on the NYC subway.
9. Lady Gaga — 2009 VMAs
To this day, Lady Gaga's performance of "Paparazzi" at the VMAs is still her best performance to date (despite her duets with Tony Bennett being absolutely adorable).
10. Madonna — 1990 VMAs
Dressing up in Elizabethan outfits to perform "Vogue" is so clever, and pure Madonna.
11. Beyonce — 2014 VMAs
No one, I repeat, no one can put together a more amazing, show-stopping medley of hits better than Beyonce. This performance showed why she received the Video Vanguard Award last year, and why she's the queen of pop music.
Images: MTV