That Dream 'Below Deck' Vacation Will Cost You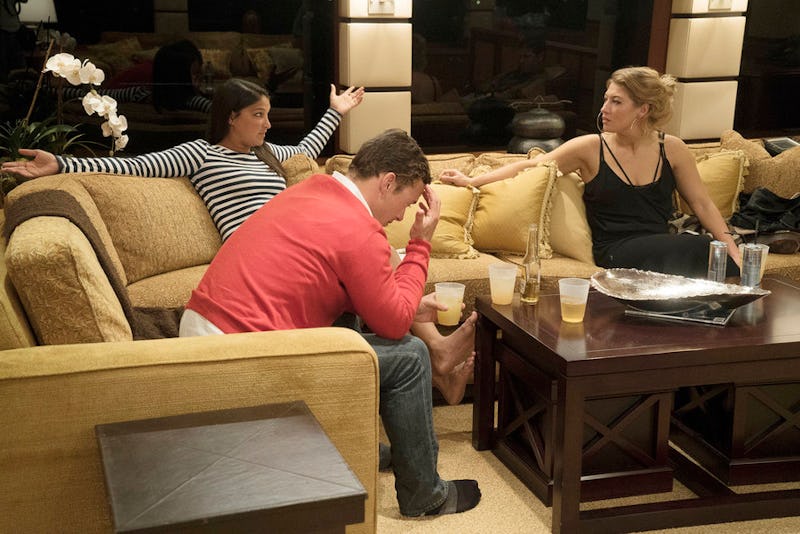 The charter guests on Below Deck are always the most entertaining people on the show. It's not that much of a challenge to figure out why — they get to behave totally irresponsibly, throwing around cash and demands in equal measure and torturing the crew that we all love so much. And the Eros, like the Ohana and Honor before it, is wildly expensive. And as the largest boat of the three, Eros from Below Deck Season 3 costs the most of any yacht in the show's history. According to Yacht Charter World, Eros can cost up to $230,000 per week to charter. Yes, that's right. Per. Week. That balances out to more than $32,000 per day. So you can pay the price of a brand new sedan for every single day you spend on the Eros with your guests. But I'm sure the guests featured on Bravo, as well as other wealthy yacht fans, seem to think that price is well worth it.
How can they charge so much for a simple jaunt on a fancy boat? If you break down the cost of chartering the Eros, it's still pretty expensive, yes, but it is slightly more understandable when considering just how pricy it can be to enjoy all of the various perks that come with the trip. Here are some of an Eros charter's expensive components that can help explain the high sticker price.
1. You Get 8 Crew Members At Your Beck & Call
The cost of hiring eight people to work for you 24 hours a day can't be cheap. They each get their own salaries for working around the clock, and we all see how much charter guests can demand of the crew on Below Deck. They should definitely be compensated well for their time and stress.
2. You Get A Personal Chef For All Of Your Meals
The good news is, you don't have to buy any food while you're on Eros, unless you decide to hit some chic restaurants when you're docked. The bad news is, the salary of a gourmet personal chef must contribute quite a bit to that overall cost. Hey, at least you get to eat whatever you want everyday.
3. That Hot Tub Won't Fit In An Apartment
The enormous hot tub from the show fits eight people, and would cost between about $5,000 and $8,000 for you to buy at Home Depot for your own backyard. But then you're not going to get the beautiful Caribbean vista. And that's not even considering the price of your water bill after installation or the trouble of cleaning and taking care of the thing by yourself.
4. A Triangular Bathtub
I don't know what your shower looks like, but mine is not a beautiful triangular bathtub for soaking, like the one shown on Mustang Sally's profile on Yacht Charter Fleet. Out of all of the "normal" assets featured on the boat (like huge fluffy beds, tons of living rooms, and ornately made up dining tables), this one is the most impossible to recreate at home. Anyone can get some fancy napkins on sale and pair them with some Ikea wine goblets, but turning the bathroom into a spa poses more of a challenge.
5. It Goes Crazy Fast & Is Filled With Power
In Bravo's introduction to Eros, Eddie describes all of its tech specs, and it certainly is hard to understand if you're not an experienced bosun. But it basically boils down to this: you're going to be traveling very quickly and have plenty of power so you can enjoy all the luxuries of home, like wifi and air conditioning.
6. As Much Alcohol As You Could Possibly Desire
Hotels often charge exorbitant prices for bottle service, and asking for cocktails with breakfast would earn you a raised eyebrow unless the restaurant you're visiting offers boozy brunch. But on a yacht? It's expected that you drink like a fish, and if anything, the crew will be understandably jealous. The only problem will be if you out-drink your guests, like foam-party dude.
7. A Hearty Tip For Your Devoted Crew
The crew of Below Deck love their jobs. But more than that, they love the money that providing great service earns them. On Below Deck, everyone splits the tip money equally, which means if you appreciated the service of one of them, you have to compensate all of them — and a customary tip? $20,000, $25,000, or even more. Maybe that's why they price these charters so high. In order to know that you can properly pay the crew, that deserved tip has to look like a bargain compared to the overall price of a luxurious Eros charter.
Images: Virginia Sherwood (2), Screenshot (2)/Bravo; Giphy (2)