'Below Deck' Shows A Piece Of Yacht Charter Season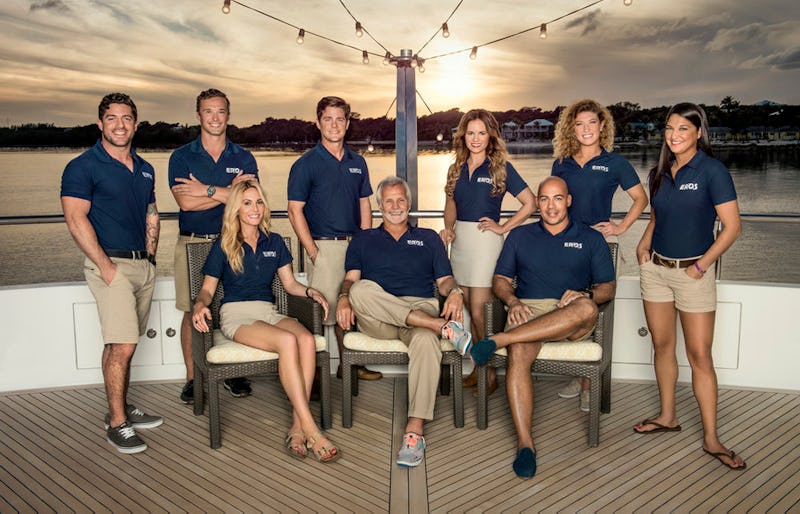 Even though most reality shows air over the course of several months, they usually film over a very small window, much shorter than the weeks it takes to air the footage. And on a show like Below Deck that takes place during a certain time frame, timing can be very important. So how long is a Below Deck charter season? Well, that depends. If you're thinking specifically of the season of Below Deck filmed for TV, the answer can be just a few weeks — the show tapes over a very short period and Eros charters may each last for about three days, according to Yacht Charter World. If you're speaking more generally about full charter seasons for yachts like the one shown on Below Deck, they can last for months at a time. Depending on where you are and where you want to go, the season starts at different times.
For example, Below Deck films in the Caribbean during the winter, in January — that's part of the regional charter season. That means that January is the prime time to travel in the Caribbean on a huge yacht. But even though Below Deck wraps up quickly, the cast could easily jump to a new gig once their TV commitments are complete, because the full Caribbean charter season is four to five months long. That is a long time to be stuck on boats in close working quarters, which is why Below Deck shows the crew taking breaks, having days off, and unwinding between charters. If not, they'd go insane. They're insane enough without having to work for months straight.
And because renting yachts is a worldwide phenomenon, there's no set time or set place where charters are always going on or come to a total stop. Within reason, everywhere that there's water, you can hire a boat to take you during some part of the year.
For the employees, they can choose to work as much or as little of each season as they like, picking their busy time of year depending on where, when, and how long they want to work.
The time can also be different depending on where you are on the globe, from hot locations where November-April is the preferable season to travel, to the summer season, described by YCF as covering the Mediterranean and Europe, which picks up in May and lasts through October.
If you want to charter a yacht, you can do it at pretty much any time, you just might not encounter the Below Deck crew. To up your chances of meeting the reality TV cast, then heading down to the Bahamas early in the year is your best shot. And it will be lovely weather for a charter.
Images: Virginia Sherwood/Bravo (2); SoNastyandSoRude/Tumblr