9 Adorable Ariana Grande & Liz Gillies Moments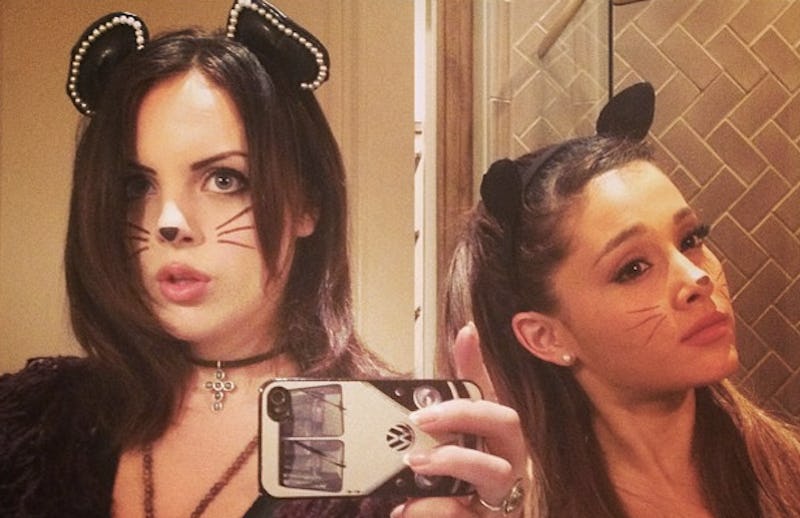 There have been many things said about Ariana Grande's character since her catapult into the upper echelons of pop stardom. Unfortunately, many of these have focused on her "feuds" with co-stars, apparent diva commands, and now-infamous issues with doughnut establishments. There have been rumors upon rumors, but one set of people getting her through the hard times in the public eye are Grande's select group of close friends. The singer seems to prefer quality over quantity, and her celebrity friends have been there through thick and thin. One relationship that is especially sweet is Ariana Grande's friendship with Elizabeth Gillies, who she has known since the were kids on the Broadway show, 13. And they've had some adorable moments throughout the years.
After appearing on Broadway together, the girls reunited as co-stars on Nickelodeon's Victorious and even recorded some songs together. It's been a few years since the two shared the screen, and they each went on their own paths, but they are still super close. Gillies is currently starring in a new FX series, Sex&Drugs&Rock&Roll, and Grande is busy, well, being one of the biggest pop stars on the planet. But to celebrate their ongoing friendship, here are some of Grande and Gillies' most adorable friendship moments.
1. When They Prank Called Avan Jogia
Because don't all best friends have the chance to prank call Avan Jogia? Excuse me while I go cry for a little bit.
2. When Liz Had These Sweet Words To Say
While promoting her new FX show, Gillies was asked by People about her friendship with Grande and said, "We really can't escape each other... She's like blood to me, she's like my sister. So unless we have a massive falling out, nothing will be happening there... We lived together, I've known her since what feels like the beginning of time, but really it's been seven years since all this started."
3. When They Were In A Music Video Together
Grande asked her BFF to be a part of her video for "Right There," and they looked like your typical best friends while sharing a mirror and getting ready for a big party.
4. When They Snuggled With Their Ex Co-stars
Seems like nothing but love with the Victorious cast.
5. When Liz Supported Ariana's Career
Like any good friend, she uploaded a photo of her girl doing her thing.
6. When They Took Polaroids Together
If taking brooding Polaroids at a sleepover doesn't say "best friends" then I don't know what does.
7. When They Performed On Victorious
This looks just like a typical karaoke night for me and my friends, except with a little more embarrassing renditions of Prince's "1999."
8. When They Dressed Up Like Cats
Friends who love cats together, stay together.
9. When They Shared A Sweet #TBT
Look at those baby faces! Grande is barely recognizable.
Gillies and Grande have been friends since their early teens, and since they're still so young and talented, I have a feeling we are going to see a lot more collaborations from these two in the future.