Kim Davis Refuses To Let Gay Couples To Marry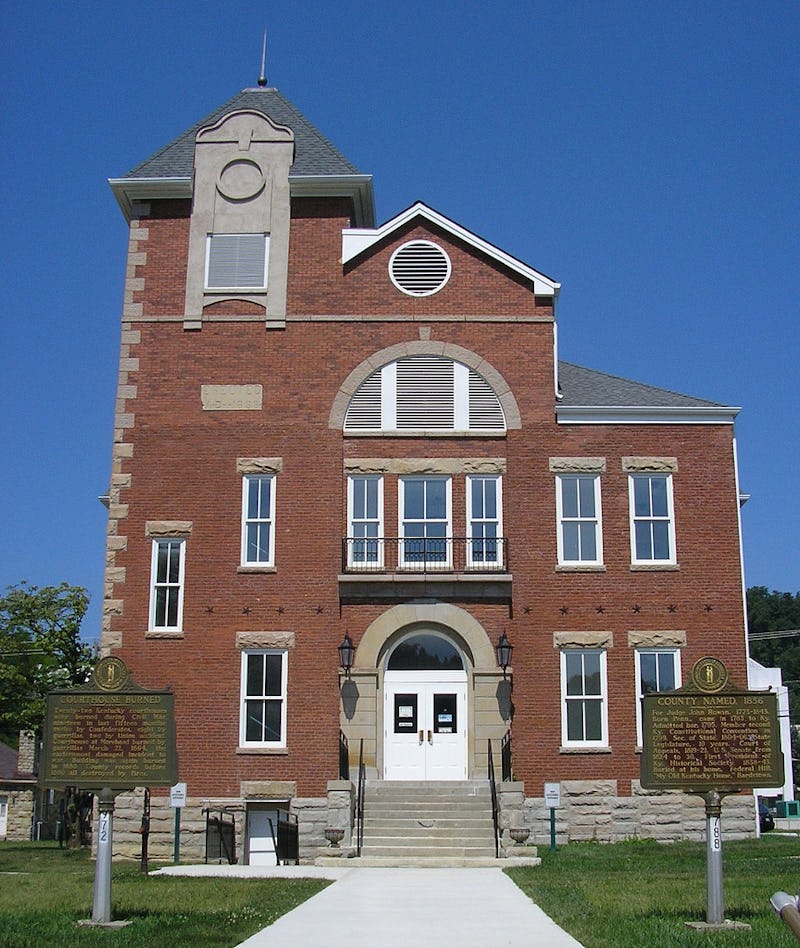 Yet another week has passed in which not a single marriage license have been administered in Rowan County, Kentucky, where no such certificates have been issued since the landmark SCOTUS ruling overturning marriage discrimination in June. The woman to blame has only been in office since the start of the year, but she's already made a name for herself nationally. So, who is Kim Davis?
The Rowan County clerk was elected in 2014 and formally assumed her position in January 2015. She took over for her mother Jean Bailey, who had been a county clerk for nearly four decades. Davis' appointment follows a 27-year stint working as deputy county clerk. Davis even hired on her son following the election, though it is unclear what his position is.
What is known about Davis outside of her professional life as a county clerk is made all the more bizarre given her religious beliefs. A devout Apostolic Christian, Davis follows a literal interpretation of the Bible and thus considers homosexuality a sin. This is why she refuses to allow gay couples to marry in Rowan County despite legal threat and pleas to step down. Apostolic Christians are said to be incredibly conservative and rarely divorce, which hasn't been the case with Davis whatsoever. She has been married a total of four times — twice to current husband Joe Davis and once to a man named Thomas McIntyre Jr. in between the marriages to Davis, according to BuzzFeed News, which obtained Davis' marriage records directly from Rowan County. Her first marriage was to a man named Dwain Wallace in 1984.
Despite the hypocrisy, Davis draws a hard line on how she values marriage. According to a statement released by her lawyers, Davis' mindset regarding issuing same-sex marriage licenses is that the simple act would be sacrilegious and look as if she were endorsing something she is inherently opposed to:
To issue a marriage license which conflicts with God's definition of marriage, with my name affixed to the certificate, would violate my conscience. I have no animosity toward anyone and harbor no ill will. To me this has never been a gay or lesbian issue. It is about marriage and God's word.
Many have called for Davis' resignation and removal. The ACLU filed paperwork on Tuesday seeking a contempt of court charge thrown her why. The civil rights group is seeking financial retribution rather than prison time. Davis can only be removed from her current position as clerk via impeachment and, given the general political climate, it's highly unlikely that she will be.
As there are detractors, so there are supporters of Davis. A few showed up to the courthouse where she works on Tuesday, including local pastor Randy Smith, who spoke with The Washington Post about "promot[ing] the love of God." Truly, promoting love shouldn't include preventing others from getting married.
Images: w.marsh/Flickr (1)