Every Amazing Uniform From 'Pushing Daisies'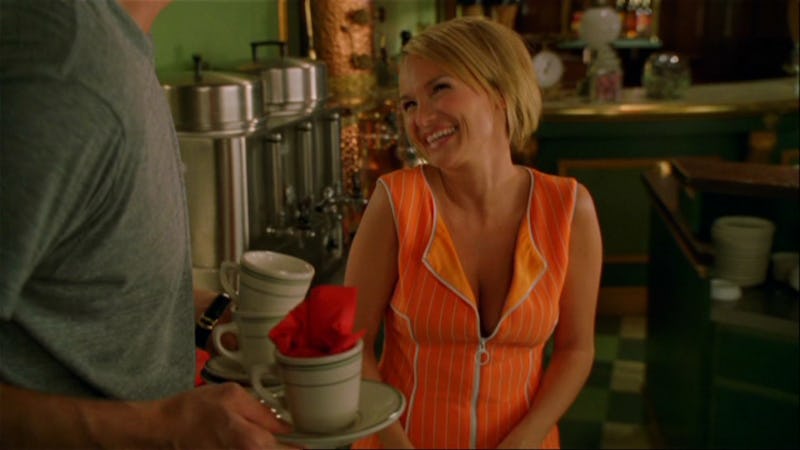 Just like a good slice of pie, revisiting a beloved television is one of the most comforting feelings out there. I feel that way about the Piemaker and the girl named Chuck. Besides refreshing portrayals of romance and snappy dialogue, one of my favorite things upon re-watching is the costumes on Pushing Daisies , particularly the uniforms of the various businesses the characters encounter. The show had amazing wardrobe — Chuck is wearing my dream Modcloth duds, always — but the uniforms were really something special. Every wacky business on Pushing Daisies — whether it was for candy, cars, or literal friendship — had a whimsical name and an amazing outfit to match. Casual Fridays were probably unheard of, but probably not necessary. I'd be happy to get up and go to my office gig if it involved an elaborate head piece and some mixed pattern goodness.
The show was canceled too soon, save a miracle (ahem, Netflix, feel like picking up another canceled show?). Bryan Fuller is working on American Gods for HBO next, but I still have my hopes that more Ned is on the horizon. In fact, Pushing Daisies beat Firefly in Esquire's "TV Reboot" tournament earlier this year. That's pretty high fan praise! It's always a good time for a re-watch, and the elaborate uniforms that the workers of this wacky universe wear makes it even more fun.
Here they are from just plain amazing to AHHHHmazing:
7. The Pie Hole
Except for the time they visited the Comfort Food Cook-Off (pictured above), Olive's Pie Hole uniform is not my favorite in orange or green. The stripes were too dull for Olive's personality. If only they'd kept those vests and hats for every day! In fact, everyone at the Cook-Off was sporting something special, from Marianne Marie Beetle to the Waffle Nazi.
6. The Norwegians
The bizarro-world doppelgangers of Emerson, Chuck, and Ned sported some rather sporty matching suits. I get national pride, but it didn't match the distinct color palette of the show.
5. Bittersweets
These colors together just make you squirm — Bryan Fuller sure knows how to identify villains, even if they're selling something delicious.
4. My Best Friend, Inc.
The "Frescorts" had one of the tamest uniforms on the show, yet is was still mighty creepy. Even simple clothing items polo shirts (and nun habits) on this show are just a little bit brighter than most.
3. Dim Sum, Lose Some
I'm sure all conversations about cultural appropriation occurred off-screen when Olive and Chuck went undercover at the Chinese restaurant. However, the costumes were gorgeous.
2. Betty's Bees
Ned doesn't go undercover that often, but the required uniform at this Burt's Bees wannabe company was particularly adorable.
1. Dandy Lion Worldwide Industries
I mean, is anything better than this flowery headpiece? It's silly, but cute, and Riki Lindhome totally pulls it off. While the costumes may have taken off in Season 2, this eco-friendly dress from the second episode of Season 1 is by far my favorite.
Images: Warner Bros. Television (screengrabs)