These Apps Make Your Selfie Look Better Than Ever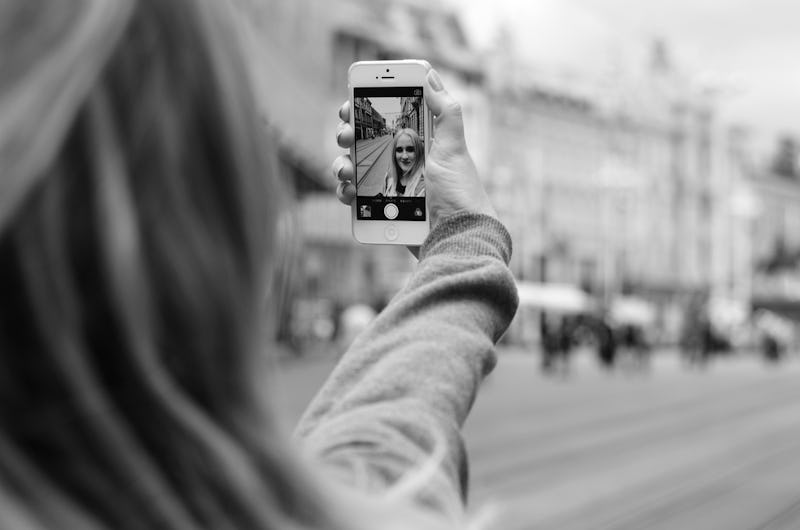 There are hundreds of apps to help you take a better selfie. And why not? At this stage of the game, the selfies we take with our phones are practically an art form (don't worry, Da Vinci, we know you were the original selfie-painter). There's so much you can do with a picture of yourself, from something as simple as adding a filter, to as complex as creating a GIF story of your day. It's awesome that we live in a time where expressing yourself to the fullest is just a few taps away.
There's no shame in aiming for the ultimate selfie. It can be a beautiful, empowering thing to share a picture you feel great about! Now, when it comes to taking a truly quality selfie — I'm talking Instagram likes in the double digits — no ordinary app will do. It's easy to get caught up for the better part of an hour tweaking each inch of your face until it's just right.
Whether you're trying to hide a random pimple from your otherwise flawless face, add light to a pic taken in your cavernous apartment, or find new ways to share yourself with the world, these apps have you covered from head to toe:
Faded is a one-stop-shop for all your fine-tuning basics. It's got all the controls for brightness, contrast, exposure, and beyond that you would expect, as well as a range of interesting-yet-subtle filters. I'm partial to the "Calistoga" and "Balboa" looks myself. Calistoga is subtle, but adds just the right amount of brightness and contrast to eliminate a shiny forehead (a constant struggle). Balboa gives your pictures a '70s film look with just a touch of greens and blues — and these are just two of tons of options! Faded also lets you save presets for quick, consistent edits.
Faded ($0.99) is available for iPhone.
One of the trickiest parts of snapping a good selfie can be actually pressing the button. (I'm not even going to act like a selfie stick is a viable life choice.) You've angled your phone so the lighting is perfect, but the button is just out of reach! What to do? Fortunately, CamMe uses intuitive hand gestures to activate the camera, making your selfies officially hands free. CamMe works between two and 16 feet, so you can definitely squeeze the whole squad into the shot. There's also a "Photo Booth" mode that's super fun and takes several quick photos just like an actual photo booth!
CamMe (free) is available for iPhone.
At one point, we've all clicked on an article saying, "This Lady Took Pictures Of Herself Every Day For 50 Years!" — and now we can all be that lady. Everyday is designed to "make a movie of your life" by taking a picture of your lovely mug every day and putting them all together to create a video. You can set up reminders to take pictures at the same time or place every day, or go totally random. It's a completely unique way to create a record of yourself.
Everyday ($2.99) is available for iPhone.
For those of you with a playful streak, GirlsCamera is your new best friend. A favorite of Japanese students, the "purikura" style of photo editing aims to make your pictures as pink, cute, and sparkly as possible. You might not look like Kim Kardashian, but you will look like Sailor Moon.
GirlsCamera (free) is available for iPhone and Android.
FaceTune is the app for making you look like you just spent three hours in a Hollywood makeup studio. Rather than adding filters or stickers, FaceTune literally gives you controls like "smile whitening" and "fill bald patches." It sounds a little extreme, but has an overall five-star rating on the app store with one rave review after another with comments about how "natural" and "gentle" the edits are. Don't use your powers for evil, though; FaceTune is designed to enhance how naturally beautiful you already are and bring out the best in you. We're not talking about unrealistic airbrushing here — I promise.
FaceTune ($3.99) is available for for iPhone and Android.
So, where is the app that lets you crop photos, add filters, write text, and sprinkle on some stamps? Photo Editor by Aviary does literally all of that and more. Whether you're just fine-tuning or embarking on an entire digital makeover, you can get it done with this app. There's even different settings for portraits, nighttime, and food (that last one spoke to me on a deep level). The best part about this app? It's free!
Photo Editor by Aviary (free) is available for iPhone and Android.
Frontback is the app you can use to capture "both sides of the story" by simultaneously taking pictures with your front and back cameras. This produces awesome results by capturing the scenery and your gorgeous face all at once. You can also upload your pics to Frontback's photo community and explore what other people have captured. Reviewers call it a "combination between Snapchat and Instagram" which sounds pretty amazing to me.
Frontback (free) is available for iPhone and Android.
I've never been so jealous of Windows Phone users in my life! This Windows-exclusive app works a lot like CamMe, only it uses voice and facial recognition technology instead of hand gestures. Set up your phone and use simple voice commands to take hands-free pictures. The face-recognition software also guarantees "no more blurry photos!"
Intellicam ($1.99) is available for WIndows Phone.
Images: *Passenger*/Flickr; iTunes (7); Microsoft