Get Your Pumpkin Fix With These 17 Recipes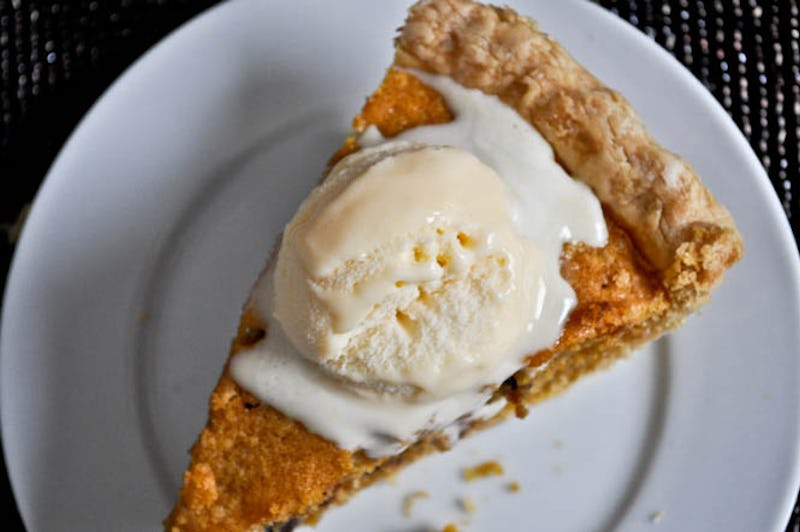 Right about now, supermarkets are stocking canned pumpkin, coffee shops are bottling pumpkin spice syrup, and pumpkin patches are rolling out their best pumpkins to be displayed. Yup — it's officially pumpkin season. And if all the talk of pumpkin spice Peeps, pumpkin spice Oreos, and pumpkin spice M&Ms haven't made you hungry, these pumpkin recipes definitely will. In fact, you'll even be eager to start cooking in 80 degree heat. I promise.
Fall doesn't officially start until Sept. 23, but that doesn't mean we have to wait until the clocks move back to enjoy one of fall's best produce: the pumpkin. It's a great food to have on your side — pumpkins are naturally high in vitamin A and fiber, making it a healthful choice. But who am I kidding? Pumpkins are best enjoyed in a cake, in a pie, or in a cookie. There's no dessert on this planet that can't benefit from a little pumpkin boost.
But don't let the pumpkin's sweet facade deter you from trying it in savory dishes or healthful meals. Pumpkin is a squash at its core, and can be roasted, baked, and pureed like butternut and acorn squash. Here are 17 pumpkin dishes to inspire you to get cooking, and get back into fall.
1. Baked Pumpkin Cream Cheese French Toast
Fall means that it's time to turn the ovens and stoves back on, and indulge in a few delicious recipes. This baked pumpkin French toast recipe by Damn Delicious is oozing with a cream cheese middle, and topped with a pecan crumb topping.
2. Pumpkin Chocolate Chip Cookie Pie
At first glance, this might look like any other pumpkin pie recipe: pumpkin puree encased in a buttery crust. But you'd be wrong. In fact, this pumpkin chocolate chip cookie pie by How Sweet It Is is made up of pumpkin cookie dough studded with chocolate chips. Who could be mad at that?
3. Pumpkin Fritters
Why should apples have all the fun? These bite-sized pumpkin fritters by Simply Delicious are fried, and then smothered in a rich caramel sauce.
4. Pumpkin Chili
Besides the wings, the dips, and the pizza, football season is also made for chili. Switch it up, and try this vegetarian pumpkin chili recipe by The Kitchn, made with cubes of pumpkin, red peppers, and turnips.
5. Pumpkin Chocolate Chip Cookies
Try out this pumpkin chocolate chip cookie recipe by Baked By Rachel the next time you crave pumpkin. It's everyone's favorite cookie recipe, mixed with a little bit of pumpkin puree and spices.
6. Pumpkin Granola Bars
Gluten- and dairy-free, these soft pumpkin granola bars by My Name Is Yeh are made of rolled oats, pumpkin puree, almond milk, nuts, and spices, and are the perfect breakfast on-the-go meal or snack.
7. Cajun Pumpkin Soup
Andouille sausage, sugar pumpkins, and spicy breadcrumbs meet cute in this Cajun-inspired pumpkin soup by Climbing Grier Mountain, which is a nice alternative to ~cough~ vegetable or chicken soup.
8. Vegan Pumpkin Pudding
Admit it, you love pudding. It's OK, you're not alone. This silky smooth pumpkin pudding recipe by Against All Grain is egg- and dairy-free, sweet, and delicately spiced.
9. Pumpkin Chocolate Chip Pancakes
Buttermilk pumpkin chocolate chip pancakes. Try saying that five times fast. Don't wait for breakfast, make these now. A Cozy Kitchen has the recipe.
10. Pumpkin Hummus Quesadilla
Pumpkin hummus quesadillas to pack for our lunch? Don't mind if I do. This vegetarian recipe by Love and Lemons comes with guac and a smothering of jack cheese.
11. Pumpkin Spice Monkey Bread
Remember these Girl Scouts treats made from canned biscuit dough, and lots of sugar and spice? This pumpkin spice monkey bread recipe by Bake Love Give has all of those same elements, with an added pumpkin caramel sauce.
12. Pumpkin Sheet Cake With Maple Glaze
This pumpkin sheet cake topped with a maple glaze by Adventures in Cooking is the epitome of comfort food. Enjoy this cake well into the winter.
13. Pumpkin Red Curry Udon
Pumpkin, red curry, and udon? Yes! This creamy and comforting dish by I Am A Food Blog combines red curry paste, pumpkin puree, and almond butter.
14. Pumpkin Steel-Cut Oatmeal
For those mornings where you can barely feel your face, make a pot of Naturally Ella's pumpkin steel-cut oatmeal, made with pumpkin puree, cinnamon, nutmeg, and walnuts.
15. Pumpkin Fudge
Don't wait until the holiday season to make fudge. Make a batch of Brown Eyed Baker's pumpkin fudge to hit the spot.
16. Spicy Thai Style Pumpkin And Butternut Ramen
If you like ramen, you'll enjoy this Thai-inspired pumpkin and butternut ramen recipe by Cooking for Keeps, made with ginger, shiitake mushrooms, red curry paste, coconut milk, and fresno chile.
17. Salted Chocolate And Pumpkin Babka
Forget salted caramel. This weekend, make this salted chocolate and pumpkin babka laced with dark chocolate and pumpkin puree, and sprinkled with flaky sea salt.
Images: Damn Delicious; How Sweet Eats; Simply Delicious; the kitchn; Baked by Rachel; My Name is Yeh; Climbing Grier Mountain; Against All Grain; A Cozy Kitchen; Love and Lemons; Bake.Love.Give; Adventures in Cooking; i am a food blog; Naturally Ella; Brown Eyed Baker; Cooking for Keeps; Hummingbird High