Pumpkin Cheesecake, Cause It's Still the Season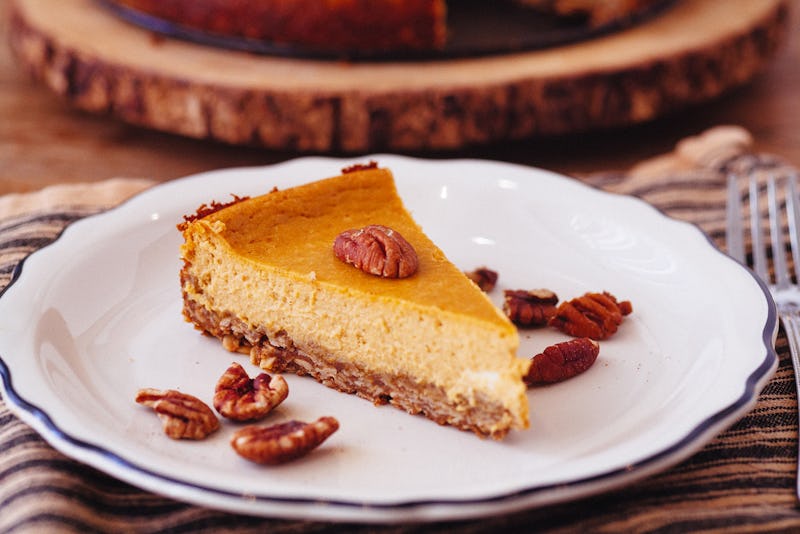 I love goat cheese, and I love cheesecake. Why not combine the two? Here, the slightly tangy and extremely creamy cake pairs perfectly with seasonal pumpkin and a buttery, crunchy oat crust. For this first attempt, I did half cream cheese and half goat cheese, but after seeing the results, I'd feel completely comfortable going full goat cheese the next time around. Bring this into your office or enjoy with some friends and see how surprised they are when you tell them what it's made of. Thanksgiving may be over, but I don't think that any of us are ready to give up on the pumpkin train quite yet. Serve this at your holiday table.
Pumpkin Goat Cheesecake
Prep Time: 1 hour
Cook & Chilling Time: 3 hours
Serves: 15 slices
Ingredients:
For the Crust:
3 cups oats
1½ cups AP flour
½ cup brown sugar
1½ teaspoons cinnamon
¾ cup unsalted butter, melted
For the Pumpkin Goat Cheesecake:
16 ounces goat cheese
8 ounces cream cheese
⅔ cup granulated sugar
½ cup light brown sugar firmly packed
4 large eggs
1 cup pure pumpkin puree
½ cup sour cream
2 teaspoons vanilla extract
1 teaspoon ground cinnamon
¼ teaspoon salt
1 teaspoon cornstarch
Instructions:
For the Crust:
1. Preheat your oven to 350 degrees F. In a large bowl, whisk together the oats, brown sugar, flour, and cinnamon.
2. Add in the melted butter and stir with a wooden spoon until well combined. Press the mixture into the bottom of a 10-inch springform pan and bake for 25-30 minutes, until set. Allow to cool for 15 minutes or so before filling with the cheesecake mixture.
For the Pumpkin Goat Cheesecake:
1. After the crust is ready, decrease the oven's temperature to 325 degrees F.
2. Beat together the goat cheese and cream cheese until smooth, then beat in the sugars.
3. Beat in the eggs one at a time, until fully combined, scraping down the sides of the bowl as needed.
4. Add in the pumpkin puree, sour cream, and vanilla and beat until well combined.
5. Add in the cinnamon, salt, and cornstarch, and mix until combined.
6. Pour the mixture into your crust and bake for 1 hour and 10 minutes or so, until lightly golden and mostly set.
7. Allow the cheesecake to cool at room temperature for 20 minutes, then place in the refrigerator for at least 2 hours before slicing and serving.
8. Garnish with pecans, if you like.