Ashley & Jared's 'BiP' Overnight Date Was Innocent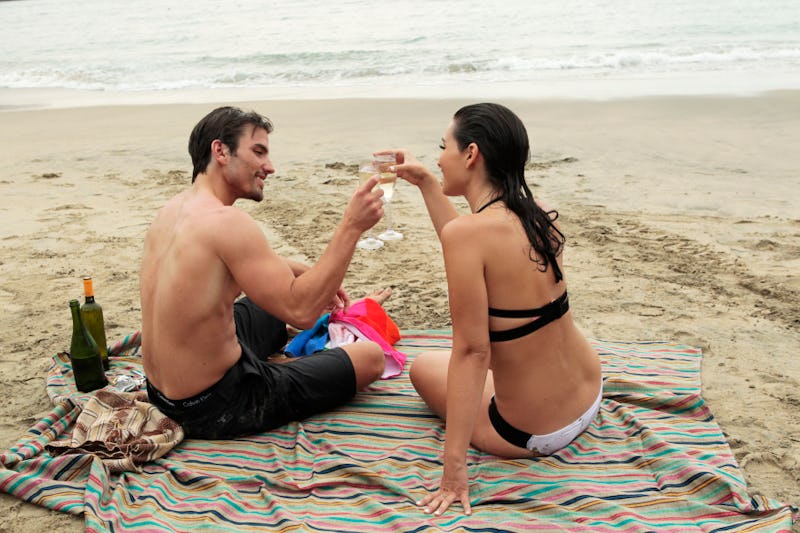 Another episode of Bachelor In Paradise, another day talking about Ashley Iaconetti's virginity and her obsession with Jared Haibon. Last we saw the pair, Ashley had swooped in before Jaclyn Swartz asked Jared on a date, begging Chris Harrison for a date with a Fantasy Suite ending. She then bestowed said date card to a very confused Jared. Though Jared has said, um, multiple times, that he has no romantic feelings for Ashley, he obliged her. Maybe he was just scared of Jaclyn. For whatever reason, these two had an overnight date, but what did Ashley and Jared do in the Bachelor in Paradise Fantasy Suite?
Though Ashley has spoken very frankly about the fact that she would like to lose her virginity, she has also spoken very frankly about the fact that when she does, it will be with a man she loves and is in a monogamous relationship with. Does Jared fit this bill? Um, no, he doesn't. All of this posturing from BiP about Ashley losing her virginity to Jared after a few weeks (if that) in Paradise is silly. All Fantasy Suite dates don't have to end in sex. Sometimes, it's just nice to have some conversation away from the prying eyes of the camera.
So what did Ashley and Jared do? Well, we really don't know. Everyone was speculating on how the night went (which is super rude, since it's nobody's business), and all Jared and Ashley really had to say was that they hung out in five-star hotel and chilled. No talk of sex or anything remotely involved in sex.
Personally, I don't think they had sex, and frankly, there's nothing wrong with that. In fact, there's quite the precedent set to not have sex in the Fantasy Suite. Although it's totally fine if they choose to, it's not the only option. In fact, here are a few people who opted not to get down and dirty in the Fantasy Suite.
Sean Lowe
Bachelor Sean Lowe was celibate for six years, and yes, that included his time on The Bachelor up to his wedding day with now-wife Catherine Giudice. According to an interview with evangelical website I Am Second, Sean felt that he was on a path to sexual destruction and opted to stop it and focus on his own self. That meant no nookie on The Bachelor.
Emily Maynard
This Bachelorette opted not to have any Fantasy Suite dates at all, citing that she wanted to be a role model for her daughter. According to People, Emily said that she knew that sex wasn't necessary for a Fantasy Suite date (you could, after all, just talk), but she didn't like what it implied and refused any dates of the fantasy variety.
Ali Fedotowsky
Ali has gone on record saying, "I only got physical with one person. I think it's pretty obvious who that was!" Ali spent a night in the Fantasy Suite with her soon-to-be fiancé Roberto, but not any of her other Final 3 men.
So you see, Fantasy Suite dates don't have to mean that something naughty is happening behind closed doors. Whatever happened in that room, Ashley and Jared decided to keep it all to themselves.
Images: Rick Rowell/ABC