The Saddest 'Real Housewives' Moments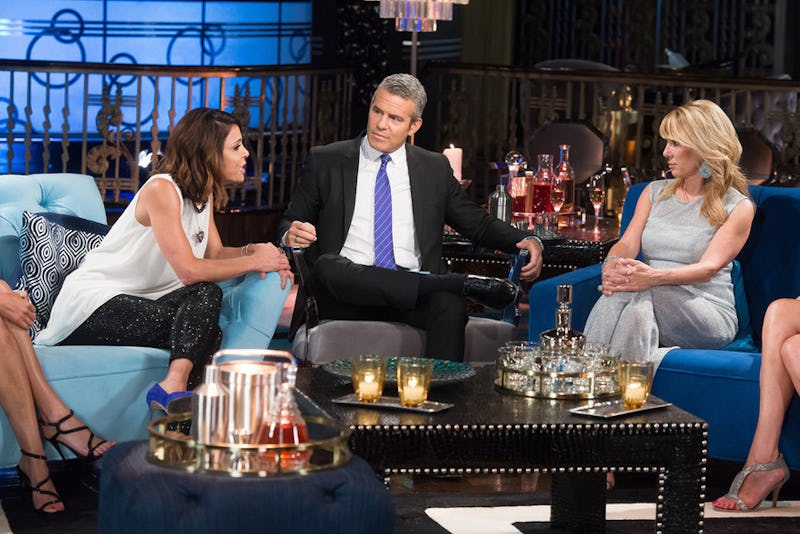 If you don't know who Andy Cohen is, then you have been living under a rock — a very sad rock with horrible TV reception. Some could argue (and I do) that Bravo's Head of Development Andy Cohen is the seminal voice of the 21st Century. When aliens come down and examine the human race, I hope they study What Happens Live and go, "I don't want to cause a War of the Worlds-type invasion, I wanna hang with these humans. They seem cool." I'm essentially arguing that Andy Cohen can and will save the human race because he is just that awesome.The crowning jewel of Cohen's reality television empire is without question the Real Housewives franchise, and he presided over some of the saddest moments in Real Housewives history.
In 2006, Bravo execs had the brilliant plan of putting five bored housewives on camera to duke it out over child-rearing and charity events; the results were pure TV gold. From Orange County to New Jersey, New York to Miami, Real Housewives is a zany snapshot of America's wealthy. Surprisingly, between the sips of Ramona Pinot Grigio and epic on-screen brawls, the light-hearted show has had some startlingly sad moments over its nine-plus years. Deaths, arrests, foreclosures, and countless other hardships have faced the cast, truly putting the "real" in Real Housewives.
Here are some of the saddest moments in Real Housewives history.
1. Yolanda Foster's Battle With Lyme Disease
Real Housewives of Beverly Hills star and mom to supermodel Gigi Hadid, was diagnosed with Lyme disease in 2012. The disease has robbed the blonde beauty of her ability to read, write, or watch television. She has taken a break from filming to focus on her health and recovery.
2. Kenya Moore's Dog Is Killed
Pets truly become members of the family, and, when one dies, the pain can be unbearable. When The Real Housewives of Atlanta star Kenya Moore's yorkshire terrier Velvet was killed by a neighbor's dog in 2014, the show captured Moore's devastation and struggle to move on from the loss.
3. Bethenny Frankel's Divorce
Bethenny Frankel was an instant favorite on Real Housewives of New York City. She was a single gal building her own empire in the big city. Viewers were elated when Frankel seemingly found true love with Jason Hoppy and got her own spin-off, Bethenny Ever After. Sadly, in January 2013, Frankel filed for divorce. It took over a year for the couple to finalize a custody agreement and the battles over a property settlement remains ongoing. Frankel has tried to remain tight-lipped about the situation, but the legal battle has become weekly tabloid fodder.
4. Kelly Bensimon Loses It On Scary Island
Most hardships experienced by the Real Housewives play out off camera, this is not true for one of the strangest moments in Real Housewives history when Kelly Bensimon suffered a mental breakdown on a cast trip to the Virgin Islands. With nonsensical ramblings and paranoid accusations against fellow cast-mates, it was unnerving watching a grown woman literally unravel on television. Even Sonja Morgan knew something wasn't right, and that woman is oblivious.
5. Kim Richard's Relapse
Similar to Kelly Bensimon's on-screen breakdown, Real Housewives of Beverly Hills and childhood movie star Kim Richard's relapse into alcoholism played out during filming. Cast members and her own family urged her to get help, but Richard denied there were any problems and continued to spiral, culminating in her 2015 arrest at the Beverlys Hill Hotel.
6. Teresa Giudice Goes To Jail
Teresa Giudice and her family were meant for reality television stardom. She lived in a seemingly gilded bubble of privilege and opulence. Things began to fall apart in 2009, when Teresa and her husband filed for bankruptcy. In 2013, the couple was charged with 39 federal indictments, including bank and wire fraud. Teresa was sentenced to 15 months in prison and began her prison sentence in January 2015. She has since been released.
7. Lisa Wu's Foreclosure
It turns out that a lot of the housewives cannot afford the houses they live in. Many cast-members, including Teresea Giudice, Sonja Morgan, Tamara Barney, Kim Zolciak, and Jacqueline Laurita, have all faced foreclosure on their homes. Lisa Wu, former star of Real Housewives of Atlanta was one of the first housewives to face foreclosure in 2009.
8. Taylor Armstrong's Husband Commits Suicide
The saddest moment in Real Housewives history happened when the husband of Real Housewives of Beverly Hills's star Taylor Armstrong committed suicide in 2011.
Oh, Andy Cohen. You and your Bravo programming have brought me so much joy, but these moments prove just how sad Real Housewives can get. Either way, I will never stop watching.
Images: Charles Sykes/Bravo; Giphy (8)