Head of Military Sexual-Assault Prevention To Retire Amid Controversy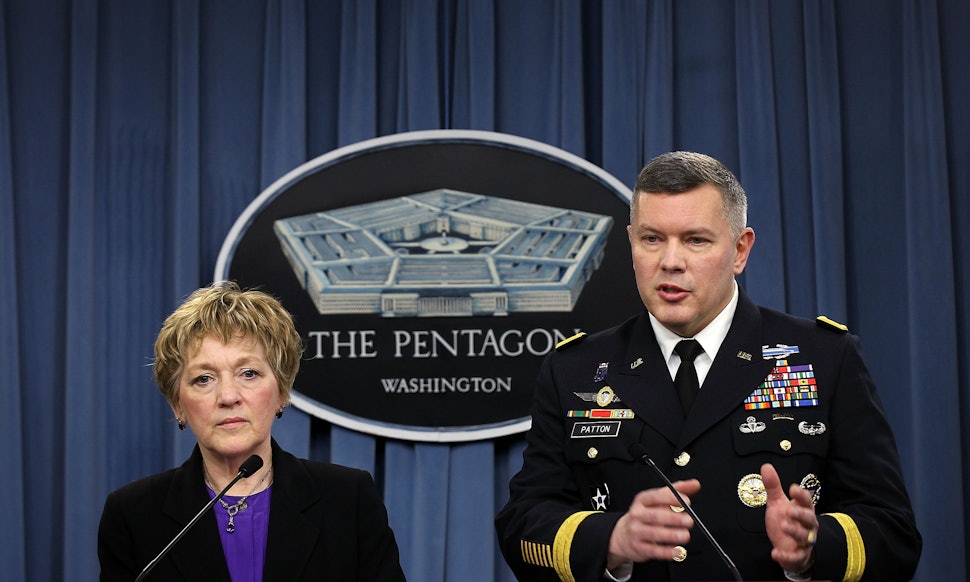 Alex Wong/Getty Images News/Getty Images
The controversial year for the U.S. military's sexual-assault program isn't ending without more controversy. After only 18 months on the job, Maj. Gen. Gary Patton, the chief of the Defense Department's Sexual Assault Prevention and Response Office, is stepping down. Patton has been accused of blocking an investigation into abuses reported at a U.S. taxpayer-funded hospital in Afghanistan.
Conditions at Dawood National Military Hospital, which treated Afghan soldiers, were deplorable. Photos of starving soldiers and maggot-infested wounds that surfaced in 2011 caused one legal adviser to label it as "Auschwitz-like." Patton has been "formally admonished" over the findings, according to an Army spokesman. The Pentagon's inspector general says Patton and his boss, Lt. Gen. William Caldwell, had stymied investigations at the hospital.
This month, one nurse at the hospital, Lt. Commander Jeremy Young, filed a formal complaint about Patton, accusing him of forceful intimidation.
On Nov. 15, NBC News reported new allegations that Patton had blocked a U.S. Navy nurse from briefing a team from the Pentagon inspector general's office about patient abuses at the hospital. "Gen. Patton gets me cornered in the hallway, he puts his finger in my chest and he says, 'You need to stay in your f--- lane,' lieutenant," Lt. Commander Jeremy Young said in an interview about his efforts to brief investigators.
Overall, probably not the best allegation for the head of a violence-prevention program to have stacked against him.
Maj. Gen. Jeffrey J. Snow will start leading SAPRO next month. There's not much to be dug up on Snow yet, except that he used to serve as a director in Iraq's Operation New Dawn. Here's hoping he's qualified to take on what is shaping up to be a key year in the military's battle against sexual abuse — and the fight to uphold its own image.
Patton's announcement seems to be just one more reason for Sen. Kirsten Gillibrand, the primary face of the efforts to overhaul the military's sexual-abuse prevention program, to be upset.
"There are serious questions about Gen. Patton's conduct involving blocking an independent investigation, so I am concerned this decision is more about avoiding getting to the bottom of what happened in that case."
Gillibrand's proposal to take cases of sexual assault out of the military's chain of command was not added to the National Defense Authorization Act, which was cleared for passage last week. It does, however, include provisions to help the military crack down on sexual violence. And with the Pentagon finding 3,500 official reports of sexual assault and 26,000 unofficial reports of unwanted sexual incidents in the military, many are counting on those new provisions to hinder the rise in cases. However, the NDAA has yet to be passed, and some Republicans are rumored to be attempting to stall it — reacting against the inability to add amendments to the bill.
Patton, who served in the military for 35 years and was one of the first service members to open about his struggles with post-traumatic stress disorder, said earlier this year that his goal was to lessen sexism in the military. He gave a short statement about his decision to step down:
"It has been my great honor and privilege to have served our nation for nearly 35 years in peace and in combat. In my position as SAPRO director I am heartened by signs of progress in combating sexual assault."