These Cinnamon Rolls Are Just Too Good To Be True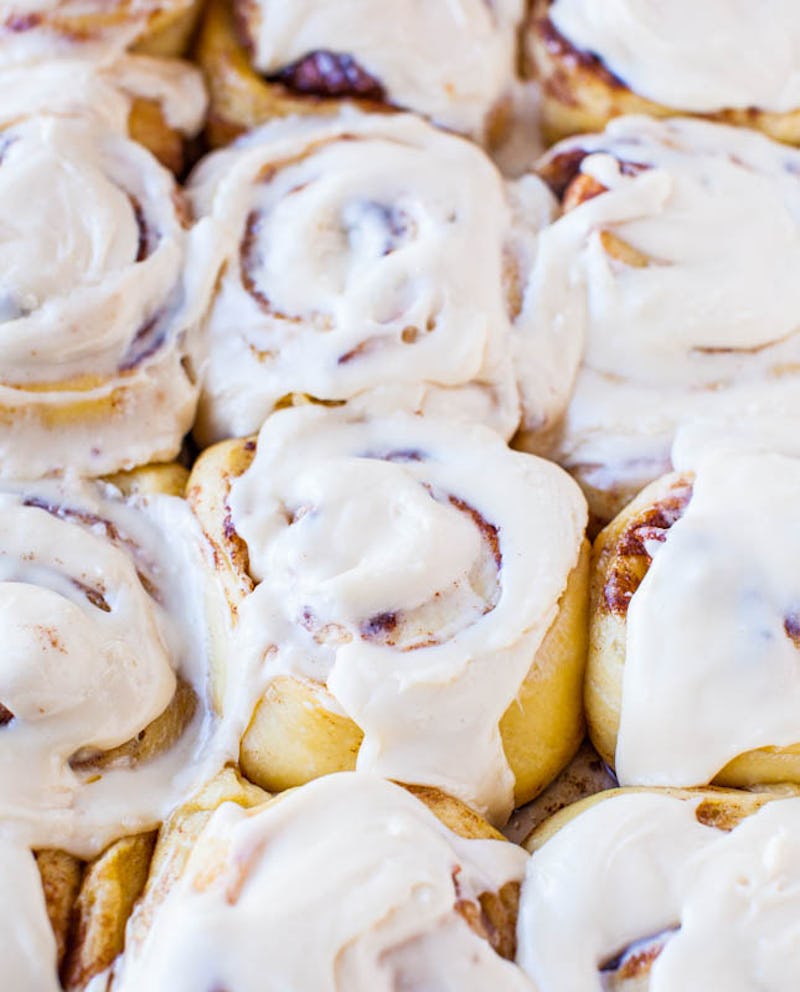 I love all food, but there is just something extra amazing about breakfast foods. In particular, breakfast sweets and pastries hold a special place in my heart. Needless to say, a delicious cinnamon roll recipe is my idea of a great way to start the day.
Of course, cinnamon rolls are one of those breakfast dishes that are super easy to make the "cheater" way. You can simply pick up a tube of the pre-made rolls at the store, and then pop them in your oven. But, if you want to branch out past the traditional cinnamon variety and whip together a breakfast treat that is nothing short of gourmet, you'll need to put in some elbow grease, and make these the old-fashioned way.
Admittedly, I'm not super innovative when it comes to breakfast dishes. I tend to stick to the standard bacon, eggs, and store-bought cinnamon rolls. But, during my quest for the most delicious cinnamon roll recipes on the Internet, I was surprised to see how many different things you can actually add to a cinnamon roll. The options are limitless, really.
Looking for some inspiration for creative and delectable cinnamon roll recipes that you can whip together on a Sunday morning? Look no further! I've rounded up a few for you here. Fair warning: the pictures are a rare form of foodie torture.
1. Pistachio, Orange, And Dark Chocolate Cinnamon Rolls
Melted chocolate, salty pistachios, and the sharp and sweet tang of orange zest. These cinnamon rolls by Joy the Baker are different and delicious.
2. Overnight Buttermilk Soft And Fluffy Cinnamon Rolls
Is there anything better than a cinnamon roll that's soft and fluffy? Possibly not having to get up at the crack of dawn to make them. You can get these buttermilk cinnamon rolls by Averie Cooks ready to go the night before — so you can simply pop them in the oven, and go back to enjoying your coffee in the morning.
3. Bacon Cinnamon Rolls
We all know that adding bacon to anything makes it more delicious. But, who would have ever thought of throwing it in your cinnamon roll? These bacon cinnamon rolls by How Sweet It Is are straight out of my wildest dreams.
4. Vanilla Pudding Cinnamon Rolls With Cream Cheese Frosting
If you're one of those people who prefers a super soft, gooey cinnamon roll over the crisper, flakier kind, this recipe is for you. The addition of the vanilla pudding to Mel's Kitchen Cafe's cinnamon rolls makes the dough extra soft and delicious.
5. Cinnamon Rolls With Salted Maple Glaze
Maple syrup is for more than just your pancakes and waffles — it's delicious on cinnamon rolls too! I'm a huge fan of a great combination of salty and sweet, so the salted maple glaze Natasha's Kitchen uses for these cinnamon rolls sounds like it's right up my alley.
6. Pretzel Cinnamon Rolls
Have you ever had one of those huge cinnamon sugar pretzels from the food court in the mall? Well, these pretzel cinnamon rolls by The Kitchn are just like that — only better.
7. S'mores Cinnamon Rolls
Gooey marshmallow and melty chocolate all rolled up into graham cracker cinnamon roll dough? Be still, my heart. These s'mores cinnamon rolls by The Crepes of Wrath are almost too much to handle.
8. Pumpkin Pecan Cinnamon Rolls
Fall is almost here, which means we're craving pumpkin anything. With the smooth flavor of pumpkin and satisfying crunch of pecans, these pumpkin pecan cinnamon rolls by Bakerella are sure to satisfy your cravings.
9. Fluffy Eggnog Cinnamon Rolls
A fluffy cinnamon roll is delicious to begin with. Add in some eggnog and white chocolate, and these eggnog cinnamon rolls by Half Baked Harvest are the perfect holiday treat.
10. Nutella Cinnamon Rolls With Vanilla Glaze
Just when you thought life couldn't get any better, we throw Nutella into the cinnamon roll game. These Nutella cinnamon rolls by Averie Cooks are everything you could ever want. Plus, they're super easy!
11. Salted Caramel Apple Cinnamon Rolls
Forget pumpkin — caramel apples are another delicious fall treat. Stuffed with apples and drizzled with a caramel sauce, these cinnamon rolls by Brown Eyed Baker will make you wish it was fall year-round!
For more great food ideas, check out Bustle on YouTube.
Images: Averie/Averie Cooks (3); Joy/Joy the Baker; Jessica/How Sweet It Is; Mel/Mel's Kitchen Cafe; Natasha/Natasha's Kitchen; Faith Durand/The Kitchn; Sydney Kramer/Crepes of Wrath; Bakerella; Tieghan/Half Baked Harvest; Michelle/Brown Eyed Baker