Tumblr Celebrates 10 Seasons At NYFW With A Pop-Up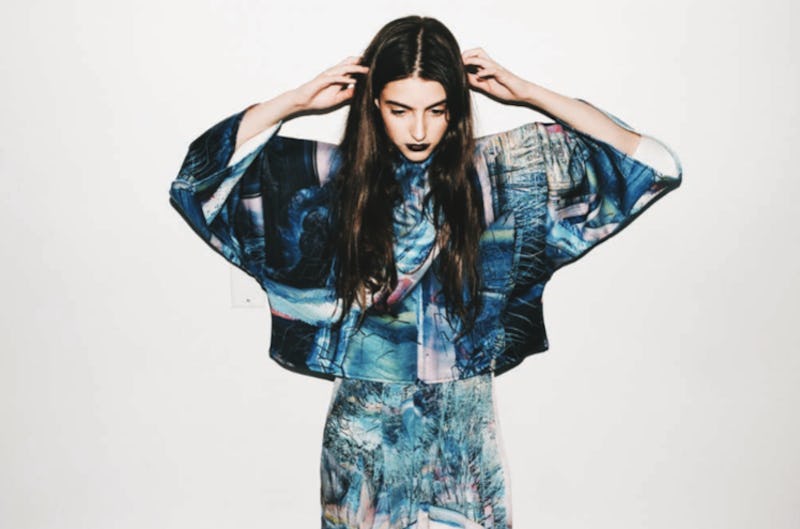 Tumblr has been at New York Fashion Week for 10 seasons, so in order to celebrate this anniversary, they decided to do something big. Like, really big. Tumblr is selling a ready-to-wear collection for NYFW that will feature an exclusive Tumblr ready-to-wear line which consists of pieces emblazoned with images from 10 of Tumblr's top artists, including Hattie Stewart, Lauren Pelc-McArthur and Brian Vu, alongside John McLaughlin, Mario Kroes — both alumni of Tumblr's NYFW program. Additionally, Tumblr opened up spaces at the pop-up for indie designers on Tumblr to sell their own creations. The pieces will be on sale on Friday - Sunday at the pop-up in New York and then again on Monday online.
"Our colorful and incredible community of artists, fashion bloggers and other creators have helped make Tumblr the most inspiring destination for years," said Valentine Uhovski, Fashion Evangelist at Tumblr. "With this capsule collection, we're proud to bring NYFW program to the next level this season and to bring some amazing Tumblr work to life."
In addition to launching the ready-to-wear pop-up store, Tumblr is also returning its top 11 fashion bloggers to New York Fashion Week to report back to the general public. The bloggers, who have all been sent to NYFW by Tumblr before, will get to not only attend all of the Made Fashion Week and IMG shows, they will also be given exclusive access to insider events, after parties and interviews with designers and style icons.
The 11 creators attending New York Fashion Week on Tumblr's behalf are Matthias Brow, Sam Cannon, Mario Kroes, Grant Legan, John McLaughlin, Kate Owen, Micaiah Carter, Bradford Gregory, Rachel Schwartzmann, Hannah Sider and Miguel Yatco.
Will the pop-up be amazing? If these GIFs are any indication, yes. Yes x a million.
If you're in the New York area, the collection will be available for purchase exclusively at their pop-up shop at The Lightbox (339 W 38th St.) from 10am- 5pm from Sept. 11 through Sept. 13. It will also be available on Print All Over Me starting Sept. 14.
Images: Courtesy of Tumblr