'Sister Wives' Will Tackle A Tough Family Change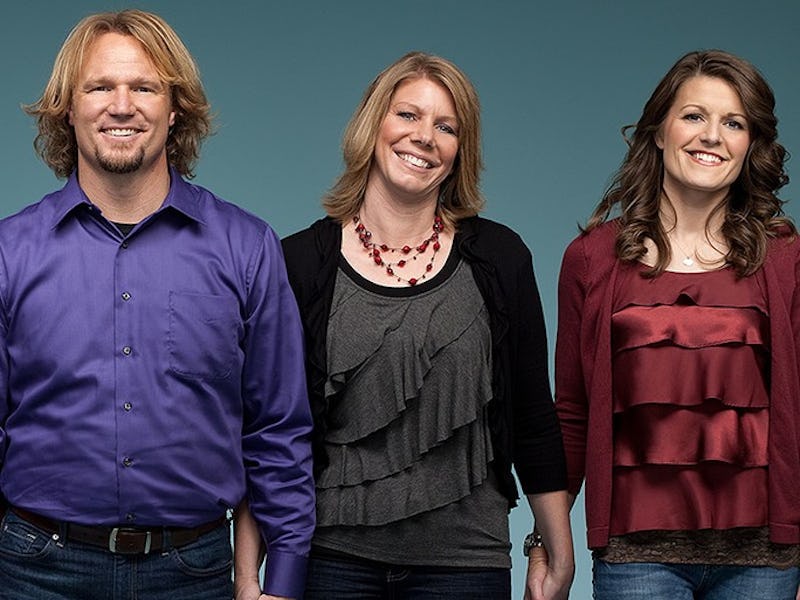 It seems like forever since the last season of Sister Wives was on air, but everybody's favorite polygamist family is finally back — and this time, with some major drama. Last season, we were left with a major plot twist: Meri and Kody are getting a divorce, but not because they don't want to be with each other anymore. Instead, Meri decided to give up her legal rights as Kody's wife to Robyn, so that her children from a previous marriage can be officially adopted by Kody. It was a really selfless thing to do, and it was obvious that it was an emotional decision for the entire family. But it will definitely be interesting to see how it plays out, so I'm glad that it seems like the aftermath of Meri and Kody's divorce was filmed for Sister Wives this season.
In the season finale, we saw Meri, Kody, and Robyn go to the attorney's office to sign the divorce papers, with Robyn acting as their witness. It was a heartbreaking scene to watch, especially since Meri was so distraught, and I almost expected her to back out. But she didn't, and the proceedings ended up going through.
Unfortunately, there isn't too much info about what we'll see when Sister Wives available, but there is a clip from the premiere that drops a few hints. From a sneak preview of the season from The Wrap, we see Meri tell Robyn that the divorce is final, and it's a somber moment for both of them.
Because really, how could it not be? Meri's obviously devastated, and Robyn wishes she could be cheering but the woman who just made a huge sacrifice for her is heartbroken. But if each of their marriages with Kody are truly equal, whether they're legally married or not, it shouldn't be a problem once the dust settles.
I hope this season will really delve into what it's like to have this happen in the Brown family, including what the other wives think... and including what Kody marrying Robyn legally means for the relationships he has with his all of them. It'll definitely be interesting to see if this changes the family dynamic at all, especially once Robyn's children are legally adopted by Kody.
Sister Wives, I'm so glad you're coming back into my life. I've missed you — and the perpetual drama, but that's just a bonus.
Image: TLC