Gaga, Aguilera, And A New 'Voice'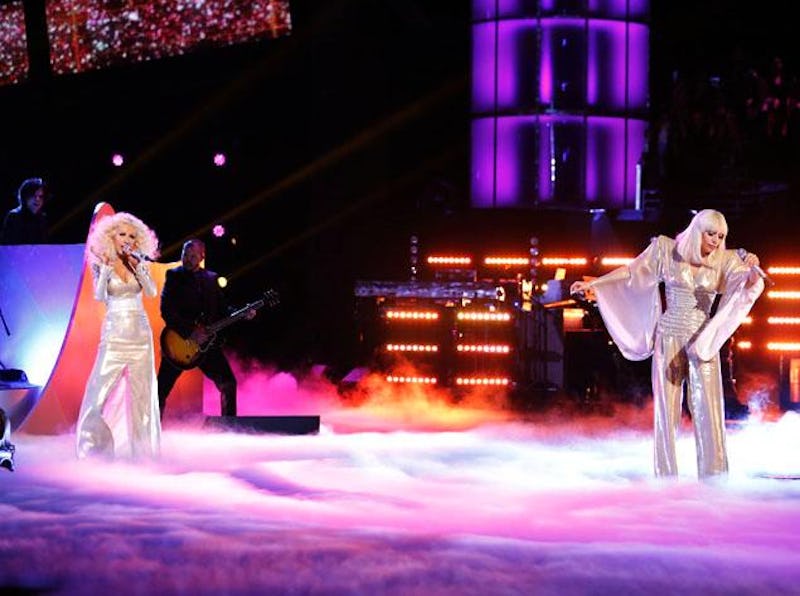 Tuesday night, we found out who won Season 5 of The Voice. Was it Jacquie Lee, Tessanne Chin, or Will Champlin? We got our answer... after one dozen performances. Carson Daly did his "LET'S KEEP THIS SHOW MOVING" thing that he has down to a science, so you know what? It sped by. I had a good time. However, while watching the show, I caught myself writing down the word "adorable" over and over, which, come on, Rohwedder. Learn another word. I decided it'd be in everybody's best interest that I selected my favorite performances of the night. Unless you're the type of person who wants to read the word "adorable" 12 times. If you are that type of person, you will be sorely disappointed by what I've written. (SPOILER ALERT: I didn't write the word "adorable" 12 times.)
Quick rundown of the finale performances: The finalists brought back former competitors for group performances, there was a top 20 performance, the finalists sang with real recording artists, real recording artists performed without the finalists, and some former competitors performed without the finalists. We good? Good. So! My favorite performances of the night:
Will Champlin, Caroline Pennell, Cole Vosbury, Austin Jenckes, and Jonny Gray sang "Wagon Wheel." There were guitars and banjos and tambourines. It was delightful. My girl Caroline's voice really complemented the four dudes' voices. Actually, all of their voices gelled together quite nicely. Way to assemble a solid team, Will!
Jacquie Lee performed "Ain't It Fun" with Paramore. OH WOW. I adored the pairing of Jacquie and Hayley Williams. Jeez, I sound like a wine connoisseur. Blah. Anyway, Jacquie seemed to be having a lot of fun onstage (like a true teen!) and Williams did this awesome jump dance move that I couldn't get enough of. I've tried to do it, but I look like a crazy fish with legs.
Tessanne Chin performed with CELINE DION. TESSANNE SANG "LOVE CAN MOVE MOUNTAINS" WITH CELINE DION. AND THEY SOUNDED GREAT TOGETHER. The show could've ended after that performance, because no matter how America voted, the true winner would always be Tessanne "I Sang With Celine Dion And Held My Own" Chin.
Preston Pohl, Matthew Schuler, Ray Boudreaux, Nic Hawk, and Josh Logan performed "Treasure." I think this might've been the cutest thing ever. All of them sounded amazing. There were dance moves. They were simple dance moves, but they were dance moves. I'm a sucker for any and all dance moves. My heart couldn't handle it.
Celine Dion and Ne-Yo performed their new song together. WAIT WHAT I CANNOT COMPUTE. The song is called "Incredible." The definition of "incredible" is "impossible to believe." Fitting. This duet is something I'd come up with in my mind but only because it'd be so random. WELL GUESS WHAT? It exists in the real world. Once I moved past the "this is a Celine Dion/Ne-Yo collaboration" factor, I realized that the song wasn't weird at all. The song was great. Life rules.
Right before the results were announced, Lady Gaga performed "Do What U Want." She hit the stage in a gold lamé jumpsuit and I was like, "YES." I'd read a rumor that Christina Aguilera would take on the R. Kelly part of the song. I didn't think the rumor could be true. Guess what? The rumor was true: Xtina joined Lady Gaga onstage. AHHHHH. Xtina wore a coordinating gold lamé dress. AHHHHHH. I loved everything that was happening on that stage. WHAT A DUO. Blonde hair and gold lamé and powerful voices EVERYWHERE. Afterward, we learned that they just met. WHAT?! Every celeb doesn't know every other celeb ever? Strange.
Throughout the ep, we were treated to brief videos dedicated to each of the coaches. Here's the summary of each vid:
Adam Levine: He's a sexy guy!
Cee Lo Green: He says poetic/hilarious things!
Christina Aguilera: She sing-coaches and makes bizarre noises!
Blake Shelton: He may or may have not hired a body double to do a back handspring!
Okay. Is that it? Ah right. The winner. The winner... of The Voice... is.... (I'm doing my best Carson impression. I hope it's translating).... TESSANNE CHIN! YEAH!!!!! How exciting. When she won, she was, as she would say, a blubbering mess. She pulled herself together as best as she could to perform her Ryan Tedder-penned victory single, "Tumbling Down." I'm so happy for her!
And that's season five! It's been a blast. A hoot! Rest up, because season six will start Feb. 24, 2014. It'll be like the show never left us.
Image: NBC