Parody IKEA Reviews Will Help You Survive Shopping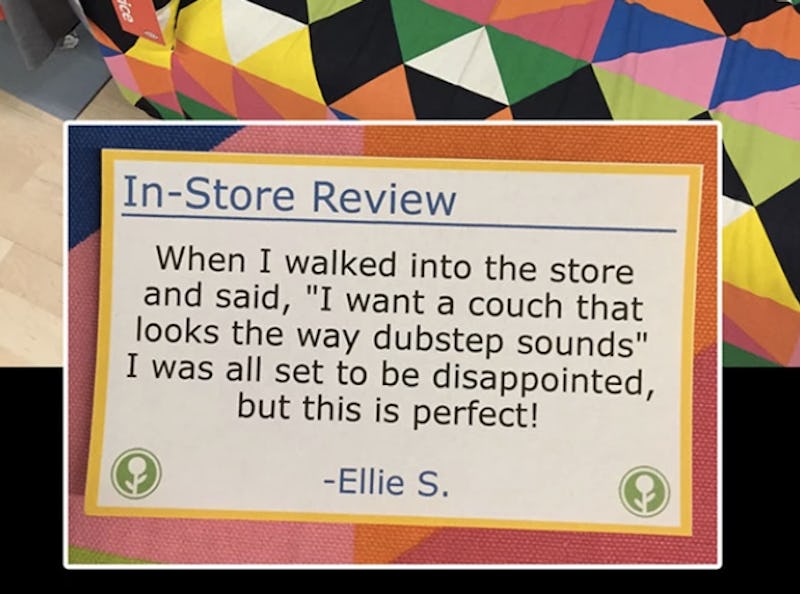 Comedian Jeff Wysaski has been posting hilarious in-store pranks on his Tumblr page Obvious Plant and this week, he graced us with IKEA parody reviews that brought his craft to a whole new level. Wysaski was originally known for his work on pleated-jeans.com, but his parodies have pretty much transcended the internet, and I'm guessing he's about to get even more of a following from all the good people who love the Swedish hub for beautiful (and occasionally janky) furniture. IKEA is pretty packed right now, as everyone moves into new apartments and tries to find the perfect bedside table for under $30. While the IKEA prices are so damn good that nothing could get in the way of this honorable search, these fake in-store reviews just might.
Wysaski put one on the wardrobe that says, "Three stars. Leads to some stupid place called 'Narnia,' but if you board up the back panel then the dumb lion will stop asking you for help." Awww, sorry Aslan. You've been Swifted. As in, you've gone ~out of style~. (I know, crushed it.) There's also a review for a magic carpet, which as an Aladdin faithful, was my favorite by far.
Anyway, should you visit this IKEA while venturing in to pick up your ÄPPLARÖ, RIKTIG ÖGLA or your GRÖNKULLA, be sure to stop and read the ~informative and authentic~ reviews:
Snakes
I'm not entirely sure what the obsession with snakes is, but I guess, why not? (Also, he signed these ones with his own name. I see you, Jeff.)
~VictorY~
Noted.
Time And The Fact That It's Fleeting
And that death is imminent. Sad face. Knock on wood.
House Music/EDM/Dubstep
To be honest, I don't find this couch too disappointing. You see a lot worse in college.
Jehovah's Witnesses
Overall, it's be a very polite experience.
Divorce
Depressing AF.
Fantasy Young Adult '90s Fiction
Aww bb Aslan.
And of course, there's the carpet that can show you the world.
If you're moving into college this weekend and want to make friends, maybe consider hanging these around your dorm room before you meet your new roommate. And check out more of Wysaski's work on the Obvious Plant Facebook and Tumblr.
Images Courtesy Of Jeff Wysaski