Which Of These Apps Is Most Like Cher's Closet?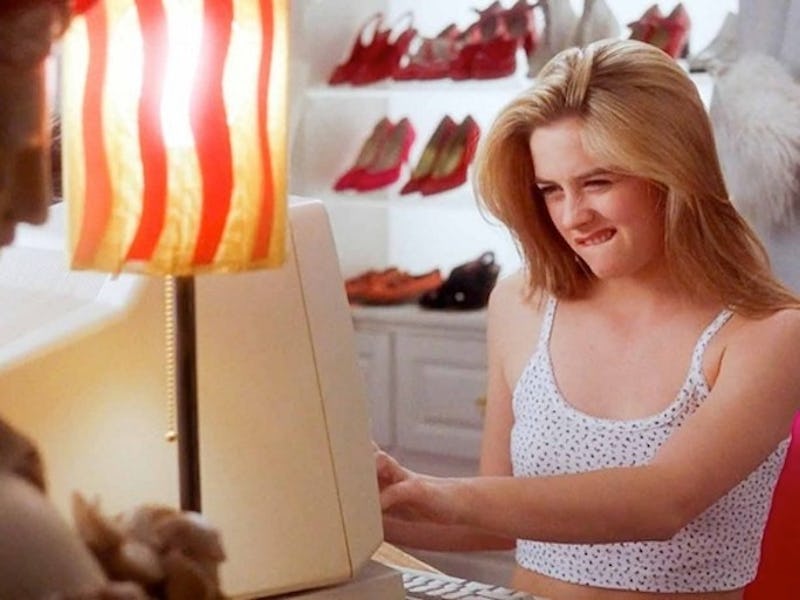 Clueless came out over 20 years ago, and technology has since come a loooong way; tech now makes the pagers and those giant, brick-like mobile phones that made Cher and pals look totally cutting-edge seem like props from The Flintstones. These days, by comparison, we're flying high when it comes to futuristic gadgets, but the one thing that techies and fashionistas alike still haven't made real is a Clueless-worthy closet like Cher's in the movie.
You know exactly what I'm talking about. That glorious, glorious closet, painstakingly curated, color-coded, and chock-full of designer wares — current season only, natch — from the Westside Pavilion. But what really made the closet stand out was that every item was uploaded into a database in Cher's (now archaic) PC, where she was able to browse through tops and bottoms before settling on a look for the day. And, by some miracle, there was an algorithm that so far no one, not even the late Steve Jobs, has managed to dream up IRL. Then, when she was all done coming up with brilliant combinations from her desktop, the closet rotated, allowing her to easily access her selections.
Say what you want about technology, but there's no replacement for the simple pleasure of a perfectly curated, highly evolved closet that, 20 years later, still hasn't been created.
Luckily, even though we're still not exactly there when it comes to making Cher's actual closet a basic right for women and men across the world, there are a ton of apps and inventions that have come out dedicated solely to trying to replicate that motorized, algorithmic piece of heaven on earth.
Many claim to be Cher's closet incarnate, but that's a lofty goal. See which ones come close, and which are total Monets.
1. Swivel
Swivel is thrillingly close to Cher's software. It's a virtual dressing room with a touch screen that allows you to browse categories, select items, and try them over your clothes via a digital overlay. It's been around since 2013 and was tested and used at Fashion Week and at Bloomingdale's, but hasn't become mainstream yet. At-home options are available as well, if you've got Cher Horowitz money.
Yay: It's a life-size app, and you can connect it to your personal closet to use it at home, like Cher's.
Nay: There's no algorithm that tells you if it matches; it's not a real closet.
Consensus: Swivel would almost definitely be featured in a modern-day remake of the movie.
2. #CherWears
The name quite literally says it all. #Cherwears, developed by Metail, lets users channel their favorite character from the movie with curated selections of items that Amber, Dionne, Cher, and Tai would have loved. Not sure which Bronson Alcott High School girl you're most like? Take the quiz to find out, then start shopping for looks from ASOS, Topshop, Wildfox, and more. You can try them on using an avatar with your exact height and measurements, and view the looks from several angles.
Yay: You can mix and match piece on an avatar with your measurements and see how they would look together on you.
Nay: There's no algorithm that tells you if it matches; it's not a real closet.
Consensus: It is pretty similar to the software on Cher's PC...
3. Mylo
This one's for the boys, and it's actually pretty amazing. You select items you already own from Mylo's pre-loaded selection — choices are ubiquitous items like white sneakers, navy trousers, and so on — and Mylo will combine them all into outfits ( like Cher's closet!) and offer up suggestions, which come in the form of models wearing outfits similar to what you already own. All you have to do is head to your closet and use the pictures as a recipe of sorts. You can narrow it down further by specifying occasion and weather (you can sync up your location to have current local temps automatically loaded) and if your outfit is missing something, you can also shop suggested additions directly from the app. And you can also talk to a live stylist, who will pull up pieces you might be into. When you buy them, you get a credit toward your next Mylo purchase. I have a feeling Cher's disinterested love interest Christian Slovitz would be all over this one.
Yay: Pretty much everything; it comes up with outfit combinations for you, via an algorithm, it's sleek, you can shop (after all, if there's one thing I imagine Cher loved more than her closet, it was shopping), and you can sync up your local time and weather.
Nay: It still doesn't make your closet move. But it's pretty close.
Consensus: Definitely the "Baldwin" of Clueless-inspired apps. Cher's boyfriend would totally use this.
4. VILLOID
Alexa Chung's new app Villoid was specifically inspired by the movie, although it's much more social. "I suppose that scene in Clueless where the computer puts an outfit together from Cher's wardrobe really stayed with me," Chung told Glamour U.K. of the process behind developing Villoid. Similar to Instagram, Villoid is very photo-centric and socially driven; it's main focus is sharing outfits with friends by uploading photos — either personal items, products you're coveting, or outfit inspiration — to a mood board. You can "like" pictures and "follow" people, and there's also a "buy" button for when you just gotta have it. It's been described by developers as "the paper dolls for the modern age."
Yay: The sleek design and social aspect.
Nay: You're still on your own when it comes to mixing and matching.
Consensus: Not Clueless-like at all, but the social aspect is fun. I can see this being more about getting "likes" and "follows" rather than a tool for curating and organizing your own daily looks though.
5. Closet Space
Closet Space lets you upload photos of your own clothing so you can keep it all organized, cataloged, and ready to browse — no physical digging through your wardrobe needed. You can also save photos of outfits and peruse outfit inspo. This is ideal if you, like me, forget that you own certain pieces. I can also see it offering up some piece of mind to snap a photo of an item, and then forget about it until you need it again.
Yay: Cataloging your closet is a plus; it helps with organization and outfit planning
Nay: Again, no algorithm. How am I supposed to know — I mean really know — if this shirt goes with those shoes?
Consensus: Not as Clueless as it claims. Good for organizing and browsing things you own, but the technology isn't groundbreaking. You could technically do the same with albums of photos in your iPhone.
6. Stylebook
Another tool to catalog your closet, Stylebook, has almost 100 features to help you dress, plan, pack — anything you'd have an assistant do for you if you were a busy celeb or a Real Housewife. It also automatically eliminates the background from each photo you take of your items, which gives it a chic, simple, and clean look and lets you layer different items together to make an outfit in one photo, similar to Polyvore or Photoshop.
Yay: Tons of features. Plus, the professional look from the white backgrounds makes this a super sleek way to catalog your closet.
Nay: Say it with me: No. Algorithm.
Consensus: It replaces a personal assistant, but not necessarily Cher's software.
Winner: It's a tie between Swivel and Mylo; Swivel is lifesize, but Mylo is more democratic — it's available as an app and ties in your local weather, makes suggestions based on occasion, and uses an algorithm for mixing and matching.
Images: Paramount Pictures, Swivel , ClosetSpace/Facebook, Villoid