These Movies Honor Those Lost On 9/11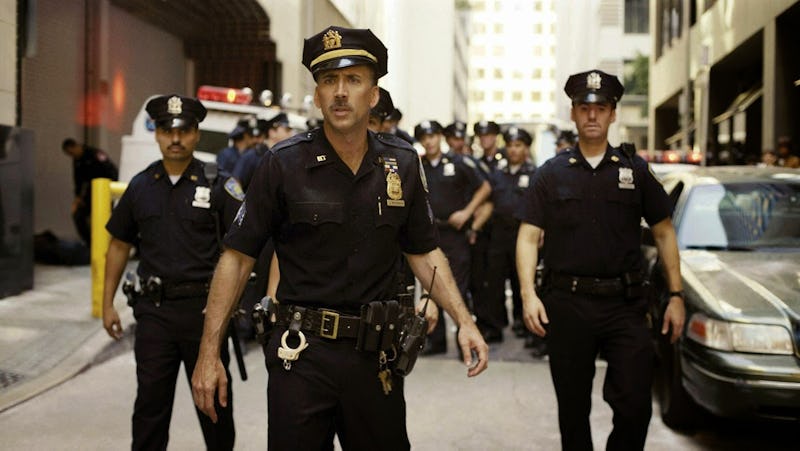 This Friday, on the fourteenth anniversary of the Sept. 11 terrorist attacks, the American people honor the memory of the nearly 3,000 lives that were lost that day in a variety ways: a moment of silence, a prayer, a photo album. Those who believe in the power of cinema may choose to sit down and immerse themselves in a film that will reflect back to them both the worst moments of despair and the best displays of heroism that occurred on that fateful day.
Movies can be lots of things: they can be fun and frothy trivialities, designed to let us escape our humdrum lives for a couple of hours in a dark theater; they can be shock-and-awe blockbusters, expanding our limited world into a universe where anything is possible; they can be horror shows designed to goose our primitive fight-or-flight instincts with slow-building tension and sudden release; and, at their best, they can be cathartic experiences that help us come to grips with the weightiest issues of our times.
If you're looking for an appropriate movie to watch on this difficult day, here are nine movies to consider that appropriately commemorate the solemn occasion:
1. Brick Lane
This 2007 British drama film was directed by Sarah Gavron and written by Abi Morgan — the same team behind this year's heavyweight Oscar contender Suffragette, starring Carey Mulligan and Meryl Streep. Brick Lane tells the story of a young Bangladeshi woman who has been living in London for 16 years when racial tensions suddenly explode following the Sept. 11 attacks.
2. Dear John
A typically lighthearted Nicholas Sparks romance turns serious when the events of Sept. 11 cause Channing Tatum's John to reenlist in the Army; a perfect choice for those who want their somber reflection leavened with some hopeful romance.
3. Extremely Loud And Incredibly Close
Based on the acclaimed novel by Jonathan Safran Foer, this Best Picture-nominated film from Stephen Daldry (Billy Elliot, The Hours) centers around a young boy, Oskar, following the last scavenger hunt left behind by his father (Tom Hanks) before he tragically passed in the attacks. The cast is hard to beat, with Sandra Bullock, Max von Sydow, Viola Davis, John Goodman, and Jeffrey Wright showing up in supporting roles.
4. My Name Is Khan
This Hindi drama was a huge hit in India when it premiered in 2010, breaking box office records to become the highest-grossing Bollywood film at the time. In her review of the film, The New York Times ' Rachel Saltz stated, "Khan is one of a handful of Hindi films about Indians living in a paranoid, post-9/11 America, and there's something fascinating about looking at this country through a Bollywood lens, even when the story is a kind of fairy tale."
5. Reign Over Me
A rare dramatic role finds Adam Sandler playing a man, Charlie, who lost everything — including his wife and daughters — in the terrorist attacks. The film, which co-stars Don Cheadle as the old college roommate who Charlie reconnects with, is especially worthwhile for fans looking to find a softer side of Sandler.
6. Tiger Cruise
Those with younger movie-lovers at home might choose to pop in this 2004 Disney Channel Original Movie, which stars pre-Nashville, pre-Heroes Hayden Panettiere as Maddie, a girl visiting her Navy Commander father (Bill Pullman) on his aircraft carrier when the attacks take place. Caution for those with especially young kids: this is one of only two Disney Channel movies to have received a Viewer Discretion warning, "due to intense and/or disturbing scenes and/or images."
7. United 93
One of the most acclaimed films on this list, but also one of the most hard to watch, this hyper-realistic film from director Paul Greengrass (The Bourne Ultimatum, Captain Phillips) tells — in real-time — the story of the ill-fated flight that crashed in Pennsylvania, brought down by the passengers before it could reach its intended target. The decision to cast mostly unknown actors only heightens the sense of veracity and anxiety.
8. World Trade Center
This 2006 Oliver Stone film was one of the first films about the attacks to come out post-9/11. Now, almost a decade further removed from the events of that day, World Trade Center is a more accessible tribute with compelling themes of faith and resilience, as well as the heroism that can emerge from tragedy.
9. Zero Dark Thirty
Controversial for its graphic depictions of torture, this film from the Oscar-winning director of The Hurt Locker holds an unflinching light to the dark side of our country's dogged pursuit of Osama Bin Laden. While some might prefer the optimism of the previous entry on this list, others will appreciate the hard questions asked by Zero Dark Thirty.
Though dealing with the emotions that come with remembering the dark events that took place on this day 14 years ago is not something that can be fixed through film, it can be aided, at least in part, by viewing features that sufficiently honor those lost and those who displayed courageous acts of heroism during the attacks.
Images: Paramount Pictures; Sony Pictures Classics; Screen Gems; Warner Bros. Pictures; Fox Star Studios; Columbia Pictures (2); Disney Channel; Universal Pictures