Julie Montagu Spoils 'Ladies Of London' In Emojis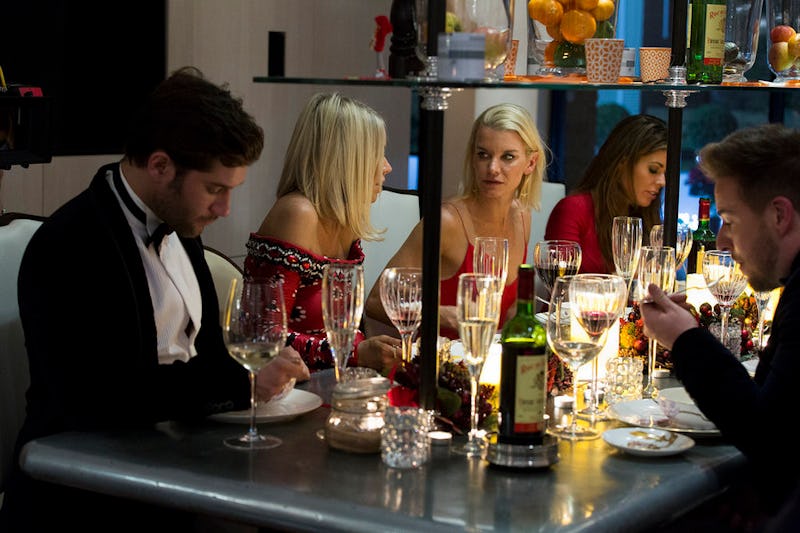 The Ladies are back, and for the second season they're bringing a lot of drama. Season 2 of Ladies of London returned with a bang — Thanksgiving will never be the same — and that's only the start of the drama and fighting according to star Julie Montagu. "London can detect a social climber," Montagu tells Bustle in an interview, echoing the words of co-star Caroline Stanbury, "[London] is a cutthroat place." Montagu gave away Ladies of London Season 2 spoilers — via emoji — to Bustle, along with revealing what we can expect from the upcoming season (cue "London Bridge" by Fergie).
"I do have meltdowns," Montagu warns, when thinking about the upcoming season,"I'm like The Cryer." Montagu, who admits she's sensitive, knows that her being "The Cryer" can rub people the wrong way. "I'm slightly panicking about those scenes. But they were real — I was hurt," she says.
Obviously we can wait the entire season to see the drama go down, or we can rely on Julie to give away as much as she could about the season through emojis. The results suggest we're in for a really emotional season. There appears to be tears, anger, cringing, broken hearts, and of course, fashion coming our way. (It wouldn't be a season of Ladies of London if there wasn't a lot of drama and a lot of fashion.)
Analyzing the emojis a little deeper, this season looks like a roller coaster of emotions. As Montagu hinted, tears are on the horizon on Season 2. She has hinted at possibly butting heads with Caroline Stanbury during the season, so could their disagreement lead to tears, anger, and a broken heart as seen above? While there seems to be a few moments of happiness, it is hard to tell if this season is going to end on a high note for the Ladies.
As for her own personal storyline, expect to learn a lot more about Montagu. She keeps busy; she just released a cookbook here in America called Superfoods: The Flexible Approach to Eating More Superfoods . In addition to her just released book, Montagu got two more book deals, both will launch in America next year.
Then there's her superfood snack line, which we'll see heavily in the upcoming season of Ladies of London. "Running that business and getting investments" will be shown throughout the second season run. Montagu also hopes to start an online self-love program — something she already teaches in her yoga classes (yep, she does not quit). "I do workshops on self-love," Montagu says, "and I want to do an online self-love course so I can meet more people."
On top of all of that, Montagu is the mother of four children, and has her family's estate Mapperton to care for. How does she do it? "I have boundless amounts of energy," she says. "I think I just found my passion and love what I do, and it makes me really happy."
Images: Tristan Fewings/Bravo; Allison Piwowarski/Bustle