16 Small Cities To Visit In The Fall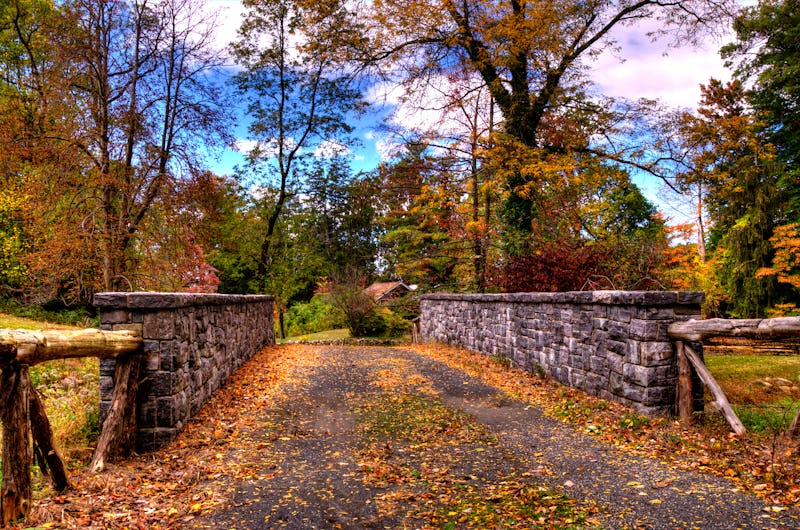 There are so many great things about fall, but one of the best things about this universally loved season is that it's a great time to travel. The weather is pretty much perfect, and if you're in a state that boasts fall foliage, everything looks gorgeous. It's the perfect time to be outside and enjoy the beauty of nature, even if you normally hate nature. There are plenty of small cities to visit this fall that prove why this season is the best.
So where should you go? There are lots of small cities and towns across the United States that offer wonderful fall activities. While the Northeast obviously offers gorgeous fall foliage, it's not the only part of the country that can show off colorful leaves. There are so many options that picking just one getaway is going to be pretty tough — which is why I narrowed things down for you.
Whether you want to visit a spooky town that will get you in the mood for Halloween festivities, go for a hike to check out all that nature has to offer, or just relax with some historic views, there is something for everyone here. Now is not the time to book your tropical vacation — it's the time to enjoy autumn. Here are 16 small cities and towns to visit in fall:
1. Salem, Massachusetts
Between the history, the fall foliage, and all there is to do there, Massachusetts is an ideal state to visit in the fall. Instead of heading to Boston, where everyone is going, try Salem. And yes, this is Salem from the famous Salem Witch Trials. Salem goes all out for Halloween and fall, playing on their history with spooky graveyard tours, witch trial reenactments, and so much more. Even if you don't want to go for Halloween stuff, the town itself is very old, rich in history, and sits right by the water. It's gorgeous and full of cute restaurants, shops, and New England charm.
2. Sleepy Hollow, New York
Located only about two hours outside of the city, Sleepy Hollow is the perfect getaway for those who live in the tristate area, and want to get away without traveling too far. The little village celebrates Halloween in a major way, with a famous Jack-O-Lantern walk, spooky cemeteries, and lots of history. It's located just outside of Westchester County on the Hudson River, and offers gorgeous views and a small-town feel. Plus, it's a little spooky, of course.
3. Ludlow, Vermont
Vermont is one of my favorite places to go ever, because it is so beautiful and everyone is so chill. The fall foliage in Vermont is also unreal — between the colorful leaves and the historic towns, it's perfect for a fall weekend. If you want a Halloween vibe, stay at the Golden Stage Inn, which is supposedly haunted. Ludlow is also home to Okemo Mountain, as well as an adorable town with shops and restaurants you'll want to check out.
4. Snowmass Village, Colorado
Like I said, the Northeast isn't the only place to see fall foliage. Colorado has tons of it, and fall is a great time to visit the state — before mountains of snow get dumped there! Located by the Rocky Mountains, Snowmass Village has so much to offer, from a cute town to awesome hiking trails to friendly locals.
5. Portsmouth, New Hampshire
New Hampshire is a picture-perfect New England state that was basically made for fall getaways. The fall foliage is unreal, and if you're going to check it out, you should go to Portsmouth. There's a lot to do, also, from checking out historical sites and museums, to spending time on the harbor by the water.
6. Ithaca, New York
It's hard to pick just one spot in upstate New York that's great for fall, but Ithaca is up there. Ithaca is located right by the Finger Lakes, which means you'll get some gorgeous views and photos. You can go hiking to check out some of the many waterfalls, apple picking, or pumpkin picking. Ithaca is also home to Firelight Camps, which is a glamping campgrounds. The "tents" have beds, porches, and wood floors. It also offers breakfast, yoga, wine happy hour, and s'mores made by the fire — it's the perfect way to really get in touch with nature.
7. Moundsville, West Virginia
Located along the Ohio River, Moundsville is beautiful and also a little creepy — perfect for fall festivities! You can stick to hiking and exploring nature, or you can check out some of its spookier options. You can tour the creepy West Virginia Penitentiary, check out the paranormal museum, or just soak up all the history.
8. Bardstown, Kentucky
Kentucky may not be the first place you think of when you think of fall towns, but maybe it should be. Bardstown has been named the most beautiful small town in the U.S., and it especially lives up to that name in the fall. It's known as the bourbon capital, so you can tour distilleries and sites, and drink some! There are Civil War historic sites, lots of museums, and so much nature to enjoy.
9. Camden, Maine
Maine is so beautiful in the fall, before it gets super cold and snowy. Camden is on the water, and the views are just so beautiful. If you want to be one with nature this fall, there are lots of mountains and trails you can hike. Check out the shops, and go out to eat. You'll be in awe at the colors of the leaves.
10. Asheville, North Carolina
Yes, even the South has something to offer when it comes to fall foliage. The fall is a great time to visit Asheville, as it cools down a bit, and has so much to do in the way of nature. Asheville also has a great craft beer scene, if you're interested in beer. You can check out the extravagant Biltmore Estate, hike around the Great Smokey Mountains, or enjoy local beers on tap, all while enjoying nature.
11. Lake Geneva, Wisconsin
Since this is obviously a city located by a lake, you're going to want to spend a lot of time outdoors. There are hiking trails that will let you get the most out of fall foliage. Studio Winery is the place to go if you want to be creative and drink some delicious wine. You should also make it a point to check out historic Black Point Estate.
12. Traverse City, Michigan
Located on a lake, Traverse City offers wineries, breweries, and beaches where you can have fall bonfires. The town also celebrates Halloween with elaborate costume parades and a zombie run. Fall is a perfect time to visit and enjoy some gorgeous scenery on the many hiking trails the city offers. You can shop, enjoy hip restaurants, or check out some of the history.
13. New Hope, Pennsylvania
In my opinion, fall is the best time to go to Pennsylvania. There is so much gorgeous fall foliage, and it's not yet too cold to enjoy being outside. New Hope is an artsy town on the Delaware River with lots of antique shopping and Halloween events, like the Rocky Horror Picture Show, a zombie prom dance party, and ghost tours. Be sure to take a train ride through the town to comfortably see all it has to offer.
14. Lake Placid, New York
Lake Placid is a beloved area of upstate New York by the Adirondacks that offers so much beauty and fun. There are waterfalls, lakes, rivers, and forests, and there is no escaping the colorful leaves everywhere. Lake Placid also goes all out for Halloween with ghost tours and showings of the Rocky Horror Picture Show. It was also once the site of the Olympics, so this is really a spot to visit if you're ready to be outside, doing things in nature.
15. Ashland, Oregon
Ashland is an artsy town very close to both Portland and the border of California. There are art galleries and spas, unique restaurants and shopping, and tons of hiking trails. Fall is such a great time to visit Ashland, because the foliage is on fire.
16. Franklin, Tennessee
This historic town is located south of Nashville, and offers so much for fall festivities. You can spook yourself out for Halloween with cemetery walking tours, or the Ghosts of the Battlefield tour. There is also an annual Pumpkinfest to look into. There is rich history and beautiful nature to explore as well.
Image: Chris Bickham/Flickr