The Best Fall Lippies For Everyone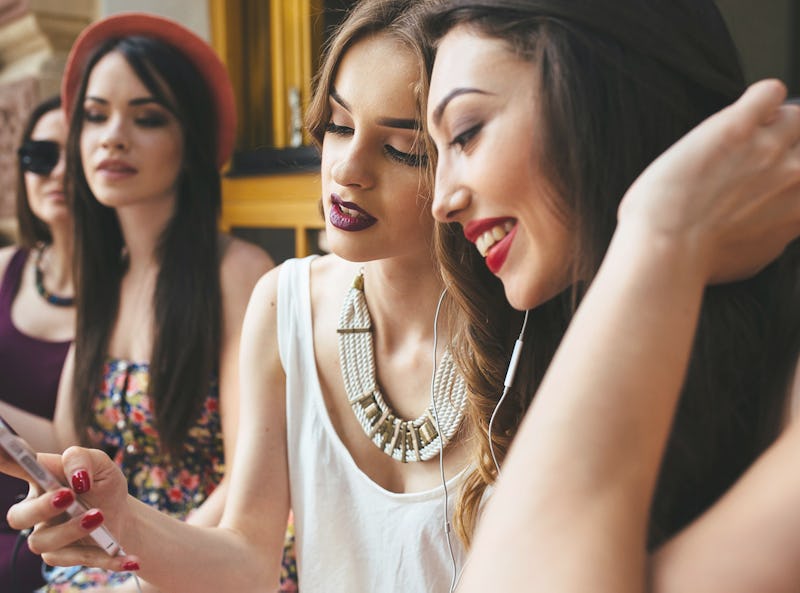 Fall is, in my opinion, the best time of the year for makeup. Everything gets a little bit bolder, a little bit deeper, and a little bit richer — especially lipstick. And who doesn't love a new, autumnal lippie? But the only thing better than one fall-inspired lipstick is two fall-inspired lipsticks. Day-to-night lipstick palettes get a makeover when the temperature starts to drop. Instead of transitioning from a classic nude to a classic red (not that these colors should ever be abandoned), try transitioning from a darker, rosy brown to a rich berry hue. And the best part about these types of shades? They're more universally-flattering. Which means it won't be an ordeal to find your ideal brown and berry lippies.
But even though most brown-toned neutrals and berries will look good on any skin tone, there are still certain shade variants that will pop better on different skin-tone depths. Think pinky browns and raspberries for lighter skin tones all the way through plummy browns and mulberries for darker skin tones. Ready to find your perfect fall lipstick-pairings? Here are the ideal day-to-night hues for every skin tone to rock this autumn.
Fair-Light: Day
Fair to light skin tones will benefit from pinky browns and light taupes like these. Whether a matte, gloss, or satin formula, a variety of finishes in the right hue will still stand out against lighter skin tones.
From left: SEPHORA Collection Color Lip Last in Brown Is Back!, $14, Sephora; theBalm Read My Lips Lipgloss in GRRR!, $15, Amazon; Maybelline Color Sensational Lipstick in Touchable Taupe, $7, Amazon
Fair-Light: Night
Bright raspberries and orchids will totally pop against lighter skin tones.
From left: Kat Von D Everlasting Liquid Lipstick in Bauhau5, $20, Sephora; Urban Decay Sheer Revolution Lipstick in Sheer Ladyflower, $10, Urban Decay; Sonia Kashuk Lustrous Shine Lip Crayon in Orchid, $9, Target
Medium-Olive: Day
Dusty roses and deeper taupes make for the perfect darker-neutrals for medium and olive skin tones.
From left: Charlotte Tilbury K.I.S.S.I.N.G. Lipstick in Stoned Rose, $32, Nordstrom; MAC Cosmetics Lipstick in Whirl, $17, Nordstrom; Topshop Beauty Lips in Mink, $12, Topshop
Medium-Olive: Night
Plummy pinks have a little more depth than raspberries, making it the perfect berry-hue for medium and olive skin tones.
From left: NYX Cosmetics Soft Matte Lip Cream in Prague, $6, Target; Burberry Burberry Kisses Lipstick in Bright Plum No. 101, $34, Sephora; ColourPop Lippie Stix in Flawless, $5, Colourpop
Dark-Deep: Day
Dark and Deep skin tones need darker and deeper blushed neutrals. Rosewoods and plummy browns are just the ticket.
From left: ARDENCY INN MODSTER Long Play Supercharged Lip Color in Valentine, $25, Ardency Inn; ColourPop Lippie Stix in Grunge, $5, Colourpop; NYX Cosmetics Extra Creamy Round Lipstick in B52, $4, Ulta
Dark-Deep: Night
For a berry that will pop beautifully against deeper skin tones, opt for highly-pigmented mulberries and deep magentas.
From left: SEPHORA COLLECTION Luster Matte Long-Wear Lip Color in Mulberry Luster, $16, Sephora; Bite Beauty Luminous Creme Lipstick in Mulberry, $24, Sephora; NARS Velvet Matte Lip Pencil in Damned, $27, Nordstrom
Now if you'll excuse me, I'm off to pick a few raspberries — lipstick, not fruit.
Images: teksomolika/Fotolia; Courtesy of Brands