Nicky Hilton x Linea Pelle Bags Are Perf For Fall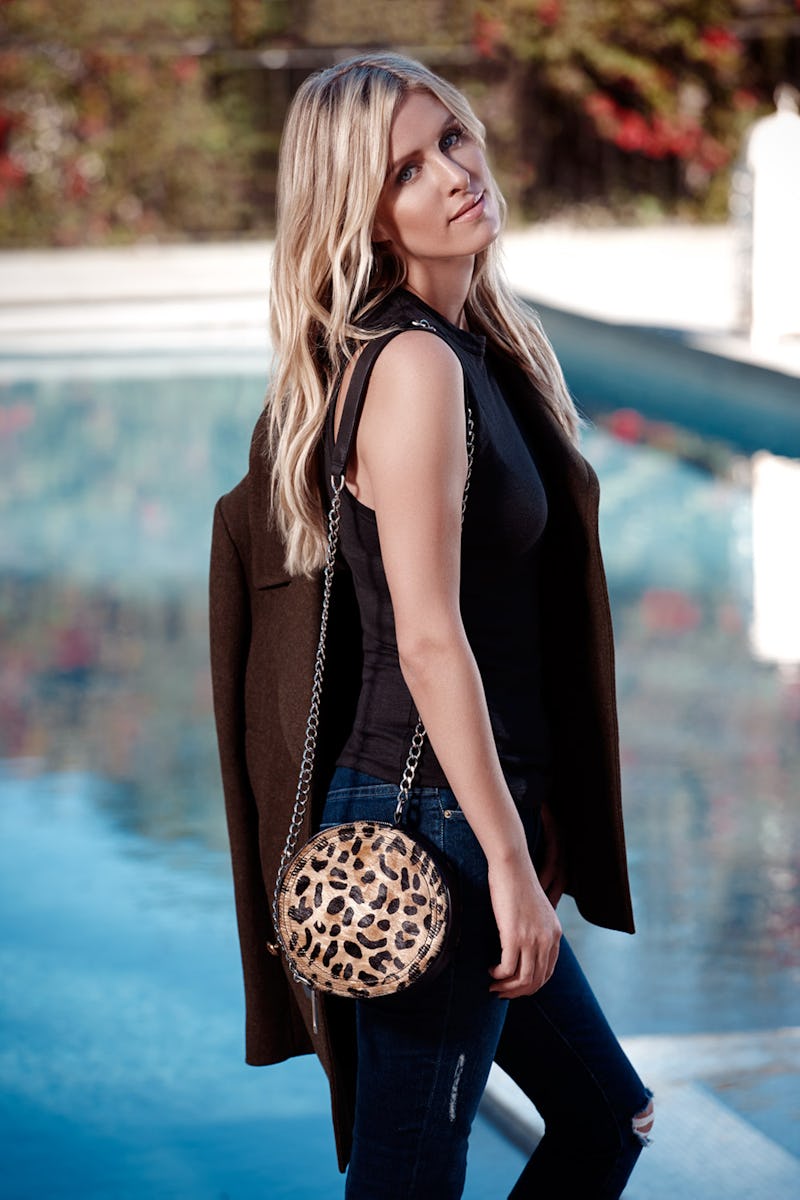 Move over trendy "It" bags! There's a classic collection of bags that's about to usurp some of your fashion dominance this fall. When I first laid eyes on the Nicky Hilton x linea pelle capsule collection, I was blown away at the versatility of the range. There are universally wearable totes, crossbodies, satchels, canteen bags, and clutches.
Hilton, who still influences fashion, even in the era of the Kardshian-driven, famous-for-being-famous dominance, tells me that she has been tucking in the strap of one of the bags, transforming it into a clutch. She also offered several styling tips regarding what to pair the bags with. It's like the hotel heiress is my own personal stylist — and yours.
Bags have always been Hilton's thing. She admits, "There are shoe girls and jewelry girls. I am a total purse addict. I started when I was 17. It was my first love."
Her passion is infused into these luxe but affordable bags, which are not super pricy but certainly aren't cheap, either. They run from around $175 to $400. A medium-sized Marc by Marc Jacobs bag would set you back much the same.
Here's everything you need to know about this one-off Nicky Hilton x linea pelle collection, complete with some style recommendations from the fashion maven!
1. Timeless + Classic
"I wanted classic and timeless," the super affable Hilton tells me. "Those were the two words in my mind. 'It' bags are so pinpointed to a particular season. These are classic shapes and timeless colors."
Paris' little sister continued, "I tried to put all of my personality into this collection. I wanted to make everyday bags. They won't go out of style anytime soon. They will be in your closet season after season, since we know leopard is not going out of style... ever."
Know what that means? These bags are investment pieces since you'll have them forevs.
2. Day To Night
Hilton also created the collection with the intention of transitioning from day-to-night easily. "Larger bags used to be a no-no for evening," she notes. "But I see [larger bags] more and more. The Chateau bag, which is the doctor bag, is what I've been wearing at night."
3. Space + Straps
When I ask N. Hilt what are two things she seeks out in a bag, whether she is designing it or shopping for one, she's quick to say "Space!" She is not an "itty bitty bag" girl, confessing, "They are not practical for someone like me. I carry an iPhone plus, a Blackberry, candy, a notepad, makeup. I need a roomy bag."
Her other necessity? "I love a strap," Hiltons says. "I am a New Yorker and always on the run, so I like a crossbody."
4. Tips!
Here's the best part: style tips from Nicky Hilton! I'll give you five seconds to catch your breath. We good? Great.
"With The Waldorf, I tuck in the strap and wear it as a clutch," she says. Ooh, good idea!
As for the leopard version of this adorbs canteen bag, she has plenty of suggestions. "I love army green and leopard," Hilton shares. "The little canteen works as a shoulder bag with jeans, for going out and about during the day. But it is sexy and cute as a crossbody, minidress and ankle booties. It's versatile. I have been tucking in the strap as a clutch, which I might do tonight."
As for the Mercer tote, which is my favorite? "I was running around with that one today," she says. "I have a small MacBook Air, and I was lugging it to appointments todays in jeans, a flannel and sneakers. You can fold it over as a big oversized bag."
Lastly, how about the Roosevelt backpack? "I love backpacks, so when I when I spoke with the team, I wanted to include a luxury backpack and that's what we came up with. I'd wear it with a dress and Converse, or leather leggings and a t-shirt. It's cute."
5. No Paris
Hilton's big sis Paris did not provide any input into the design process. "I show [them] to her after," Hilton says. "We have very different taste."
6. Checking In
The Hilton family is famous for its hotels so it should not come as a surprise that Hilton named the bags after her fave hotels because duh. "I travel a lot and spend time in hotels and they are inspiring," she says.
The Nicky Hilton x linea pelle bag range is primo. I am having trouble deciding which one I want to own, as I covet them all. They are perf for fall — and forever!
Want more fashion and beauty? Check out the video below, and be sure to subscribe to Bustle's YouTube page for more hacks and tricks!
Images: Courtesy of EMCBowery PR (8); Linea Pelle (2)