Leslie Knope Says What We're All Thinking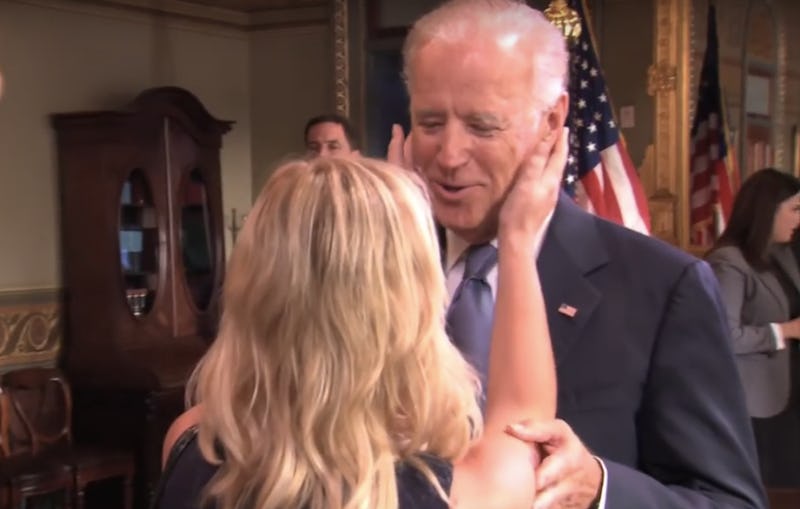 If there's one thing Leslie Knope knows, it's everything. The ambitious, government-loving Parks and Recreation character is obsessed with a lot of things: waffles, local government, Li'l Sebastian, and of course, Joe Biden. Like, when she says her ideal man has the brains of George Clooney and the body of Biden. They're really the perfect match. And when Biden finally made a cameo appearance on the show, little did we know that Leslie Knope would give a quote about Joe Biden that explains what everyone was thinking after his emotional Thursday night interview on The Late Show with Stephen Colbert.
When Leslie met Biden as a gift from her fiancé, Ben, she loses her mind a little bit over the handsome spectacle that is the vice president, even going so far as to assume he's there to ask her to take over Hillary Clinton's position. She touches his face, leans in a bit for a kiss, and soon it's time to go. But it's as Leslie is leaving that she says something that resonates years later during his interview with Colbert, as one astute Twitter user pointed out. She looks at the Secret Service agent and exclaims, "You don't let anything happen to me, you understand me? He is precious cargo!"
Precious cargo indeed. The moving interview with Colbert left everyone feeling a bit emotional as he grappled to manage his grief in the first televised interview he's given since his son Beau died from cancer at the age of 46. It was a tough interview to watch, as Biden was often overcome with sadness and left unable to speak. One Twitter user wrote, "Looking at Joe Biden I feel we're terribly selfish to ask him to run for president. Emotions are too raw. Bless him for even considering it."
Biden said during the interview that his faith was getting him through this incredibly tough time, and I'm sure his loved ones are, too, but it's good to know there's people like Leslie Knope out there who are demanding that people take good care of him and ensuring that nothing happens to him.
Watch the full meeting of Leslie and Biden below:
Image: NBC